The big interview: Mark Bosnich – "Fergie's 'terrible professional' comment was was just a lie"
Did Fergie ever give him the hairdryer? Was it really a 'Basil Fawlty impression'? And how did he end up getting hooked on cocaine? Your questions answered in February 2019…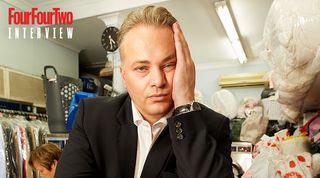 Not many footballers invite you to their luxury apartment to conduct an interview. But then, not many riff on every question for minutes on end like an indulgent ageing rocker, unabashedly spilling their feelings.
In the end, though, FFT doesn't get to see Mark Bosnich's oh-so-central Sydney flat, as our photographer decides on a launderette in the posh Australian suburb of Paddington to set up the 'clean sheets' gag.
When 'Bozza' arrives, he hands over his iPhone, cigarettes and lighter (all white) and happily plunges in among baskets of laundry, asking for phone shots to send to his fiancée as evidence of the ridiculous life he leads. Almost immediately, Mark's former Socceroos team-mate Robbie Slater calls – "Ignore that!" – which helps us to travel back in time to when the Premier League was shiny and new, Big Ron Atkinson was vying with Deadly Doug Ellis at Aston Villa, and Alex Ferguson was beginning to win over the doubters. For the next two hours, Bozza's machine-gun laugh ricochets about, drowning out passing motorbikes as he holds court opposite the organic bread bar...
Was football your first sport, putting you in the minority among the young Australian lads in the 1970s and '80s?
Nathaniel McLean, via Facebook
No, rugby league was my first sport, but football was always in the background. My father came to Australia way back in 1959 from what was then Yugoslavia, now Croatia. But you're deluged with rugby league – it was, and still is, the big sport here in Sydney. Basically, my mum said, "You're not playing rugby league!" As she reminds me now, it was a pretty good choice. I did feel in a minority, playing football. It's come on leaps and bounds, but it has never been the number one sport here.
Was it tough as a 16-year-old to move to the other side of the world? Had you even visited England before that?
Liam Moore, via Twitter
Yes, at 15. In 1987 we went on a family holiday to what was then Yugoslavia.
At the end of that trip, a chap over here, Alan Vest, said, "Would you like to go to Liverpool for three days?" The manager was Kenny Dalglish and the youth-team manager was Malcolm Cook. I had three days and everything I touched turned to gold. Kenny Dalglish said to my dad, "I want him to stay." My dad said, "Look, he's got two months of school left – let him finish and he can come at the start of next season." In that interim period, Eddie Thomson, who managed Australia and went to school with Alex Ferguson, had heard about it. He rang Alex, got in contact with my dad and asked, "Would he come over for a trial before he goes?"
So in March 1988, I went to Manchester for two weeks. Fergie basically locked the door afterwards and said, "You're signing for us." In July, Norman Davies, the kit man, picked me up at the airport and that was the start of a wonderful journey. It seems like it was yesterday.
How special did it feel to make your Manchester United debut at just 18?
Jonathan Mitchell, via Facebook
It was 1990, Manchester United were about to play in the FA Cup final, and they had four matches in a very short period. We played Wimbledon and Alex Ferguson said, "This will help you to get your work permit, so just make sure you play well." Talk about putting me under pressure! I expected a test and a half, it being Wimbledon. I took the first high ball and launched a throw out to Mark Hughes. I thought, 'Why did you take a high ball in the first 10 minutes? You've made yourself a target now.' But I kept a clean sheet and we drew 0-0.
Why did you leave, still in your teens?
Robert James, via Twitter
I couldn't get a work permit sorted out. Alex wanted me to go to Brondby: he thought that if I went there on loan for at least three years, it'd give me enough consecutive time at an English club to be able to apply for a UK passport. I did visit Brondby, and I remember talking to Peter Schmeichel about it, but I was so focused on playing in England that I preferred to return home and regroup rather than move somewhere else.
How did your transfer to Aston Villa come about, and did you have second thoughts about returning to England?
Sara Barnes, Birmingham
Ron Atkinson was looking for a young goalkeeper and had seen me playing for Manchester United's reserves, so he wanted me to come over. Once again, we faced the work permit problem, but this time I circumvented it by marrying my long-term girlfriend.
Those were wonderful times at Aston Villa. We won the League Cup twice and finished 2nd in the first Premier League season. Deadly Doug lost patience with Ron and let him go, which I felt was the wrong decision at the time. We almost got relegated in that season, so I went through it all at Villa Park. Ron Atkinson was phenomenal, Brian Little too, and so was John Gregory – I had a fantastic few seasons at the club.
Did Villa deserve to win the league in 1992/93? How good was that side?
Alan Cook, via Twitter
No we didn't, because in the end we lost by 10 points. We weren't as far off as the deficit suggests, though we weren't quite good enough. It was a fantastic side: a wonderful blend of youth and experience with some brilliant players – the late Dalian Atkinson, Garry Parker, Dean Saunders, Kevin Richardson, Earl Barrett, Steve Staunton, Paul McGrath, Shaun Teale, Ray Houghton and Tony Daley... it really was a super side. We took four points off Manchester United but unfortunately we came a cropper at the end of the season.
Just how special was the League Cup semi-final against Tranmere in 1994, when you saved three penalties?
Jamie Berger, Luton
It was absolutely magnificent – one of the best moments of my career. John Aldridge was playing for them in [what is now called] the Championship. They completely outplayed us in the first leg at Prenton Park and beat us 3-1. We were pretty lucky in that game too, as Dalian Atkinson got an away goal out of nowhere at the end. The second leg started off fantastic for us: we scored two goals in about five minutes, which would have taken us through on away goals. But they got a goal back – John Aldridge went around me and ran into my big head, before scoring a penalty. Just before the end of normal time, we got a third goal to take it to extra time, and ultimately it went to penalties.
I saved one of the first five and it was tied at 4-4 heading into sudden death. Kevin Richardson missed his and Liam O'Brien, who was with me at United as a youngster, had a chance to win it for Tranmere. I guessed the right way and saved it. Tony Daley then scored, so if I saved their seventh penalty from Ian Nolan, we would go through, and I did.
My penalty method was to watch the non-kicking foot and slow things down like a camera, then go with everything at the last minute. It brought me a lot of success, especially that season. There was one from Bebeto against Deportivo La Coruna in the UEFA Cup, which was probably my greatest ever penalty save. There were two against Spurs the week after the League Cup semi-final as well. There's always a chance for a keeper to make a name for themselves in those situations, because no one is expecting anything from you.
You won two League Cups at Villa – which final meant the most to you?
Louis Murphy, via Facebook
Playing against and beating my first club, Manchester United, in the [1994] final was very special, particularly as I'd flown my parents over. It was a tactical masterpiece from Ron Atkinson and he completely out-thought Alex Ferguson. Man United had been unstoppable that season, but he stopped them playing their game and we won 3-1. Atkinson scored in the first half before Saunders finished things off with a penalty. That was a wonderful night and great to win my first major trophy at Wembley.
The second League Cup final [in '96] was a wonderful football performance. We were coached by Brian Little and up against Leeds. It wasn't so much about stopping Leeds as it was about playing to our strengths. Brian put together an exceptional side: we finished 4th in the Premier League, reached the semi-finals of the FA Cup and won the League Cup in convincing style. It was a super side which probably should have got closer to winning the Premier League title.
What's the truth behind the infamous Nazi salute in a game at Tottenham? Did you realise that the club had such a big Jewish fanbase? And where did 'the Basil Fawlty defence' come from?
David Brooks, Essex
That wasn't a defence; it was the truth. And no, I didn't realise there was such a big Jewish fanbase there. I obviously did afterwards, and I apologised, and I apologise to this day. I was mimicking Basil Fawlty because I was thinking about Jurgen Klinsmann – nothing else. [Tottenham fans had been chanting the German striker's name, as Bosnich had knocked him unconscious in a collision the previous year] You can see there was a smile on my face. When I knew it hurt people, I was mortified. I still am.
Amazingly, only three or four letters in my fan mail that week were bad. I rang up those people, invited them to Villa Park and offered my apologies. My late auntie was Jewish, so she was the big one I had to say sorry to. She didn't talk to me for quite some time.
After regular Premier League games there were around 20 people from the press, and I could tell after that game that there were about 40 or 50. Doug Ellis and Brian Little told me, "Don't say anything." I said, "I'm sorry but I've got to say something, because if I don't say anything, it's like I've got something to hide." And then I rang up 5 Live's 606 programme on my way home, as I was getting absolutely pummelled. I told the presenter, David Mellor, my side of the story and I apologised. Since then, if anyone asks me about it, especially those of Jewish origin, I apologise. One letter I got was about this lady's young kid who had been racially abused, and she thought it was because of what had happened. I replied, "I'm so, so sorry."
I made a mistake and if that means you continually hold your hands up, so be it.
Were you actually arrested the night before your wedding? Was it really all Dwight Yorke's fault?!
Neil Baker, Surrey
No, it was all my fault. He was at a strip club in Birmingham – I think it was Legs Eleven – and Brian Lara and I were at the casino. Dwight rang me and asked, "Could you meet us outside and pick us up?" I was drinking – it was the night before my wedding. So we went to the front of the club to see where he was, and the bouncer said, "He's at the kebab house." As we turned and walked back into the dark alley towards the car, this bloke jumped out and took a picture of me. I was half-startled, half-panicking, so I grabbed the camera and he began to struggle with me. I pushed him and thought, 'OK, I'll take your camera'. At 5am the police came to the house and said, "We're very sorry, but we're going to have to arrest you."
I should have said, "You can take all of the photos you want." I was walking out of there with Brian Lara. So what? Who cares? It was silly and it was very embarrassing, especially when I had my parents there. I apologised to the guy and obviously I gave his camera back. Fortunately, thanks to the great work of the Birmingham police, I was able to make my wedding.
Was it frustrating to play for Australia in an era when they had to go through an intercontinental play-off to qualify for the World Cup?
Hudson Chapman, via Facebook
Playing for Australia was a really proud moment for me. There are three countries I love: Australia, Croatia and especially England, because of what it gave me and the time I spent there. If those countries were under attack, I'd volunteer to defend them with my life. But playing for Australia was more of a hindrance than anything at that time. I don't mean that disrespectfully; there was just no international break. At all of my clubs, the managers used to say, "They don't pay your wages" – and they were right. You would go back to your club and there'd be no guarantee that you would get your place back. And being in the Oceania qualifying groups meant that we would win a lot of games 10-0 or 12-0, and then have to play someone like Argentina.
How devastating was the France 98 play-off, losing a two-goal lead with 15 minutes left?
Alexis Hamblin, via Facebook
That was a complete disaster for us. A lot of people blame the guy that ran on [an Australian pitch invader cut up Iran's net, delaying play] but it was us – we got to the top of the mountain and collectively had a nosebleed. And well done to Iran, because they were out of it. With 97,000 people against them, they came back to get a draw and qualify.
Were you scared to tell John Gregory that you wanted to join Manchester United, so soon after he'd said that he wanted to shoot Dwight Yorke for doing the same thing?
Mick Cockerill, London
No, because I didn't know if I wanted to leave for United. It wasn't about the money. I had got to the stage where I wanted to win things automatically. The funny thing is, if I'd stayed at Villa, maybe we would have done. They got to the FA Cup final the year after I left – that was one trophy that eluded me.
I remember saying to the chairman and to John Gregory, "It really doesn't matter about the money." But they did make me a magnificent offer – almost as good an offer, when I was going on a free transfer, as I received from some clubs in Italy. But it wasn't about that. I had unfinished business with United. I wanted to win something, and I did.
How much pressure did you feel in your second spell at United, replacing Peter Schmeichel after the club had just won the Treble? That's about the toughest gig a player could ever get…
Justin Coles, Warrington
Of course – 100 per cent. We're talking about one of the greatest goalkeepers of all time. But I wasn't going to United to replace him; I wanted to win things.
I picked up two trophies during my first season, including the Intercontinental Cup, something I had watched as a kid: the best South American team against the best European team, and no British team had ever won that before. I knew in my heart it was pretty unlikely that Australia would win a World Cup, so to walk off the pitch that night knowing I was part of the best club team in the world was an incredible feeling.
Were you surprised that Alex Ferguson called you a 'terrible professional' in his book? Was what he wrote unfair? Did the two of you fall out while you were still at the club?
Pete Thomas, via Facebook
It wasn't unfair – it was just a lie. He's always said that he doesn't bear any grudges, but obviously he does. But he can say that because he knows what happened afterwards, with the drugs and so on – he's got good evidence to back himself up. At that time, though, it was a lie. Alex Ferguson signed me twice. I wouldn't be talking to you now about my career unless he had taken a chance on me originally. Yes, we had a falling out, but these things happen. He was a great manager to play under.
Can you remember the worst hairdryer treatment you ever got from Fergie?
Jack Andrews, Singapore
It was when I was a kid. He did it to a lot of people, just to see how they'd react. We were playing Liverpool's reserves – I think Steve Staunton and Alan Hansen were playing for them – and we were 1-0 down on what must have been one of the coldest November mornings ever, so I'd put on tracksuit bottoms. Alex was ripping everyone, then he ripped me a new one: "If you don't take those tracksuit bottoms off, I'll send you up to Aberdeen on loan first thing Monday morning. You think this is cold? You wait and see what cold really is! And if you don't want to go, I'll send you back to Bondi Beach and you can wear some long pants on the beach."
He smashed me. And we won 5-1, so there you go. That stuck in my mind. I rarely wore tracksuit pants ever again – well, not for another seven or eight years, anyway...
Were you gutted when United signed Fabien Barthez after your first season?
Fred Stewart, via Facebook
Not so much. After our big falling out he went and signed Massimo Taibi, so it wasn't as if it came totally out of the blue. It's his prerogative – you're at a big club. I was looking forward to working with a guy of Fabien's calibre. I became good friends with him – he was a very, very funny guy. Me and Yorkie used to go out with him. It was hilarious.
My biggest issue back then was that I got injured three times. A lot of it had to do with a bad shoulder injury from the season before, which unbalanced my body, and a lot that had to do with the change of training. Tony Coton was a young goalkeeping coach, and – no disrespect to him – from a sports science point of view, he was green. But I blame myself, as I should have been stronger. I knew that my preparation wasn't right.
Other than that, I had a pretty good season and enjoyed some of the best matches of my entire career. There was the Intercontinental Cup final, and away to Real Madrid in the quarter-finals of the Champions League was a brilliant night. Then I got injured – and that was because of the training we were doing. I suffered a hernia for the first time in my life. They put on a stupid afternoon session because I think [Coton] felt he wasn't doing enough. So they brought someone down to do all of these silly exercises in the gym, and I was already tired. Fergie was upset with [Coton] as well. I got injured, and we were beaten 3-2 in the second leg after drawing 0-0 in Spain. And I was out for more or less the rest of the season.
How did you find out that you'd failed a drugs test while with Chelsea, and what was your reaction to the news?
Gregory Martin, via Facebook
It was Chelsea's club doctor who told me. I was incredulous, shocked. It was a terrible time. Ken Bates was trying to sell the club to [Roman] Abramovich at that point and he'd have got rid of me in a second because of the big wages I was on, so the club weren't especially perturbed about it. I said, "No, there's nothing to sweep under the carpet, and I don't want to leave."
I had my suspicions about how it all happened [Bosnich said his drink had been spiked by a known cocaine user in a London nightclub], but I just let it go. My reaction was: if you think this is who I am, then I will be that person. But that was really wrong of me. I kind of gave up. I had the financial wherewithal to do pretty much what I wanted. I should have just packed up, come back home to Australia to see out the suspension, then started again. But you can't pack up and change it now.
I once read an interview where you said a young John Terry tried to warn you that you were hanging out with the wrong crowd, shortly before you failed a drugs test. Was your downfall due to sharing a social circle with supermodels and the like?
Adam Woods, via Twitter
Yeah, John did do that. That crowd was part of the people who sent that girl [supermodel Sophie Anderton] to me. I tried to help her, and fell in love with her. But she was sent to me for a specific reason. John had noticed similar problems with a couple of other players at that place, the Wellington [a Knightsbridge club and notorious celebrity haunt]. I remember saying to him, "They're OK." He would say, "Boz, they're not." And he was right. Bad crowd, bad people.
The problem was I had no one to turn to, and I had this burning desire to find out what was behind it [the failed drug test]. So I thought I'd go straight to the source, but the more you spend time with these people, the more you are slipping, slipping, slipping, until three years later people ask you, "What have you found out?" and you say, "Nothing yet, I'm still undercover – but I haven't got any problems, honest..." I'm fortunate that I got myself out of it, otherwise it wouldn't have been very pretty if you were talking to me now... if you were talking to me at all.
You were still only 31 when your ban ended, so why didn't you resume your career until many years later?
Drew Taylor, via Facebook
I still ask myself the very same question. I wouldn't say I fell out of love with the game, but I was really perplexed, and disappointed that the game I loved so much had these things around it. When it came to the crunch, I didn't even have minimal backup from the game I had served so well and loved so much, so I said, "Jesus, if this is it, stuff it." I had given up not only on the football but on myself, which was wrong and really dangerous – I say that now whenever I go and speak to kids. I was lucky to play for more than 15 years, but I can imagine if I didn't have that behind me... God knows what people must do to continue that habit. It's terrifying to think about.
I wasn't that easy to deal with. When you're doing cocaine it's very difficult to explain to people that something is happening – they're just going to say, "Sure it is, and did you see a pig jump over your bedroom last night?" So I can understand that people probably thought, "Just leave him; he doesn't want to listen anyway." I was obdurate and narrow-minded. I have to take the vast majority of the blame. And the people who set me up, messing with a person's life and business just for financial gain…
Your former Villa team-mate, Gareth Southgate, is now a great manager and a waistcoat-wearing fashion icon – did you see that coming?
Annabel Whelan, via Twitter
He actually was one of those players I marked out as someone who'd make a great manager – he has such great football intelligence. He has proved me right in a huge way. I was really happy for him. I texted him the day after the Croatia game to say I was really proud, but I said, "I'm not going to lie to you... I was happy for Croatia, too!"
A fashion icon, though? No, I didn't see that coming at all. Mind you, he used to dress up very well at our Christmas dos...
This feature originally appeared in the February 2019 issue of FourFourTwo. Subscribe! (opens in new tab)
Thank you for reading 5 articles this month* Join now for unlimited access
Enjoy your first month for just £1 / $1 / €1
*Read 5 free articles per month without a subscription
Join now for unlimited access
Try first month for just £1 / $1 / €1
Get the FourFourTwo Newsletter
The best features, fun and footballing quizzes, straight to your inbox every week.