10 football jokes that spectacularly backfired
The official Twitter FA Cup account took flak from all angles after their Harry Kane gaffe – but there's plenty more where that came from, as Jon O'Brien attests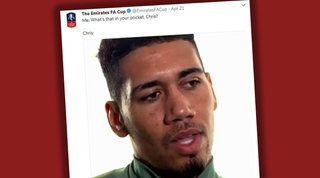 10. Olivier Dacourt's "confession"
Dacourt proved his loyalties as a friend in 2001 when he helped Patrick Vieira escape severe punishment from the FA – despite being kicked in the throat by his fellow Frenchman. After the Leeds midfielder claimed that there was no malice in the Arsenal legend's challenge, Vieira was issued with just a £10,000 fine and one-match ban.
But Dacourt then almost landed both parties in it when he joked on French TV that he'd lied about the severity of the incident in a blatant act of solidarity. Dacourt was forced to clarify his comments in front of the FA, but managed to convince them it was just an example of good old Gallic humour.
9. Phil Neville's sexist tweets
P-Nev appeared to channel his inner Bernard Manning when he first started embracing Twitter back in 2011. "Relax I'm back chilled – just battered the wife!!! Feel better now!" was the most peculiar of three particular posts which ranged from casually sexist to downright misogynistic.
Of course, they inevitably resurfaced when he was hired to replace the disgraced Mark Sampson as England Women manager seven years later. "I'm not a sexist. I've lived my life right," Neville rebutted at his first press conference.
8. Mark Bosnich's Nazi salute
An outrageous coke habit and generally wild off-pitch lifestyle made Aston Villa keeper Mark Bosnich a tabloid editor's dream back in the 1990s. But his most controversial moment occurred on the pitch during a 1996 game at Tottenham, a club renowned for its larger-than-average Jewish following. And this fact is important here: for the self-destructive Aussie decided that the ideal response to taunts from the White Hart Lane faithful was a Nazi salute.
Bosnich did immediately offer a profuse apology for his 'joke' – apparently a tribute to Fawlty Towers' 'Don't Mention the War' scene – after phoning up David Mellor's 606 show, but was still fined £1,000 by the FA.
7. Carlton Cole's immigration gag
Immigration is a particularly thorny issue even for the most skilled of political comedians. But that didn't stop Carlton Cole from giving his tuppence while watching England's 2011 friendly at home to Ghana.
"Immigration has surrounded the Wembley premises! I knew it was a trap," joked the West Ham striker on Twitter, before adding: "The only way to get out safely is to wear an England jersey and paint your face w/ the St. George's flag."
Cole quickly deleted the offending tweets but was forced to hand over the aforementioned five-figure sum after being charged by the FA with improper conduct.
6. David Moyes's slap
Moyes didn't do much to dispel football's chauvinistic reputation following a 2017 interview with the BBC's Vicki Sparks. Unaware that the cameras were still rolling, the then-Sunderland boss chided the reporter for asking a question he deemed to be "a wee bit naughty", telling her that she "still might get a slap even though you're a woman" next time around.
Although Sparks could be heard laughing at the remark, Moyes was subsequently criticised by everyone from domestic abuse charities to Labour's shadow sports minister. The FA were also unimpressed and, aptly, slapped him with a £30,000 fine.
5. Mamadou Sakho's interview hijack
There's a time and a place for hijacking your boss's TV interview during a pre-season visit to Alcatraz. But Mamadou Sakho found out that it's not when you've already rubbed him up the wrong way by missing a departure time, training session and team meal.
Armed with his own GoPro camera, the perpetually late centre-back decided to muscle in on Jurgen Klopp's televised chat with LFC TV, prompting the German to joke about leaving him on the infamous prison island. In the end, the Frenchman's lack of respect didn't result in jail time, but an early flight home, banishment to the reserves and four-year sentence at Crystal Palace.
4. Hatem Ben Arfa's career-ending joke
Ben Arfa also found himself frozen out of a European giant after falling foul of a higher power. France Football reported last month that the winger hasn't played for Paris Saint-Germain since April 2017 due to a seemingly-inoffensive joke he made about the approachability of club president Nasser Al-Khelaifi.
To be fair, the Frenchman hasn't exactly endeared himself to coach Unai Emery either since arriving from Nice in 2016. According to rumours, he's repeatedly mocked the Spaniard's attempts to speak the local lingo in front of his team-mates, and once told him he wasn't good enough to take even the best team in the world to the Champions League quarter-finals.
3. The police force's banter
We're all for the police trying to make themselves appear more human, but perhaps it's best they give the football banter a wide berth. Greater Manchester Police faced an online backlash in 2015 after tweeting: "Missing person – Wayne Rooney. Last seen in the Trafford area wearing a red shirt, any sightings please inform colleagues."
The post, which was referring to the Manchester United striker's loss of form, was heavily criticised for trivialising the issue of missing persons and quickly deleted. Incredibly, that same weekend Merseyside Police casually responded to a tweet about Sunderland being 'raped' by Everton at Goodison Park. The staff member responsible later left his position by mutual consent.
2. Rodney Marsh's Tsunami quip
They say don't give up the day job. But former Manchester City forward Marsh was forced to do just that after making light of a natural disaster which killed nearly 300,000 people. Appearing live on Sky Sports, the 'cheeky chappy' jokingly claimed that David Beckham had snubbed Newcastle due to the trouble with the "Toon Army in Asia".
Not only did Marsh's quip make little sense, it also came just weeks after the earthquake and tsunami which devastated over a dozen countries surrounded by the Indian Ocean. Despite apologising for his tasteless remark, Marsh lost his cushy role and spent the next few years stuck on the reality TV merry-go-round.
1. Walter De Gregorio one-liner
"The FIFA president, secretary general and communications director are in a car. Who's driving? The police."
Compared to the other wannabe comedians on this list, Walter De Gregorio's one-liner about the scandal that ripped football's ultimate governing body apart is actually pretty decent. But it's perhaps not the most appropriate response from one of the men actually referenced in the joke.
Once one of Blatter's closest aides, former journalist De Gregorio subsequently became FIFA's former communications director after making the gag on Swiss TV in June 2015 – although he did continue to serve as a consultant for another six months.
Thank you for reading 5 articles this month* Join now for unlimited access
Enjoy your first month for just £1 / $1 / €1
*Read 5 free articles per month without a subscription
Join now for unlimited access
Try first month for just £1 / $1 / €1
Get FourFourTwo Newsletter
The best features, fun and footballing quizzes, straight to your inbox every week.