Bob Wilson: Ask A Silly Question
"I'd visit schools, and the kids would always think I was Bobby Charlton or Bobby Moore..."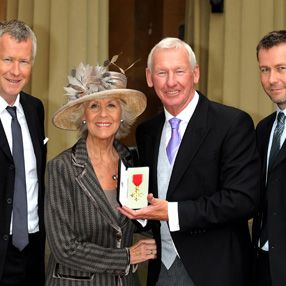 Hi Bob. Are you a Strictly Come Dancing or an X Factor man?
I'm afraid I watch both. It's compulsive crap, isn't it? I don't like the X Factor judges – they're so pantomime – but Strictly appeals to me.

It's never too late, Bob…
I think with my two new hips, and a new knee on the way, it probably is.

Oh, apologies. What did you make of David Seaman's ludicrous ice dancing?
I couldn't believe he did so well. We took the mickey about the sparkly outfits, but he'd just do his big deep raucous laugh.

Solve one of sport's great mysteries, Bob: why did Seamo shave off his lovely 'tache?
He got tired of it. Like the ponytail, he loved it while it was there.

Who is your favourite singing Bob: Dylan, Marley or The Builder?
Can I go for Bobby Darin? Mack The Knife's a classic.

What about The Builder? Can you fix it?
I can't fix it. My DIY skills are useless. I'm a tidy freak, mind – I do all the hoovering.

Have you got a fancy Dyson?
We've got… er… [yelling to Mrs Wilson] MEGS! What's our Hoover called?

Is it a Henry, like Thierry?
Hang on. This is old age setting in. Megs is going to the cupboard. [Muffled shouts from Megs] It's a what? Who? Sebo. It's a German Hoover. Top of the range, it is.

How did it feel to play for Melchester Rovers alongside Roy of the Rovers, Emlyn Hughes and Spandau Ballet's Martin Kemp?
I was reading the Daily Mail once, and they had a quiz question: What team were Bob Wilson and Emlyn Hughes playing for when they won the Milk Cup? I was absolutely baffled, I couldn't remember ever playing with Emlyn. Then our neighbour came round asking me. By that time I'd figured out it was from the comic. I think he might have won a bottle of champagne.

Who would be your Fantasy Nephew, Uncle Bob?
Hmm… anyone? I'll go for Theo Walcott. He's the most grounded young man I've ever met at the top level of sport. He's a credit to his mum and dad.

Ever been mistaken for someone else?
It's very odd. I'd visit schools, and the kids would always think I was Bobby Charlton or Bobby Moore. I always get mistaken for other Bobs.

Do you have any strange dreams?
I regularly dream I'm back at Arsenal: there's an emergency and they need me to play. But I'm 67 and can't spring about anymore. It's panic stations.

When did you last break the law?
This lunchtime. I popped into M&S in Christchurch without paying for the parking. I was only out of the car for one minute 38 seconds, getting a baguette.

What's your favourite board game?
I like Arsenal Monopoly. Although I'm one of the cheapest items on the board.

You want to get onto Waddington's and complain about that.
Well, absolutely right. It's outrageous.

Quite. Cheers Bob.
Thanks.

From the January 2009 issue of FourFourTwo.
Thank you for reading 5 articles this month* Join now for unlimited access
Enjoy your first month for just £1 / $1 / €1
*Read 5 free articles per month without a subscription
Join now for unlimited access
Try first month for just £1 / $1 / €1