Caretaker manager performances which were actually successful
Frank Lampard is in temporary charge of Chelsea until the end of the season, and the Blues legend will hope to work his way onto this list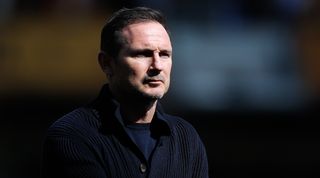 (Image credit: Getty Images)
As Chelsea prepare to play against Real Madrid in the quarter-finals of the 2022/23 Champions League with Frank Lampard as caretaker manager, owner Todd Boehly will be hoping his interim boss will be able to defy all odds and overcome the 14-time European champions.
Caretaker managers are often firefighters, appointed by clubs on a temporary basis to try and turn fortunes around and ensure stability is adopted until the end of the season.
Sometimes, though, caretaker managers perform much better than initial expectations. Lampard has plenty of inspiration to call upon when it comes to caretaker managers doing well, too, having worked with three on different occasions during his time at Chelsea.
4. Ole Gunnar Solskjaer
OK, OK. We know what you're thinking. But, during the period were Solskjaer only managed Manchester United on an interim basis, he actually performed remarkably well - hence why the club's hierarchy eventually handed him the job full-time.
Stepping in for Jose Mourinho in December 2018, Solskjaer immediately bought a feel-good factor back to Old Trafford following the moodiness his predecessor regularly displayed.
Under the Norwegian's caretaker leadership, Manchester United went 12 Premier League games unbeaten before that incredibly dramatic night in Paris in March 2019. 2-0 down from the first leg in the last-16 Champions League tie, Manchester United managed to progress to the next round thanks to a last-minute Marcus Rashford penalty as they won 3-1.
The club handed Solskjaer a three-year contract soon after, and, while he failed to win a trophy during his entire time at the club, his interim managerial job was certainly a success.
3. Guus Hiddink
Jettisoned in on two occasions by Chelsea to try and steer the troubled ship out of murky waters, Hiddink proved a success in both the 2008/09 and 2015/16 seasons he temporarily managed at Stamford Bridge.
An FA Cup win in the former season, with a third-placed Premier League finish and a contentious Champions League semi-final exit to Barcelona all highlighted his credentials, turning around a poor season under Luiz Felipe Scolari, who was sacked in February 2009.
While his second spell at the club didn't end with success, Hiddink did manage to at least bring some stability to the Premier League champions. Taking over in December 2015 with Chelsea just a point above the relegation zone, the Dutchman went unbeaten in his first 12 games to eventually help the Blues finish mid-table, laying the foundations for Antonio Conte to come in and win the title the next season.
2. Roberto Di Matteo
Initially Andre Villas-Boas' assistant at Chelsea in the 2011/12 season, the club appointed Roberto Di Matteo as caretaker manager after sacking the underperforming Portuguese in March 2012.
Di Matteo, who had no prior experience to management, excelled in the job, achieving a remarkable cup double that seemed almost impossible when Chelsea first handed him the job. An iconic win against Barcelona in the Champions League semi-finals set up a clash with Bayern Munich in the final.
Chelsea came from behind to win their first European Cup that night, with Didier Drogba slotting in the winning penalty. Before that, Di Matteo had guided the Blues to FA Cup victory over Liverpool.
Despite being sacked within the first three months of the following season when he was given the job on a full-time basis, Di Matteo's legacy as Chelsea (caretaker) manager will forever live on - and perhaps provides Frank Lampard with the silent confidence that he can reproduce similar fortunes.
1. Tony Barton
When Aston Villa manager Ron Saunders joined local rivals Birmingham City in February 1982, just a season after guiding Villa to the First Division title, they were left floundering.
The club's hierarchy turned to chief scout Tony Barton, who had no prior coaching experience, to try and turn things around as caretaker manager. The champions were languishing 15th in the table when Barton took over, but he managed to stabilise the club as they eventually finished 11th.
However, Barton's true success came in Europe, where he led Villa to the European Cup semi-final. The club rewarded him with a permanent contract as a result, and they duly reached the final by beating Anderlecht in the semis.
Within a few months, Barton had masterminded a European Cup triumph in the final over Bayern Munich, beating the German giants 1-0 through Peter Withe. Not bad for his first time as manager.
Thank you for reading 5 articles this month* Join now for unlimited access
Enjoy your first month for just £1 / $1 / €1
*Read 5 free articles per month without a subscription
Join now for unlimited access
Try first month for just £1 / $1 / €1