Cesc education: Why Fabregas slumps at this time every year
Arsenal fell away from title races, Barcelona offloaded him because of it, and now history is repeating itself at Chelsea. Aanu Adeoye investigates...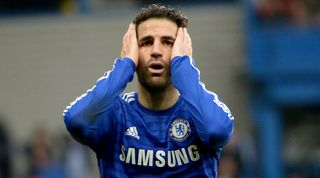 There aren't too many sure things in a world that's in a constant state of flux, but taxes, death and Tony Pulis steering a club clear of Premier League relegation are all pretty safe bets. 
However, for the last six seasons it seems the post-Christmas fading of Cesc Fabregas after an exhilarating start to a season is also now a nailed-on certainty.
For the best part of his senior career, the Spaniard has repeated the all-too-familiar cycle of starting the season brilliantly, only to finish it huffing and puffing his way through.
At the start of this campaign, Fabregas was the heartbeart of a Chelsea team that obliterated every opposition in its path and threatened to walk off with the title, pulling strings in midfield like a professional puppet master and teeing up Diego Costa for goals like they were going out of fashion.
Now, though? Not so much.
86/33 - Cesc Fabregas has been involved in fewer league goals in the second halves of the last six seasons. Dip. March 11, 2015
Unhappy homecoming
When Fabregas sealed his dream move to Barcelona from Arsenal in summer 2011, it was hoped (by non-Gunners) that he might stay at the Catalan club long enough to become the heir to Xavi's throne.
In reality it never really worked out, and the club finally lost patience with the inconsistency of their prodigal son, disposing of him to Chelsea in a £27 million deal last summer. It is not unheard for for clubs to take thinly-veiled digs at departing players, but a statement released on Barcelona's website justifying the sale of the Spain international revealed the rationale for leaving their dearly beloved out in the cold.
"Despite glowing starts to each campaign, Cesc's contributions to the cause gradually decreased as each season drew to a close," it read. "From being someone who joined in with the attack, supplying and scoring goals, the magic tended to fade later on in each season. He scored one, six and one goal[s] in the last 24 games of each season. For some reason, he was never as good in the second half of a season as in the first."
It was a scathing, if not unjust assessment of his three-season spell as a Camp Nou player. 
It is therefore important to ask why this has become an annual occurrence. How does a naturally-gifted footballer become a listless bystander? During his last couple of seasons at Arsenal, a loss of form usually coincided with the team falling away from contention for end-of-season honours.
Hampered by a series of muscle injuries, Fabregas felt the effects of a system fine-tuned to work around him, making injuries and fatigue inevitable.
Perhaps one moment in the 2009/10 season encapsulated how reliant Arsene Wenger's team were on their influential captain. With a resilient Aston Villa frustrating the Gunners on a late December afternoon, a barely-fit Fabregas came on to curl home a 25-yard free-kick and then finish off an incisive counter-attack before departing, clutching his hamstring, after a marvellous 27-minute cameo.
That win took Arsenal to within four points of leaders Chelsea with a game in hand, but with Fabregas suffering a recurrence of his hamstring injury and in the process missing several crucial games, the Gunners fell away and eventually finished third, 10 points behind the Blues.
In the wings
If his crunch-time decline at Arsenal was due to an over-reliant system wearing him out, there wasn't a chance of that happening in Barcelona.
With Lionel Messi, Andres Iniesta and Xavi the central figures, Fabregas was a member of the supporting cast rather than the lead character, and that played a crucial role in his ineffectiveness.
Despite fulfilling a variety of roles during his time in Catalonia, the Spaniard never made any his own. Fabregas was deployed in central midfield, on both flanks and in attacking midfield.
In the second leg of last season's Champions League quarter-final against Atletico Madrid, Tata Martino elected to play him up front as a false nine with predictably bad results.
His numbers at Barcelona were impressive – 42 goals and 16 assists in 151 games – but he delivered few big moments and was twice subjected to vociferous abuse from his own fans.
First he was whistled as Bayern Munich completed their 7-0 humiliation of the Spanish giants in 2013, and again a year later against Atletico Madrid in that aforementioned clash.
Barcelona's statement upon his departure may have been harsh, but it was backed up by the numbers. In three years, Fabregas was involved in 43 goals (either scoring or assisting) in the first half of seasons, against a meagre 17 in his second halves. With Xavi usually preferred in central midfield, the former Arsenal man was often played out of position in the big games, or even scrapping for game time at all.
Inevitably it caused a sharp decline in his productivity. If his problem at Arsenal was their overreliance on him, his main problem in Spain was the lack of faith put in him.
Broken metronome
Since the turn of the year, Chelsea have lacked the swagger and breathless derring-do with which opponents were swept aside at the start of the season, reverting to grinding out results like the Jose Mourinho teams of old. It is unsurprising that this has coincided with a loss of form for several key players, most notably Costa and Fabregas. Even Nemanja Matic has been erratic in recent times, showing a lack of awareness that would have been completely unthinkable four or five months ago.
And while Eden Hazard has manfully continued dragging his team-mates to Premier League glory, it's Fabregas who is the poster boy of Chelsea's pre and post-Christmas performances.
The 27-year old racked up 15 Premier League assists in the first half of the season, and chipped in with vital goals at Crystal Palace and Stoke. He has now gone 10 games without an assist and failed to score in any competition since netting against the Potters back on December 22.
Fabregas looks jaded, and despite being a winner of several titles, he looks severely short on confidence. Sunday's draw against Southampton proved something of a nadir, with the Spain international even booed by a section of the Chelsea support. Although he completed 103 of his 122 passes – the fifth time this season he's attempted more than 120 – he lost possession 27 times, more than any player on either side. 
Fabregas's dwindling fortunes cannot be dissociated with Mourinho's lack of squad rotation that has seen the Spaniard play all but three of the Blues' 28 Premier League games this season.
Despite Oscar ousting Juan Mata for the No.10 shirt last year, the Brazilian schemer has hardly played in that position this season. Mourinho has constantly picked Fabregas, when selecting Oscar as his deputy might have been the more logical option.
The Spaniard's form has also been interrupted with the muscular injuries that troubled him at Arsenal, and he has looked some way off optimum fitness in recent months.
With Manchester City stuttering and a lack of genuine competition from the rest of the league allowing Chelsea breathing space, it is inconceivable that anything other than blue ribbons will be wrapped around the Premier League trophy come May when Mourinho's men host Sunderland.
Fabregas played his part in the first half of the season, but Chelsea will have to look to Hazard to continue weaving his magic as they race towards the finish line. History has repeated itself, and the Spaniard looks spent in spring yet again.
Hull vs Chelsea LIVE ANALYSIS with Stats Zone DOWNLOAD NOW iOS • Android
Quizzes, features and footballing fun
Get the best features, fun and footballing frolics straight to your inbox every week.
Thank you for signing up to Four Four Two. You will receive a verification email shortly.
There was a problem. Please refresh the page and try again.