Close encounters with Ray Wilkins: how the Chelsea great schooled me in a radio studio
One year ago today, English football lost one of its all-time greats. FFT's editor-in-chief James Brown recalls his memorable meetings with the man they called 'Butch'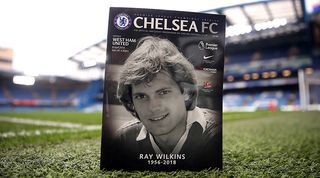 One of the unexpected upsides of appearing regularly on talkSPORT when I was co-hosting two Saturday shows, and occasionally filling in for midweek daytime hosts, was the people I'd end up sitting next to in the studio or encountering in the offices.
In amidst the army of men in uniform checked shirts, I would occasionally encounter someone I'd spent time watching television as a kid; footballers, singers, TV stars. Middle-aged entertainers were staple guests on the station. Meeting people who were famous when I was 10 years old invariably took me back to feeling the same way as I did about them then.
I was a little awestruck to see a now-silver-haired David Essex, who'd been a favourite singer of mine on Top of The Pops, and surprised to see director Ron Howard who, way before he became a huge movie director, had been in Happy Days with Henry Winkler's Fonz. Then there were the retired sportsmen of various ages: Darren Gough propped up on a shelf reading his texts, and Alvin Martin or Bobby Gould making cups of tea.
Both David Essex and Ron Howard were famous at a time when access to footballers for kids largely came from photographs in comics like Tiger and Jag or Shoot, or on football cards. Back in the mid-70s you rarely even got to see football on TV, unless you were somehow allowed to stay up and watch Match of the Day, or the Home Internationals were on.
Butch
You got to know who was a great player from the names that the older kids used to describe themselves in personal commentary in the street, or hearing who was playing for England, or seeing the stats in comics and on the back of those cards.
'Butch' Wilkins was famous because he'd been captain of Chelsea so early in his career. He had great stats and the same name as the big hero bulldog in Tom and Jerry.
Butch seemed to have been around forever. These were the days when football cards were for collecting in a big pile wrapped tightly with a rubber band, or for competitive flicking against a wall, or for fixing to your bike forks to make a motorbike noise when the spokes brushed across them.
So it was a genuine pleasure when, despite being a Leeds United supporter with no affection for Chelsea, I got to sit next to Butch quite a few times on The Sports Breakfast Show with Alan Brazil, when I was cross-promoting our weekend shows by rounding up the football news in that day's papers.
Tete-a-tete
I had two moments with Ray like this worth recounting. One was a difference of opinion and the other was a mini-masterclass.
The first came after my team Leeds had started to throw away our promotion opportunity under Garry Monk against Brentford a couple of years ago, typified by a witless first-half performance from loanee Mo Barrow. Alan Brazil had asked me for my thoughts, knowing I'd be good for a five-minute rant while he could have a breather. So off I shot.
Regular listeners to the show knew that Ray was less than impressed with the opinions of those who hadn't played football professionally, and he let me know that. But I gave back as good as I got, saying I'd played enough at my own crappy standard to know how to either close a man down or mark someone, but to do neither was pointless.
I'm not slow in coming forward with my opinions about a game I've watched, especially when Ray hadn't. Even though I respected his career with Milan, Chelsea and Manchester United and told him so, I also knew that I'd seen more of that Leeds team than he had, and knew more about them than him.
We were sitting so close together that, like two players marking each other at a corner, we found ourselves holding each others' arms during the discussion. Ray ended his contribution with a comment that he was sure Monk knew what he was doing. I agreed: Monk had obviously shared my opinion, because he pulled Barrow five minutes into the second half.
It was nothing but a momentary disagreement and I don't think Ray was used to people who weren't players holding their own, but it blew over. When I came off the air, a lot of people on Twitter were commending me for sticking up for the fans' perspective.
Free-kick king
That was Ray doggedly sticking up for his profession, but what he did during a news break on another show was brilliant. We'd been discussing free-kicks and Chelsea on air, and went to the news. Ray carried straight on talking and, removing his headphones, stood up and cleared all of the spare studio chairs out of the way and proceeded to show us how Drogba was getting the ball to loop and dip so effectively.
"Alan, you remember how we used to dig a bit of the pitch up to create a mound to kick the free-kick off, like in rugby? Well, Didier does the opposite. He digs a hole with his toe and puts the ball behind it, then hits it into the hole to get the spin on it."
All the time, he was going through the motions. It was hardly anything, just a moment of expert insight, but it was brilliant to see this guy I'd watched for England as a kid re-enacting a free-kick so enthusiastically. It was impossible not to like the man.
Ray was a very balanced analyst who'd give genuine thought, care and insight into what he was saying. Sometimes I'd happily sit there and just listen rather than engage on a topic like we were supposed to do.
A good friend of mine called Jay – a lifelong Chelsea fan – once told me that he'd been at school in Hayes with Ray, and that they'd run the tuck shop together at break times selling crisps and biscuits. I wasn't sure whether to ever bring this up in the studio, because I figured he'd have people making claims like this all the time.
Eventually, during an ad break, I reminded him of Jay one day. Ray's face lit up as his mind went back to his school days, when he was just a regular kid. "Ginger Jay?! Yes – he was a good friend of mine! How is he?"
Butch was a genuine man with great football experience and insight, and I was honoured I got to meet him – even if he didn't have much time for the terrace-dwelling gobshites coating off their team and manager…
THEN READ…
STORY Millwall: it's a father and son thing
LIST 9 essential football items that everybody had in the '90s
While you're here, why not take advantage of our brilliant new subscribers' offer? Get 5 copies of the world's greatest football magazine for just £5 (opens in new tab) – the game's greatest stories and finest journalism direct to your door for less than the cost of a London pint. Cheers!
Thank you for reading 5 articles this month* Join now for unlimited access
Enjoy your first month for just £1 / $1 / €1
*Read 5 free articles per month without a subscription
Join now for unlimited access
Try first month for just £1 / $1 / €1
Get the FourFourTwo Newsletter
The best features, fun and footballing quizzes, straight to your inbox every week.