Cristiano Ronaldo isn't Europe's highest-paid celebrity anymore
CR7 has fallen behind Harry Potter author J.K. Rowling in the rankings for Europe's most minted star of 2017, according to Forbes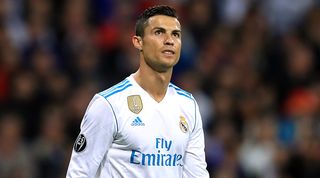 British author Rowling tops Forbes's European celebrity rich list for 2017 with projected earnings of $95m – $2m more than the Real Madrid forward.
However, Ronaldo will be pleased to know he's still the year's highest-paid sportsman in the world, ahead of basketball icon LeBron James and rival Lionel Messi.
According to Forbes's rankings, the 32-year-old comes fifth in the overall celebrity list (behind Drake, Rowling, Beyonce and Diddy), with Messi 14th.
In terms of footballers in the European rankings, Gareth Bale comes in joint-18th with $34m earnings, followed by Zlatan Ibrahimovic in 20th with $32m.
Forbes's European Celebrity Rich List 2017
1. J.K. Rowling: UK, $95 million
2. Cristiano Ronaldo: Portugal, $93m
3. Coldplay: UK, $88m
4. Adele: UK, $69m
5. Roger Federer: Switzerland, $64m
-6. Elton John: UK, $60m
-6. Gordon Ramsay: UK, $60m
7. Paul McCartney: UK, $54m
8.  Rory McIlroy: UK, $50m
9.  Calvin Harris: UK, $48m
10. Lewis Hamilton: UK, $46m
11. Simon Cowell: UK, $43.5m
12. Tiesto: Holland, $39m
13. Sebastian Vettel: Germany, $38.5m
14. Novak Djokovic: Serbia, $37.6m
15. Ed Sheeran: UK, $37m
16. Fernando Alonso: Spain, $36m
18. Gareth Bale: UK, $34m
18. Conor McGregor: Ireland, $34m
20. Zlatan Ibrahimovic: Sweden $32m
Quizzes, features and footballing fun
Get the best features, fun and footballing frolics straight to your inbox every week.
Thank you for signing up to Four Four Two. You will receive a verification email shortly.
There was a problem. Please refresh the page and try again.