Cristiano Ronaldo's evolution as a footballer is complete – and here is the evidence
Thore Haugstad evaluates the Real Madrid man's current role at the Bernabeu and explains why he should now be considered an out-an-out striker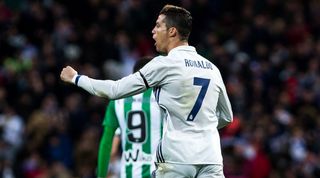 The transformation of Cristiano Ronaldo from tricky winger to herculean goalscorer has long fuelled speculation that he could finish his career as a pure centre-forward.
Recently, the theory has gained further credibility. A bit like the Alan Shearer of old, the Real Madrid star is spending more time lurking inside in the box, sinking opponents with powerful headers and nerves of steel from the spot.
Consider this: of the last five goals the Portuguese has netted, all have been either headers or penalties. They include spot-kicks against Villarreal and Las Palmas, plus magnificent headers against Valencia, Las Palmas and Real Betis. You have to go back to the 3-1 win at Osasuna on February 11 to find his last goal from open play with a different body part. That's seven games ago.
Of his 19 league goals this season, six have been penalties, one a free-kick and five headers. It is a notable record considering Ronaldo has been predicted to gravitate towards the penalty box with time and, as his game has continued to evolve, so has that of Madrid.
Striking changes
These observations may prove to denote something of a closing chapter in Ronaldo's evolution. The skinny show pony arriving at Manchester United in 2003 soon bulked up to become an athletic goal machine, ramming home free-kicks, outsprinting defenders and leaping to steer in crosses. After joining Madrid in 2009, adolescent trickery has given way to a more direct game based on explosive movement and thunderous first-time finishing.
As Ronaldo has increasingly relied on his Olympian physique, commentators have asked what will happen when his pace declines. The answer seems to be the centre-forward role. Carlo Ancelotti practically used him as a second striker in a 4-4-2 when Madrid notched up their 22-game winning streak in late 2014. A similar solution was devised by Portugal boss Fernando Santos at Euro 2016, where Ronaldo's finest moment was a towering header against Wales.
Since then Zinedine Zidane has used him as a lone forward, most notably in the astonishing 3-0 victory at Atlético Madrid last November, though also in a 4-4-2 or a more unorthodox 3-5-2. At 32, Ronaldo now rarely sprints down the touchline. He conserves energy, waits for a promising move, then channels all his focus into breaking free inside the box and pulling the trigger.
Fox in the box
A look at the numbers back up these impressions. Ronaldo has become less and less involved in build-up play and, when he is, his passes merely keep the ball moving. His league average of 27.3 passes per 90 minutes has never been lower at Madrid. In his two last league games, against Las Palmas and Betis, his deliveries were hardly threatening.
This makes it no shock to learn that Ronaldo is creating less too. The number of shots he sets up per 90 minutes dropped from 2.2 to 1.4 last season, and stand at just 0.9 now. Over the same period, his haul of 16 assists in 2014/15 dropped to 11 last campaign; this season he has just three in 21 league games.
Likewise, his average of 0.7 successful dribbles per 90 is half of that of last season. It's never been lower. Looking at where Ronaldo has received the ball in his last two league games, you can spot a pattern: he either moves out wide in the build-up phase, or hares into the box as Madrid break forward. Rarely does he roam near the corner flag. This would indeed make no sense at all: you want your best header in the box when someone is ready to cross.
Quality over quantity
As these patterns have become more common, the shooting statistics have changed too. Ronaldo has generally fired the most shots in Europe over the last seven seasons; from 2009/10 to 2013/14, he never fell below 7.1 per 90, which is an enormous average. Yet since then, he's dropped to 6.5 and 6.4. This season he stands at an all-time low of 6.0.
Should this worry Madrid? Not necessarily. It only means that the types of shots have changed. Looking at shots inside the box only, the trend is somewhat reversed: Ronaldo is hitting 3.7 per 90, an average only lower than in one of his seven full seasons at Madrid. In other words, speculative long-range shots are being replaced by close-range finishes.
This is entirely in line with Ronaldo's evolution into a pure centre-forward. Facing Las Palmas and Betis, he didn't register a single shot outside the box.
Staying top
Given the influence Ronaldo enjoys at Madrid, the team has tried to adapt to his game. In each of the last four league matches Ronaldo has played, Madrid have fallen behind and tried to mount comebacks, pushing their full-backs up and moving players into the box.
This makes sense, because Madrid have no Lionel Messi demanding the ball between the lines, perhaps apart from Isco, whenever he plays. All of Ronaldo, Karim Benzema and Alvaro Morata are strong in the box, and while relying on crosses can seem one-dimensional, it has yielded results of late.
This season Madrid are hitting 25 crosses per game, a league high alongside Eibar. The most common servants for Ronaldo are not 'BBC' colleagues Benzema and Gareth Bale, but left-back Marcelo, who's set up four of his goals. With the added set-piece threat of Sergio Ramos, Madrid have scored the most headed goals in La Liga so far this season.
This kind of centre-forward play seems likely to continue for Ronaldo, even if his recent rate of headed goals is unlikely to be maintained. His legs may be bound to slow down, even for a player of such extreme professionalism, but his leap and instinctive finishing still seem sharp. If he really is to stay decisive at the top level until his contract expires in 2021, playing as a pure striker may well be the way to go.
Quizzes, features and footballing fun
Get the best features, fun and footballing frolics straight to your inbox every week.
Thank you for signing up to Four Four Two. You will receive a verification email shortly.
There was a problem. Please refresh the page and try again.