Darren Bent: Talentspotter
"I've got my test soon: if I pass I'd like a VW Golf"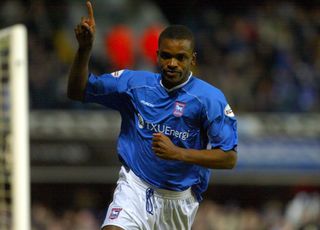 Born
Tooting, London, 06/02/84
Team supported
Arsenal. I've always been a striker and Ian Wright is one of my big heroes so I enjoyed going to watch him.
Clubs
Just Ipswich. When I was 14 an Ipswich scout offered me trials. I was ready to go and try my luck, then they watched me in another game and offered me a place in the academy there and then. I'd been approached by a few clubs, but I felt Ipswich was the best option. I'd seen Kieron Dyer, James Scowcroft and Richard Wright come through and get into the first team and that was the target for me too.
International honours
I've played for England at under-15s, U16s, U17s and now U19s. I really enjoy it: it's good to catch up with players from other clubs and compare notes.
Strengths
Probably my pace and finishing. I'm not bad in the air, either. Generally my job is getting on the end of things and scoring goals.
Weaknesses
My left foot is a swinger and my hold up play could do with improving. I'm only 18 so I need to work on my strength a bit, but I've got time.
Who do you play like?
I like Thierry Henry. I don't think there's anyone better at the moment. I watch him to pick up pieces and put them into my game.
Career highlights
Last season was amazing. Making my debut in the UEFA Cup against Helsingborgs was special, and I got a couple of goals for the first team against Newcastle in the League Cup and Middlesbrough in the Premiership. We won the Premiership Reserve League and I was top scorer with 21 goals. And I made my debut for England U19s. All in all, it was a pretty good year, apart from Ipswich getting relegated.
Lowlights
Getting knocked out of the FA Youth Cup by Fulham was a big blow. We got to the semis in 2000-01 with a really young team and were expected to do even better last season. We've played Fulham loads in recent years and have battered them every time, but they were the better team on the day. We maybe took it for granted a bit.
Biggest influence
My dad travels everywhere to watch me play and my mum gets to as many games as she can. They've given me a lot of support and I'm really grateful for that.
Wheels
I've got my test coming up soon. If I pass I'd like a VW Golf.
Tunes
I'm into R&B, hip-hop and garage. On the garage scene I'm listening to Pay As You Go and Heartless Crew at the moment.
Hobbies
I enjoy a game of tennis. Otherwise I like to spend time with my girlfriend Layla.
Sun or Mirror?
I read The Sun all the time – especially the problem page. And I was gutted that Warbury went down in Striker.
In five years I'll be...
I just want to play as well as I can and get into the first team on a regular basis and then help Ipswich back into the Premiership. After that, I'd like to get a chance with England – but who wouldn't?
Interview: Tim Barnett. From the August 2002 issue of FourFourTwo.
Quizzes, features and footballing fun
Get the best features, fun and footballing frolics straight to your inbox every week.
Thank you for signing up to Four Four Two. You will receive a verification email shortly.
There was a problem. Please refresh the page and try again.