Declan Rice, four years on: how Arsenal's new hero has matured into a £105m man
FFT's senior staff writer first interviewed the midfielder in 2019 – he met him again for the latest issue of the magazine, and explains how his personality has developed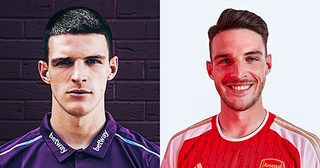 (Image credit: Leon Csernohlavek and Stuart Manley)
"Who's described me as intelligent? I think someone's on a wind-up!"
Four years ago, I sat in a dugout at West Ham's Rush Green training ground, chatting to Declan Rice for FourFourTwo for the first time. It was just days before the start of the 2019-20 season, and he seemed as relaxed as it was possible to be. Perhaps it was little wonder – in the previous campaign, he'd firmly established himself in the Hammers starting line-up and even made his England debut, too.
He was still only 20 years old, but he already had the confidence to speak far more openly than pretty much any other footballer of that age – and self-deprecatingly, too. "Maybe on a pitch I'm intelligent, but at school, no chance – I had no brains whatsoever!" he joked, when I suggested that he was already being complimented for his intelligence in the centre of a football field.
That determination not to take himself too seriously was refreshing, and part of why he's become so loved over the years, by West Ham fans, England fans, and now by Arsenal fans, too. I've sat down to chat with Rice on three occasions during my time at FFT – in 2019, 2021 and for the latest issue of the magazine, on sale this week – and he's never been anything other than thoroughly pleasant and engaging company. Declan's one of the good guys.
Despite a significant increase in fame over those four years – thanks to his tournament displays for England, a European triumph as West Ham skipper and now his £105m move to Arsenal, making him the most expensive British footballer of all time – many things about him don't seem to have changed at all.
When I met up with him recently, the sense of humour was very much still there, as was the willingness to chat with anyone. Rice happily talked away with everyone present at the photoshoot, engaging in small talk about the location's pet tortoise, and offering to pose for a picture with our photographer's teenage son, who'd come along for the day, wide-eyed about it all.
Four years ago, Rice told me the story of the opening day of the previous campaign, when he'd been substituted at half time during a heavy defeat at Liverpool, and felt so distraught about his performance that he decided on the plane home to London that he'd ask Manuel Pellegrini if he could go out on loan to the Championship. Aston Villa were interested, as were Nottingham Forest and West Bromwich Albion, and Rice had real doubts about whether he was yet ready to play regularly in the Premier League. His confidence was still fragile.
Thankfully for him, Pellegrini told him not to be silly, soon put Rice back into the starting line-up and saw his teenage midfielder flourish. When we met in 2019, it was clear already just how much self-belief he'd taken from those 12 months. He was already being linked with the Premier League big boys, Manchester United most prominently back then. While insistent that he did believe he had the ability to play for a team like that, he stressed he felt he was already at the right club for his development. "I don't think the timing is right for me – I've still got so much to learn," he said.
It already looked like he had the ability to become a West Ham legend in the future, after all. Would he love that one day, I asked him back then? "Yeah," he said. "To be called a West Ham legend in the future, maybe, would be a real honour."
Over the ensuing four years, he grew into that person. When we met up again recently, he was modest enough to be reluctant to declare it mission accomplished – he wasn't about to declare himself a Hammers legend, but it's fair to say he did indeed become one, as one of only two players in the club's history to lift a European trophy as captain. The other? Bobby Moore – not bad company to keep.
Rice has changed in some ways during those four years – most noticeably in appearance.
Gone is the more aggressive-looking close shave of 2019, in its place the flowing locks of someone who seems totally comfortable in their own skin. He doesn't need to look visually aggressive on a football pitch to assert his authority any more. His performances, consistency and reputation are doing that all on their own.
There's a sense, too, that his words carry greater authority than they did four years ago, and that he's fully aware of that fact. When he speaks seriously, he speaks like a leader now, with greater gravitas and clarity.
Rice has always been determined, he's always given absolutely everything on a football field – he wouldn't have progressed so impressively without doing that. From speaking to him recently though, there was a sense that now, if anything, he's even more laser-focused, and on one thing in particular. Trophies. Trophies. Trophies.
It's part of the reason why he made the tough decision to leave West Ham, the club he obviously still adores, and always will. In terms of ability, Rice has elevated himself to become one of the finest midfielders in the Premier League, and indeed the world. Winning the Europa Conference League gave him a taste for success, and now he undoubtedly wants more.
During our chat, trophies came up often. Rice understands that he's now moving into the peak years of his career, and they are years he needs to maximise, by winning as much as possible. By joining Arsenal, he told me he believes he's joining a team who can do exactly that – and that he hopes he can impact that team in a meaningful way.
The early signs are highly promising – Arsenal have started the Premier League season well and Rice has fitted in seamlessly, scoring the goal that gave them victory against Manchester United for good measure. He's adapted to Mikel Arteta's style of play with the in-game intelligence that he's always displayed.
When I spoke to him recently, he gave absolutely no sign that he's about to let any of that go to his head. "You've got to remain humble," he told me four years ago, and it remains his ethos now, but never confuse humility for an absence of total determination to succeed.
Spend any sort of time in Rice's company, and that hunger is abundantly clear.
Read our exclusive feature interview with Declan Rice in the latest issue of FourFourTwo magazine, available to buy HERE with free delivery
More Arsenal stories
Arsenal scout exciting European talent - who Chelsea had £23m bid rejected for
Aaron Ramsdale wanted by Chelsea and Bayern Munich, amid 'internal concerns' over £60m star
Paul Merson's shockingly honest reason for his crazy decision to leave Highbury
Thank you for reading 5 articles this month* Join now for unlimited access
Enjoy your first month for just £1 / $1 / €1
*Read 5 free articles per month without a subscription
Join now for unlimited access
Try first month for just £1 / $1 / €1