Dominic Monaghan: Sing When You're Winning
"I lost a shoe in the Stretford End"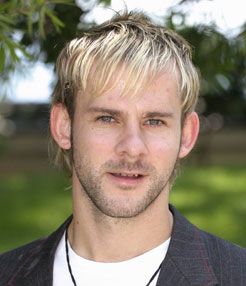 Born in Berlin and living in Hawaii, the more cynical football fans among you may feel the urge to utter "typical bloody Red" at the sight of Dominic Monaghan in that shirt. But you'd be wrong.
You see, Manchester United are never far from Dominic Monaghan's heart and though he often has to take drastic steps to keep tabs on his team's progress, the 29-year-old star of The Lord of the Rings trilogy and, more recently, Lost, returns home to Manchester whenever he gets the chance.
"My family were all originally from Manchester and my mum and my Uncle are two of the biggest Reds you'll ever meet," he explains. "They influenced me more than anyone to become a United fan, even though my dad tried to sway me towards supporting City, like he does."
But with United and Liverpool dominating the TV schedules in the late '70s and 1980s, even on German TV, the decision was simple, and simplified still further when the family returned to Manchester.
"I was 11 when I first went to Old Trafford, my Uncle took me," he says, but admits to having no idea who they were playing. "What I do remember as though it was yesterday was being on the Stretford End and my mate losing a shoe at one of the early games I went to. Things like that stay with you for some reason.
"The crowds were always huge and I really got into the whole social aspect of football with my mates. We'd go to Old Trafford first thing, pay about eleven quid for a ticket and then try and get in the local pubs – we had no chance, but it didn't stop us trying.
"We'd spend most of our time walking around the rainy streets of Manchester or just hanging outside Lou Macari's chippy. It was the days of Bryan Robson and Norman Whiteside and I'd go to most of the games and the odd away match, when I could afford it."
One such away match involved the short trip across the city to Maine Road, on the fateful day in 1989 when City thrashed their more celebrated neighbours 5-1.
"Oddly, I can only remember Mark Hughes' spectacular scissors-kick from that day," smiles Monaghan. "To be fair to City, they'd suffered for decades and the only way they could come back up to some kind of level playing field at that time was by murdering us, which they did. The City fans at school had bragging rights for the rest of the year after that, which was tough to take – plus, as you might imagine, my dad gave me a fair bit of stick about it."
Things, of course, improved dramatically for the Reds after that and in Eric Cantona, Monaghan discovered his footballing God. "He was just incredible. He had everything – skill, vision, desire and a passion to win. You'd go to games thinking that even if we were one, two or three goals behind, he could turn it around almost single-handedly. He was an absolute genius.
"But, from the late George Best through to Ryan Giggs and David Beckham, and nowadays with Cristiano Ronaldo and Wayne Rooney, we've always had exceptional players."
Dominic Monaghan has not always been there to see them, though, as his acting career has taken off. First known in the UK when he landed the role of Geoffrey Shawcross in Hetty Wainthropp Investigates, Monaghan struck global gold when he bagged the role of the hobbit Merry in The Lord of the Rings trilogy.
It was during the filming of Peter Jackson's epic in New Zealand that Monaghan spread the word of Manchester United to his co-star Elijah Wood.
"Yeah, you could say I had a hand in convincing him to support the Reds," he laughs. "We used to have kick arounds in-between filming and I always had a Cantona DVD and a season review in my trailer which I made sure Elijah got to see." And did it work? "Yeah," smiles Monaghan, "he's a Red, too. I also got Liv Tyler to admit to being a United fan recently, and Orlando Bloom's a Red, now." That'll be Kent-born Orlando Bloom, of course, which makes sounds about right. At the rate Monaghan is going though, there won't be an A-list Hollywood actor left that doesn't profess to Red Devil worship before too long.
Now a permanent resident of Hawaii, where most of Lost is filmed, Monaghan's opportunities to return home are somewhat limited. Even so, his role as Charlie Pace in the Emmy award-winning drama has enabled him to play a Mancunian on screen and add a few Manchester United references into the show.
"Yeah, there are one or two things I've managed to crowbar in!" he laughs. "There are a few flashback scenes where me and my brother get Manchester United footballs for presents and we both have our late-Eighties replica tops on. But it's got be done, hasn't it?"
Living in paradise has its drawbacks, though, at least that's what he claims. Following the Reds in-between filming and living several thousand miles from home means he has to find various means of keeping up with events at Old Trafford, but he enjoys the detective work and claims it makes him feel more of a fan than ever.
"I get Fox Sports which shows four or five top Premiership games a week, so I can usually catch United on that," he says. "But there's also the Internet and I've got some good contacts at the club who send me DVDs every month of the matches and programmes.
"I've become a good friend of Ruud van Nistlerooy, too, who was a big fan of Lord of the Rings, and when Elijah and me turned up at United's U.S. tour last year, he asked to meet up with us and we went with the players to a party at Venice Beach. I've kept in touch with Ruud since then and we exchange e-mails from time to time, so it doesn't feel like I'm so far away."
There is one thing that he can't keep up with, however, the one thing he misses more than anything about Blighty... "Going home on a Saturday night with a Chinese takeaway and watching Match of the Day. God I miss that."
Hawaii's spectacular breakers and golden sands, or Gary Lineker, Mark Lawrenson and a dodgy No.27 with prawn crackers? It's easy to understand where he's coming from…
Quick questions
Best ever moment
"Completing the treble against Bayern Munich in 1999. I watched the game in a bar and I don't think the excitement of those final five minutes will ever be bettered."
Worst moment
"Switching on Match of the Day and listening to Des Lynam give his views on Eric Cantona's infamous kung fu incident at Crystal Palace. I thought if Des is dissing my hero, it must really be bad. I felt really low at that time."
All-time hero
"Has to be Eric – he just had that little something extra."
Team you hate
"It has to be Liverpool. I don't think the rivalry is quite as bad as it used to be but for all the run-ins and intense battles down the years, it has to be them."
All-time villain
"Neil Ruddock – an overweight Cockney who was just in the Liverpool team to mix it. I remember him trying to make Cantona look a fool by sticking his chest out after a clash. Eric just squashed his nose and stuck out his ears in retaliation."
Dream signing
"Ronaldinho - that guy's on a different planet and could you imagine Rooney, Ronaldo and Ronaldinho? What a forward line…"
Thank you for reading 5 articles this month* Join now for unlimited access
Enjoy your first month for just £1 / $1 / €1
*Read 5 free articles per month without a subscription
Join now for unlimited access
Try first month for just £1 / $1 / €1
Get FourFourTwo Newsletter
The best features, fun and footballing quizzes, straight to your inbox every week.
Nick Moore is a freelance journalist based on the Isle of Skye, Scotland. He wrote his first FourFourTwo feature in 2001 about Gerard Houllier's cup-treble-winning Liverpool side, and has continued to ink his witty words for the mag ever since. Nick has produced FFT's 'Ask A Silly Question' interview for 16 years, once getting Peter Crouch to confess that he dreams about being a dwarf.