Emmanuel Petit: Perfect XI
"Both physically and tactically a giant of the game. I used to enjoy coming up against him for Arsenal against Manchester United – it was always a battle. But one I used to look forward to"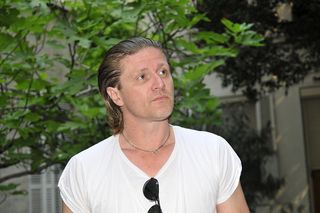 Arsenal and France legend Emmanuel Petit has charged a dream managerial duo with controlling a team of temperamental talents...
Goalkeeper
Fabien Barthez
He played football in such an instinctive manner and that's what enabled him to pull off some miraculous saves. Fabien also had just the right amount of folly, a quality I think is indispensable for the position of goalkeeper.
Right-back
Lilian Thuram
My former team-mate from the France team and at Monaco, when I used to play in defence. Like Paolo Maldini, a model defender without having to resort to dirty tricks. My two full-backs are the definition of the position of defender and both are equally good at centre-back.
Centre-back
Frranz Beckenbauer
A true gentleman of football, who was capable of playing anywhere on the pitch because he was so skilful and read the game so well. Add to that the fact he was class epitomised and was at the top for a long time. Stylish. One of several players in this team who are leaders as well as great footballers.
Centre-back
Tony Adams
You always knew you could count on my former Arsenal team-mate; solid as a rock in our defence. We all know he had his problems, but he came back stronger. A leader of men, not many would get past him.
Left-back
Paolo Maldini
The fact he's still going at 39 years old and that AC Milan are happy for him to play on says it all. His record speaks for itself, both in terms of quality and longevity. Such a classy defender – so tough to get past – and someone it's difficult not to admire.
Centre midfield
Roy Keane
Both physically and tactically a giant of the game. I used to enjoy coming up against him for Arsenal against Manchester United – it was always a battle. But one I used to look forward to.
Centre midfield
Steven Gerrard
One of the greatest midfield players in today's game. An all-rounder, a player who can do everything: pass, tackle, shoot, dribble, run. I also appreciate his humility. For me, that's a sign of greatness. Inspirational.
Right-sided attacker
Pele
What people sometimes fail to realise is that Pele used to play the game the way we play football today in terms of athleticism and dedication – he was 30 years ahead of his time. A true professional in every sense of the word and amazingly skilful, obviously.
Central attacker
Diego Maradona
With Maradona you never knew exactly what you were going to get – quite simply one of the all-time greats. He was brilliant in whatever team he played for and could – and did – single-handedly turn games round. He was a born improviser.
Left-sided attacker
Hristro Stoichkov
A player who was able to change the course of a game at any given moment, thanks to his force of character as much as his ability. So unpredictable. He had a great left foot and as a lefty myself I couldn't help but admire his skills.
Striker
Eric Cantona
What hasn't already been said about Eric Cantona? A sublime player, and the guy who opened the door for so many other Frenchmen in the English championship. A player with character – the King! A good international record too, despite stories to the contrary.
Joint Managers
Arsene Wenger & Alex Ferguson
Yes, joint managers! They've had some great battles over the years but there is a mutual respect there, because I think they are very similar in the way they seek out what's best in football. They both know all about the demands of the top level, are intransigent in their approach, and yet never overlook the human side of the game. They give a lot of importance to the individual. For me, they are both iron fists in velvet gloves.
Substitutes
Michel Platini
A hero to everyone in France and untouchable for a few years in the mid-'80s until Maradona came along.
Zinedine Zidane
Platini's natural successor, the greatest player of his generation.
Franco Baresi
Made defending look easy, but he was uncompromising when he needed to be.
Gianfranco Zola
Great skill, great entertainment. One of the best foreign players to play in the Premier League.
Dennis Bergkamp
A genius and a pleasure to play with because he would always find space in which to receive the ball.
Frank Rijkaard
Always played with great elegance, in both midfield and defence. Encourages his teams to play with style, too.
Peter Schmeichel
An enormous presence in goal. Intimidated strikers with his size and ability. The best I goalkeeper I played against in England.
Interview: Darren Tulett. From the August 2008 issue of FourFourTwo.
Quizzes, features and footballing fun
Get the best features, fun and footballing frolics straight to your inbox every week.
Thank you for signing up to Four Four Two. You will receive a verification email shortly.
There was a problem. Please refresh the page and try again.