Forget the defence for a minute: England's midfield is the real concern right now
The backline can be improved by personnel, but there are systematic worries elsewhere preventing the Three Lions from fulfilling their potential beyond the likes of Bulgaria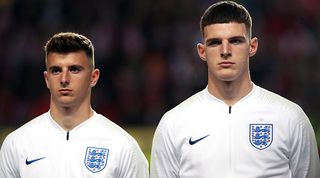 England spent their Friday evening confirming suspicions which have been lingering for some time. The defeat to the Czech Republic may have come with few actual consequences, but it was still the most dispiriting result for many months.
The most depressing element of it, unfortunately, was the prevalence of a familiar issue which was supposedly in the past. England still aren't reliable enough with the ball. In fact, if the 2-1 defeat was good for anything, it was showing just how far away Gareth Southgate still is from imbuing his side with the authoritative qualities common among elite nations.
Did the Czechs do anything particularly remarkable on Friday? Not really. They capitalised on errors, identified the weakest parts of the England structure and squeezed on those pressure points. It was nothing revolutionary, so it was discouraging to watch them win with what was really a 7/10 performance.
Clearly, England have ailments in defence. It seems a long time since they last managed to survive 90 minutes without conceding at least one preventable goal and, inevitably, that sequence continued. Currently, the back four can't stand any sort of examination and, again, the mistakes were coughed up repeatedly. The slack marking, the positional anomalies: these are becoming unwanted trademarks.
As concerning as the situation is, though, there's reassurance in knowing that the remedy is fairly clear. Harry Maguire's form needs to recover. Kieran Trippier's time in international football should probably end. Michael Keane's time definitely should. Apply Trent Alexander-Arnold, Joe Gomez and John Stones to these affected areas and, most likely, the symptoms should begin to recede.
Further forward, however, the midfield seems like a more complex problem. Personnel is important, but arguably less so than the ideology behind it. Or lack of one. While England lost to the Czechs fundamentally because of their mistakes, they underperformed more generally on account of a faceless midfield which seems to remain in its perpetual state of compromise.
Southgate hasn't really pursued an identity with that area. While his attacking three – now almost exclusively drawn from Harry Kane, Raheem Sterling, Jadon Sancho and Marcus Rashford – has developed a reputation for intricacy and its capacity to mount devastating raids on an opponent's goal, the midfield has nothing like the same personality.
Part of the reason why is because it's not obviously selected on the basis of any single premise. It hasn't been built to achieve anything: not to retain possession, not outmanoeuvre its opposition. Instead, as always, it's a hodgepodge of players who don't seem quite suited to playing together, but who individually warrant selection.
The result is what happened in Prague. England were continually overrun without the ball and, when they did have it, their only real opportunities were created by direct moves involving a long pass at source and Harry Kane as a pivot.
Why is that? On the basis that the individual players – Declan Rice, Jordan Henderson and Mason Mount – were superior to those they were facing, it must be the lack of cohesion between the three. So, while picking Rice, Henderson and Mount bears scrutiny on the basis of what they do for their respective clubs, whether they make sense in concert is another matter.
In Mount's case, it seems particularly prohibitive. One of the reasons why he was kept on the game's periphery was because the flow of possession forward was neither precise or decisive enough to properly equip him.
There was no supply, leaving him to chase balls and run aimlessly for most of the evening. And that asks uncomfortable questions of the players supporting him. Do Rice and Henderson receive the ball well enough from the centre of defence? Are they good enough to stitch the phases of possession together in the area between their own box and the edge of the centre circle?
On this evidence, no – which would explain why when they're under pressure and being pressed in those areas, England so often struggle to get any sort of traction in games and are so regularly caught making aimless exits from their own third. In the broader sense, it also characterised a troubling contradiction: if the emphasis isn't on controlling the ball at the base of the midfield, then where is the value in having a Mount-like figure at its tip? The arrows need to align, the jigsaw pieces need to fit; whatever the metaphor, England aren't respecting it.
There isn't a definitive answer to this problem - Southgate doesn't have an undiscovered Andrea Pirlo or Sergio Busquets available to him – but the target should be a trio capable of creating their own rondo at the centre of the formation; a unit that can weave passes through lines and who can construct triangles in any part of the pitch, under any conditions. It's an ideal, probably one which is impossible to realise entirely, but it's a direction which England need to commit to.
Selection based on the need to assemble the broadest spread of attributes has failed England in the past. Now, it's hampering them again. For this era to matter, their midfield must become something more than the space between its forwards and defence.
While you're here, why not take advantage of our brilliant subscribers' offer? Get 5 issues of the world's finest football magazine for £5 – the game's greatest stories and best journalism direct to your door for less than a pint in London. Cheers!
QUIZ! Can you name every England manager 1946-present?
Thank you for reading 5 articles this month* Join now for unlimited access
Enjoy your first month for just £1 / $1 / €1
*Read 5 free articles per month without a subscription
Join now for unlimited access
Try first month for just £1 / $1 / €1
Get FourFourTwo Newsletter
The best features, fun and footballing quizzes, straight to your inbox every week.
Seb Stafford-Bloor is a football writer at Tifo Football and member of the Football Writers' Association. He was formerly a regularly columnist for the FourFourTwo website, covering all aspects of the game, including tactical analysis, reaction pieces, longer-term trends and critiquing the increasingly shady business of football's financial side and authorities' decision-making.