Europe calling: how Markus Weinzierl became Germany's most promising coach
After guiding his team to their first-ever European qualification, the eyes of the continent won't just be on Weinzierl's team but his skills too. Jonathan Harding assesses the reasons behind the manager's success...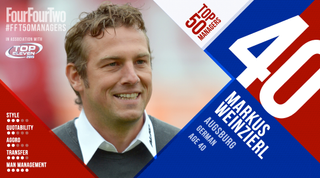 "On the pitch or in the dugout, you can only partly influence a career in sport," Markus Weinzierl tells FFT. "It's great recognition that Augsburg's success, and my work involved in that, has also been appreciated outside of Germany."
The Augsburg manager's words are as humble as his manner, after discovering he'd made our list of the best bosses in the world.
FACT FILE
Date of birth: December 28, 1974 (40)
Place of birth: Straubing, Germany
Current club: Augsburg
Former club(s): SSV Jahn Regensburg
Forty-nine points secured Augsburg a fifth-placed finish in the Bundesliga and subsequently, the club's first venture into Europe next season. Weinzierl did so with the second-smallest budget in the league (behind only that of tiny Paderborn) and off the back of 2013/14's eighth-placed finish no one believed could be bettered. In short, he has quickly gone from Germany's most underrated manager to its most intriguing.
"He can get the best out of players and turns average ones into good or even very good players," says long-term Augsburg fan Kristell. "Augsburg, thanks to Weinzierl, has become a club that interests younger players… a place they can get playing time and grab the attention of bigger clubs."
Top of the class
A standout coach in the 57th class of the gruelling Hennes-Weisweiler-Academy – he finished with an A minus – alongside Roger Schmidt (Bayer Leverkusen), Markus Gisdol (Hoffenheim) and current Germany assistant Thomas Schneider – Weinzierl has fortified his unlikely band of players with a refreshing brand of pragmatism. "I think being realistic matters, working with the framework you have, and to have a team on and off the field with the right character," he says.
This mantra is Augsburg's lifeline, and following it has lifted the current crop to immortal heights. On the back of saving the Bavarians from relegation on the final day of his first season in charge, Weinzierl guided the club to that remarkable eighth in 2013/14 season. The plaudits sounded out, but Weinzierl's achievement was considered nothing more than a flash in the pan.
What followed, however – despite Augsburg managing three fewer points than the previous season – was not only the realisation of history, but also a reminder of just how talented their head coach is.
Regenerating Regensburg
As a player, Weinzierl never rose higher than the second division, making the most of his career appearances in regional divisions for Bayern Munich's reserves (briefly alongside Owen Hargreaves). But that didn't deter him. He took over at Jahn Regensburg, the club where he'd finished his playing career, and kept them up in his first season in charge.
He brought stability to a yo-yo club and, despite being restricted by little financial clout, still guided Regensburg into the second division after an away goals, play-off win against Karlsruhe. That was enough to convince Augsburg.
Regensburg went straight back down and have been trying to replace Weinzierl ever since (six managers since he left in 2012). Last season they were relegated to the Regionalliga after finishing rock bottom of the third tier.
"Luck still plays a part," Weinzierl admits. "A run like we had last season, this team spirit – that's not something you can plan. But I'm delighted to be a part of this sensational success. I see it as confirmation of our way of working at Augsburg."
Boba, Baba & Co.
Only a humble man would be so quick to mention good fortune. While it's played a part, it pales in comparison to the work Weinzierl has done.
And nowhere else is that more prevalent than in the transfer market. Pacey winger Andre Hahn and Estonian defender Ragnar Klavan were added to the squad after Weinzierl's first season in charge. Paraguay pitbull Raul Bobadilla arrived the following year, while goalkeeper Marwin Hitz and Halil Altintop, a Bundesliga veteran, were both snapped up on free transfers.
The latter trio embody Weinzierl's effectiveness as a coach. Weinzierl made use of Bobadilla's strength, helping him make his international debut in March; Hitz became a solid shot-stopper (and even goalscorer), while Altintop beat the 'past it' predictions to be reborn.
"It's about reaching stability and continuity, and making subsequent decisions," says the 40-year-old. "You've got to be open and clear with the club and your team – it's really important."
Weinzierl has managed to balance the friendly face with a firm hand, getting the most out of those who otherwise may have been left by the wayside. Wing-back Baba Rahman arrived for €2.5m from Greuther Fürth after their relegation, and became a player who Chelsea are reportedly keen on. Weinzierl squeezed the last out of journeyman Markus Feulner, while the arrival of Bayern Munich talent Pierre-Emil Hojbjerg on loan was just the push his team needed in the second half of the season.
"Weinzierl is unique"
While the sense of collective over individual has been present since previous boss Jos Luhukay was in charge, Weinzierl has brought consistency. Draws rarely happen in Augsburg – they've only managed 11 over the last two seasons – and the club has also finished the last two campaigns with a 0 goal difference.
"Weinzierl gave the club new life and did a great deal with very little. He's unique," says Hage, an Augsburg fan of 20 years who was there long before the eyes of Europe gazed upon this sleepy little city near Munich. But that's all changed thanks to their current boss.
"I certainly wouldn't call myself unique, but I enjoy my job and I'm happy that so many people have such a positive image of me," says the Augsburg chief.
"I have never heard an Augsburg fan, or one of another team, say they didn't like him," adds FCA nut Kristell. "He's not an extreme character who polarises, like [Jürgen] Klopp, [Thomas] Tuchel or [Christian] Streich. He is quiet without being boring. He's just friendly."
Sorry, Schalke
Weinzierl's quality hasn't gone unnoticed. At the beginning of the summer, not two months after he penned a new deal at Augsburg, the Royal Blue of Schalke came calling. Many expected him to make the switch to the more prestigious, wealthier club. But he didn't.
"There were a lot of rational reasons in favour of making the move [to Schalke], but in the end I made an emotional decision for FCA," Weinzierl told German magazine Spiegel Online soon after news of his decision to stay was released.
Perhaps he couldn't shake the dreams he spoke of the morning after the final day of the season: "I didn't sleep long, but I did dream. Of Liverpool, Valencia and Rome..."
Soon it'll probably be time to realise those dreams – but first there's an assault on Europe to make.
#FFT50MANAGERS See our full list of the top 50 managers and features on them here
Thank you for reading 5 articles this month* Join now for unlimited access
Enjoy your first month for just £1 / $1 / €1
*Read 5 free articles per month without a subscription
Join now for unlimited access
Try first month for just £1 / $1 / €1