Evans' five-year plan at Leeds actually business plan for brewery
Ex-Rotherham chief has arrived at Elland Road with some radical ideas, Back of the Net reports...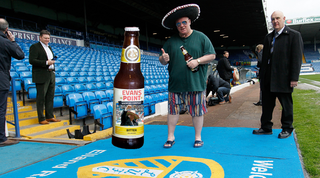 In his first press conference as Leeds United manager, Steve Evans has promised hard work, passion and to create a smooth, satisfying bitter that will retail at an affordable price.
The former Rotherham boss produced several sheets of crumpled paper which journalists were able to understand contained a five-year plan for Leeds United despite the name of the club being misspelled, crossed out and misspelled for a second time, and the prevalence of severe staining consistent with steak and ale pie which rendered many words illegible.
Evans began to read off his papers, pausing only to point proudly at a crudely drawn stick diagram or to loudly munch the contents of a bag of pork scratchings. But it soon became apparent that the changes he proposed to the club were more extensive than expected.
Club strategy
Rather than discussing tactics or personnel at Leeds, Evans began outlining a surprisingly viable strategy for purchasing reasonably priced barley, hops and yeast, and converting it into beer.
"Initially there was some bemusement among the gathered journalists, but we were all impressed by Steve's passion and it was hard to fault him on the business side," journalist Martin Myers told FFT.
"And when he handed out little samples of his Leeds United Best it was very drinkable. Maybe not the most elegant of tastes, but it got the job done.
"To be honest, Steve sounded so passionate discussing his malt mill and his lauter tun that you could see the entire dressing room would immediately want to make beer for him."
CONFIRMED | Steve Evans is the new head coach at #lufc. Full story: http://t.co/JVHBZ9TKXDpic.twitter.com/JQlvnG9XJc
— Leeds United FC (@LUFC) October 19, 2015
However, some of the more cynical journalists present pulled no punches in questioning how mastering effective waste-limiting glycolysis would help Leeds get out of their current predicament in the Championship.
"Steve did seem to dodge that question to some extent," Myers admitted. "He also didn't really give any indication of how the players would continue to train effectively while spending as many as eight hours a day brewing and distilling. In many people's eyes even one hour a day tending the wort is too many."
Massimo Cellino brought the press conference to an end, stressing his complete faith that in a matter of three years Leeds would be competing against Europe's elite such as Anheuser-Busch InBev, before taking a long swig of Evans' brew and visibly wincing, mumbling that he expected something more like Moretti.
Quizzes, features and footballing fun
Get the best features, fun and footballing frolics straight to your inbox every week.
Thank you for signing up to Four Four Two. You will receive a verification email shortly.
There was a problem. Please refresh the page and try again.