Joe Cole completely unable to account for last four years of life
Former Chelsea, Liverpool and England man Joe Cole has arrived at Coventry on loan but has no idea how, Back of the Net can reveal.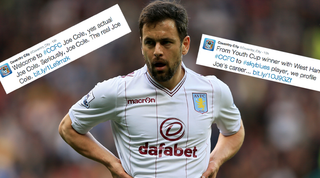 New Coventry loanee Joe Cole has admitted that he has no idea how he came to be in Coventry, in an emotional press conference.
The diminutive midfielder's initial grin was replaced by a look of harrowed bemusement as journalists sought to understand why he had joined the League One side.
Clearly upset, Cole, 33, then sought to explain the unexpected path his career had taken but was forced to admit that his last cohesive memory was scoring for Liverpool against Birmingham back in 2011.
"Kenny Dalglish was there... He said something to me... I have no idea what it was, but that's pretty normal," Cole told FFT.
"After that I just have these visions of being under bright lights… People prodding at my leg. Then I seem to be playing in France, but that makes very little sense really…Then the bright lights again.
"Suddenly I'm wearing purple, or maybe it's claret. I'm sitting on a bench. Yes, that's very clear. I'm on a bench…."
Morning #CCFC fans! If you're just waking up, you weren't dreaming, it actually happened. http://t.co/exmbDxIbyupic.twitter.com/YXNMZkrRXU
— Coventry City (@Coventry_City) October 17, 2015
As Cole tailed off into sobs, Coventry boss Tony Mowbray attempted to improve the mood, discussing his side's upcoming fixture against Blackpool, but this set Cole off again and he began a loud, distraught wailing.
"Blackpool? I mean, I scored that goal against Sweden in the World Cup. What the hell happened?" Cole cried, banging his fist against the table.
"Zlatan Ibrahimovic came up to me and shook my hand. He said it was a great goal. And now I'm sitting here and this bloke [Tony Mowbray] whoever he is [Tony Mowbray] is going on about Blackpool as if that's something I should care about. As if that wouldn't chill me to my very core.
"Please tell me Zlatan's at Colchester or Wycombe?"
The unveiling ended on something of a sour note as an increasingly despondent Cole attempted to knock himself out with a wooden model of Coventry's logo before making a futile lunge at the loan contract he had signed just minutes earlier only to find club officials had already taken the precaution of laminating it.
Quizzes, features and footballing fun
Get the best features, fun and footballing frolics straight to your inbox every week.
Thank you for signing up to Four Four Two. You will receive a verification email shortly.
There was a problem. Please refresh the page and try again.