Everything you need to know about... Mattia De Sciglio
By Adam Digby published
Adam Digby gives the lowdown on the Italy and Milan defender hoping to contribute to World Cup joy for the Azzurri...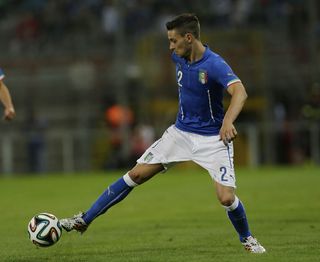 The 60-second story
ITALY GEAR
An early pioneer of self-help and personal development guides, W. Clement Stone once wrote that each person "is a product of our environment," and should therefore "choose the environment that will best develop you toward your objective." If that aim was to be the finest defender of your generation, there could be no better place to hone that craft than in Milan over the last two decades. There, watching and learning from some of the finest stoppers ever, one could not fail to learn the skills necessary to succeed.
Born in 1992 just as the Rossoneri were becoming the last club to successfully defend the European Cup, Mattia De Sciglio has benefited from the knowledge and experience of the plethora of legends to have graced the Milan back-line. Joining his hometown club as a 10-year-old, he went from idolising Paolo Maldini to watching him from the San Siro sidelines as a ball boy, before watching the captain closely in training.
As if seeing the legendary number three – and other iconic players such as Alessandro Nesta – regularly wasn't enough, he was fortunate enough to benefit from the number of retired Rossoneri greats on the club's coaching staff. "De Sciglio is our pride and joy," Filippo Galli told La Gazzetta dello Sport earlier this month, echoing comments from Franco Baresi who said he saw a boldness and confidence in De Sciglio which reminded him of a young Maldini.
FACT FILE
Name: Mattia De Sciglio
Age: 21
Position: Full back
Club: Milan (46 apps, 0 goals)
Country: Italy (11 apps, 0 goals)
Honours: 2011 Italian Super Cup
It is the latter to whom De Sciglio is often compared, an idea helped by the fact he can play comfortably on either flank and has already filled in as a central defender when an injury crisis rocked the club. Graduating through every age group of the club's academy, he would make his full debut in late 2011 when he was still only 18-years-old, but his real breakthrough would be the following season.
There he become a mainstay of the side as only five players would start more league games for Milan that campaign, as his quality and versatility caught the eye of Cesare Prandelli, with the Italy coach giving him his first taste of international football in March 2013. De Sciglio would immediately look comfortable there too, eventually becoming a regular for the Azzurri, part of the squad which finished third in the Confederations Cup that summer.
Injuries ruined his 2013/14 campaign, but he continued to impress when fit and was handed the No.2 shirt at Milan, never looking out of place or overawed in a position graced by some of football's finest full-backs. "I hope to live up to the standards of Cafu and Tassotti," De Sciglio said and, given those guiding him along the way, it shouldn't be a surprise that he has begun to do just that.
Why you need to know him
With Prandelli leaving more experienced options – such as Domenico Criscito and Christian Maggio – at home this summer, Mattia De Sciglio is almost certainly Italy's number one choice at full-back for this World Cup. The Azzurri, like many sides in today's game, rely on their full-backs for width, which in turn makes them one of the most important tactical influences in the team. The 21-year-old has shown he is more than capable of fulfilling the demands of such a role, making him highly likely to catch the eye in Brazil over the coming weeks, though injury kept him out of Italy's opening game against England.
When the domestic action returns next season, he will be key for Milan too, particularly as youth team boss Filippo Inzaghi is promoted to first team coach, reuniting him with his former charge. With the Rossoneri defence so porous last term, it is sure to be under the spotlight in 2014/15. Many will expect his return to fitness to lead to an instant upturn in fortune. It may be a lot of pressure and expectation to place on such a young player, but that is the harsh reality in which Milan are now forced to operate.
Strengths
Averaging 2.5 tackles and 1.4 interceptions per game over his 59 appearances thus far for Milan shows De Sciglio's defensive solidity, and he is more than comfortable in possession too, rarely giving the ball away and keeping the attack flowing. Comparisons to his hero Maldini are never too far away, while an odd-looking running style makes him easily noticeable on the pitch. Starting out as a central defender has given him exceptional ability to read the game, and he also won more than 60% of the aerial duels he contested last season.
De Sciglio rarely slides into tackles, having both the pace and confidence to make standing challenges, while his ambidexterity also makes him comfortable enough to lead into them with either foot. With that defensive assuredness evident in either full-back role, in attack he is far more effective on the left. Cutting in onto his right foot to join the attack, he is much more incisive in that position, while passing is solid, completing 82.1% of his attempts last term.
Weaknesses
His positioning is often excellent and he makes few individual errors. However, their rarity perhaps makes mistakes – such as the one which led to Fred's goal in De Sciglio's international debut against Brazil – appear more glaring. The steady improvement in his crossing since breaking into the Milan side is encouraging, and perhaps his biggest weakness is now his predictability in attack. Where he seems to always cut in from the left, on the opposite flank he can be quite static, often just hugging the touchline and waiting for the ball instead of making proactive decisions. That may improve with time, but for now he remains quite one-dimensional going forward and that makes him relatively easy to close down.
They said...
Adriano Galliani says De Sciglio only needs to "bulk up a bit" in order to emulate Maldini, the Milan vice president adding to the growing legion of people drawing that particular comparison. But perhaps the words of another Milan stalwart are more telling; with Mauro Tassotti insisting "it was only logical to make De Sciglio a part of the first team due to his performances in training." Currently assistant coach for the Rossoneri, the former full-back is ideally placed to assess the young defender, and he continued his praise in an interview with La Gazzetta dello Sport. "I see myself in De Sciglio." Tassotti continued: "He has a bit of my characteristics; a mix of athleticism and technique – and also the same stamina."
Did you know?
Despite growing up in Milan, De Sciglio wasn't originally a fan of the Rossoneri, although he did switch allegiances while still a young boy. "Initially I was a Juventino like my father," he admitted in an interview with La Stampa last year, going on to confess "my mother and my grandfather made me change. I did not have a poster of Maldini in my room like it has been said, I liked Buffon, Del Piero, Nedved and Thuram."
What happens next?
Milan will hope he can continue his rise to the top, rather than fall away like Davide Santon, another young full-back who suffered the same comparison to Maldini. Fortunately for De Sciglio, Milan's financial position means they are all but forced to rely on young players, and he doesn't have Jose Mourinho's overbearing nature to contend with. "The World Cup is a starting point for me," he told Sport Week recently, adding that "at my age it really couldn't be anything else." With such level-headed maturity, his could well be a tournament to remember as De Sciglio seeks recognition on a wider scale.
Talentspotter ratings
Shooting 4 • Heading 8 • Passing 7 • Tackling 8 • Pace 7 • Dribbling 6 • Creativity 6 • Work-rate 8
Thank you for reading 5 articles this month* Join now for unlimited access
Enjoy your first month for just £1 / $1 / €1
*Read 5 free articles per month without a subscription
Join now for unlimited access
Try first month for just £1 / $1 / €1
Quizzes, features and footballing fun
Get the best features, fun and footballing frolics straight to your inbox every week.
Thank you for signing up to Four Four Two. You will receive a verification email shortly.
There was a problem. Please refresh the page and try again.