Fight Club: Zlatan's bonkers time at Ajax (featuring scissors and leg-breakers)
The PSG striker lines up against former club Ajax in the Champions League, where life wasn't exactly quiet, writes Elko Born...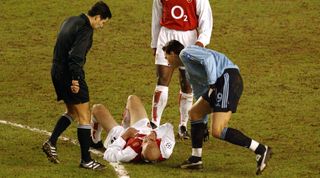 This week, most Ajax fans will be thinking about their club's Champions League match against Paris Saint-Germain with mixed feelings.
On the one hand it's always good to be playing among Europe's elite, and although it could be difficult for the Amsterdam side to beat PSG's superstars, the contest should provide spectators with top-class entertainment.
On the other hand, Zlatan Ibrahimovic is back in town, and if past experiences are anything to go by that could mean it's time to lock the children in their rooms, shut the windows and wait until it's over.
Between 2001 and 2004, Zlatan played for Ajax. It was a period of time supporters of the club won't forget quickly, and for various reasons – not only did the Swede score a lot of goals, often beautiful ones, he also got himself into more than one predicament…
In the beginning there were scissors
These days, Zlatan might look like a combination between a Parisian supermodel and an ancient Viking warlord, but 13 years ago he looked very different. Back in 2001, when the Swede first set foot in Amsterdam, he was a gangly teenager far removed from the apparent demi-god he is now.
Perhaps for that reason, Co Adriaanse (Ajax's manager at the time) refused to play Zlatan regularly, even though Director of Football Leo Beenhakker had bought the striker for a record €8 million.
With Zlatan's all-conquering drive and winner's mentality in mind, it's probably needless to say that this led to some friction within the squad. One famous incident, for example, involved Zlatan and Egyptian striker Mido, who would later play for Tottenham and Middlesbrough.
At the time, Mido was netting goals freely for Ajax and keeping his Swedish counterpart out of the first team. As was later recalled by Ronald Koeman, who had superseded Adriaanse as manager, this state of affairs once led to a dressing room bust-up that didn't end in the shaking of hands, but with Mido grabbing a pair of scissors and throwing them at Zlatan's head in a bout of rage.
"I went over and gave him a smack, but 10 minutes later we left with our arms around each other," Ibrahimovic later wrote in his autobiography, I Am Zlatan. "Much later I discovered our team manager had kept those scissors as a souvenir, to show his kids."
Zlatan was unharmed, and Mido was put in the reserves as punishment. Zlatan would soon get his chance to prove himself as an uncontested member of Koeman's first XI.
Then came the nasty stuff
Zlatan immediately took his chance and began proving his worth for Ajax. Having already scored the winning goal in the 2002 Dutch Cup final, he reached the quarter-finals of the Champions League as the club's main striker in 2003. A year later he won the Dutch league with Ajax, finishing as his side's top scorer.
Apparently, however, Zlatan's rise didn't sit well with everyone in Amsterdam. Rafael van der Vaart, product of Ajax's youth academy and fan favourite, wasn't an admirer of his Swedish team-mate to say the least.
Some say it was a feud between two rivals for the spotlight. Others claim there were more personal reasons, that there was a triangle of love and jealousy between the two men and Van der Vaart's partner Sylvie Meis, a Dutch TV presenter. All of this has always remained rumour and hearsay, but in any case the conflict reached a toxic explosion when the Dutch national team played Sweden in a 2004 Amsterdam friendly.
Obvious tensions had existed all night, and when Van der Vaart threatened to steal the ball away from Zlatan on the edge of the Netherlands' box, the Swedish striker aimed a furious tackle at his Ajax team-mate's ankle. Naturally, the Dutchman held Zlatan personally responsible for the injury he suffered as a consequence, and later, in a team meeting with Ajax manager Koeman, he asked for an explanation and apology.
The Dutch midfielder didn't quite get what he asked for. In his autobiography, the Swedish superstar recalled his response: "If you accuse me again I'll break both your legs, and that time it will be on purpose."
...and then the end
By that time, Zlatan's time in Amsterdam looked over. Not only had he outgrown the Eredivisie – scoring outrageous goals like the one against NAC below – he'd also made life impossible for himself.
Ajax needed a resolution to the conflict between the club's two star players, and what's more, they didn't want anything like this to happen in the future. In the end, they decided to accept a deadline-day offer from Juventus, and in August 2004, Zlatan left for Italy. The rest, as we now know, is history. Zlatan went on to play for the likes of Inter, Milan, Barcelona and PSG and became one of the best strikers in the world.
So will Ajax fans, once they have put their kids to bed and double checked all the locks in the house, enjoy their reunion with crazy Zlatan? Er, you bet. The striker's time in Amsterdam was not just defined by madness, but also by beautiful and important goals. Above all, the Swede is a brilliant footballer, and one that fans of most clubs he has played for will find hard not to love.
Zlatan might have been a bit of a lunatic, but for a couple of years, he was Ajax's lunatic. Who can resist the magical, if slightly insane, marriage between scissor throwing and Maradona-esque solo goals?
Nobody, that's who.
PSG vs Ajax LIVE ANALYSIS with Stats Zone
Thank you for reading 5 articles this month* Join now for unlimited access
Enjoy your first month for just £1 / $1 / €1
*Read 5 free articles per month without a subscription
Join now for unlimited access
Try first month for just £1 / $1 / €1
Get FourFourTwo Newsletter
The best features, fun and footballing quizzes, straight to your inbox every week.