The forgotten story of South Africa 1996: 20 years on, when Mandela's Rainbow Nation triumphed
Two decades on to the day, Joe Crann reflects on South Africa's greatest footballing success story – something they have failed to build on in the years since...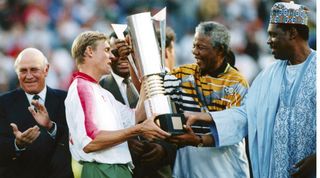 "It was written in the stars…"
So believes Kalusha Bwalya, the Zambian legend who claimed the Golden Boot at the 1996 Africa Cup of Nations. 'King Kalu' netted five goals in South Africa, but it wasn't enough to stop the hosts from marching to victory.
As Neil Tovey lifted the trophy in front of a beaming Nelson Mandela, the future of South African football looked bright.
Madiba Magic emanated across the country, and the 'Rainbow Nation' had conquered Africa at the first time of asking, one year after the nation's rugby team famously defeated New Zealand.
Revolving doors
Exactly 20 years (and 20 managerial changes) on from that famous win in Johannesburg, the South African national team is still awaiting another major trophy. At the time of writing, since those halcyon days of the mid-90s, their position in the FIFA rankings has fallen from 16th to 74th.
Other than AFCON-winning manager Clive Barker, who was in charge for three years between 1994 and 1997, no other man has been given the same amount of time to build a side. South African, French, Mozambican, English, Romanian and Brazilian coaches have all tried, in vain, to replicate that '96 success.
Aside from that, the 1996 AFCON win wasn't just a major title for Bafana, but rather a continuation of the positivity that came from the 1995 Rugby World Cup. In winning the AFCON, Bafana helped set a new benchmark for South African football, an achievement made all the more astonishing when you take into consideration that they had only just been readmitted to the global footballing world.
A chequered history
In order to comprehend the magnitude of South Africa's 1996 win, you first have to understand the history that precedes it. The South African national team as we know it today was formed in 1991, but the international ban caused by apartheid robbed the world of witnessing several truly unique footballers on the biggest stage. Football in South Africa was, and to a large extent still is, a black-dominated sport, while the cricket and rugby belonged to the whites. Before 1991, international football in South Africa found itself in a desolate wilderness after nearly two decades of isolation, with FIFA formally expelling them after the 1976 Soweto Uprising where upwards of 170 students were killed by the police.
However, after Mandela became the country's first democratically elected president, there seemed to be a turn in the tide. The new South African flag symbolised their Rainbow Nation, bringing with it a true sense of promise for what lay ahead. The sporting mood across South Africa mirrored the national one.
A new dawn
"Obviously what transpired in 1995 with the Rugby World Cup gave us incentive and motivation, besides Mandela's presence, to go on and achieve things," former Bafana striker Shaun Bartlett tells FFT. "On the day of the final, the Springboks coming out with a banner was instrumental to our win that day."
Bartlett, a 23-year-old playing for Cape Town Spurs at the time, earned a move to the Colorado Rapids of MLS for his part in the victory. Bartlett currently sits just behind Benni McCarthy in South Africa's all-time top scorer list, with 29 goals to his name.
The 2000/01 Premier League Goal of the Season winner (below) was on target during the 3-0 demolition of African giants Ghana in the semi-finals, although it was the last-gasp win over Algeria – thanks to an 85th-minute goal from Shoes Moshoeu – in the quarters that he believes was the tipping point.
"From the first game nobody gave us a chance, but that quarter-final showed the never-say-die attitude of that group of players and it lined us up perfectly for the semi-final with Ghana. If you want to win big tournaments you have to beat big teams. We wanted to show that we were back on the international stage.
"I think when Shoes scored that goal and we beat Algeria it was kind of a 'wow wow wow' moment for us," recalls Mark Williams. "Every morning at 6am for breakfast, Madiba would come in and give us that extra confidence and belief. We had the president and the people behind us, it was like a dream."
Skip to 10:32 for Moshoeu's goal
Unusual methods
Williams, who turned down a £2 million contract extension at Wolverhampton Wanderers to be at the AFCON, scored four goals in the tournament – including the two decisive goals in the final –and says a late-night pool game against head coach Clive Barker set his mind on course the night before the final.
Chuckling, Williams explains to FFT: "You must know that I was the champion of the pool table. Nobody beat me the whole month of the AFCON, but the night before the game Clive Barker beat me and I couldn't believe it. I went to my room and I decided that I couldn't let it happen. I knocked on his door and told him that I wouldn't sleep until we played again, because his win was a fluke.
"He said no but his wife told him he must play me. It took me two minutes to clean him up, and that was enough for me. I went out, had a dance and some beers. That was the type of player I was.
"I saw the rugby boys there, the guys who won it 1995, and they were shocked. I told them that this was how I visualise before a game, and the rest is history."
The former Kaizer Chiefs striker says that he was tempted by the £2m offer from Graham Taylor to stay with Wolves, but politely turned them down to heed the call of his country on their own turf. "As a South African growing up, and with all that Mandela did for the country, to come and represent my country rather than staying was the right thing to do. It wasn't an easy choice, but it was in our backyard and I couldn't miss it."
Triumph for the people
Kalusha Bwalya, who is now the president of the Zambian Football Association, believes that the competition helped unite a nation – just as the Rugby World Cup had one year earlier.
"You had to be there to behold it," he says. "The 1996 AFCON brought South Africa's people together – football has a tremendous way of doing that. It can move a lot of people. The country was on a high, [particularly] having been through what they went through to organise a tournament of that magnitude.
"The 1996 tournament was one of the best ever, with some of the best players of my time, and South Africa's team at that point was very, very good. They are a team that will never be forgotten in South African history. As a young democracy it was important for them."
South Africa's performances in the AFCON got progressively worse: they finished as runners-up in 1998, third in 2000, were quarter-finalists in 2002 and then didn't make it out the group stage until 2008.
In 2010 and 2012 they didn't take part at all, and at the 2015 AFCON they went out having picked up just one point. Like the English, Bafana fans have to revel in past glories. That said, South Africa's greatest victory came – perhaps – at the greatest possible time for a nation only just beginning to stretch its wings.
No regrets
SOUTH AFRICA SINCE
1998 AFCON 2nd
1998 World Cup Group
2000 AFCON 3rd
2002 AFCON Quarter-finals
2002 World Cup Group
2004 AFCON Group
2006 AFCON Group
2006 World Cup DNQ
2008 AFCON Group
2010 World Cup Group
2013 AFCON Quarter-finals
2014 World Cup DNQ
2015 AFCON Group
Even though Mark Williams lost his place – and ultimately his future – at Wolves because of the AFCON, he doesn't regret it. Why would he? He was a part of South Africa's best-ever footballing moment. By choosing FNB Stadium over Molineux he made Nelson Mandela shed tears of joy.
"I came off the bench and after two minutes I scored. I looked about 20 metres away and could see Mandela, he was crying. It was like looking through a telescope. I could see his face and could see the tears of happiness. Two minutes later I scored again. It was a wonderful experience. We were a family.
"It was a choice I made – if I'd stayed in England, who knows what would have happened. Would we have still won it? Who knows? If it happened again I would represent my country once again."
The squad that did battle in 1996, for the first time, was a true mirror image of what a unified South Africa hoped to be. Black, white, coloured; none of it mattered. What mattered was what, and who, Barker's side represented – the Rainbow Nation.
"Most importantly, the team we had was selected on merit," says Bartlett. "They were the best players available, but they also represented everybody in South Africa. We were recently out of apartheid and here was a national team with players of every race and culture; players that deserved to be there."
Tournaments, teams, players and moments define eras of the game. Twenty years on from their greatest era, their greatest moment, Bafana are bottom of Group M in the AFCON qualifiers.
It's been suggested that they are a victims of their early success, and that it has played a role in their lack of achievements since, but 7,300 days later the memory of Mandela's euphoric grin lives on, as does the importance of an event that was much bigger than a game of football.
RECOMMENDED
Thank you for reading 5 articles this month* Join now for unlimited access
Enjoy your first month for just £1 / $1 / €1
*Read 5 free articles per month without a subscription
Join now for unlimited access
Try first month for just £1 / $1 / €1
Get FourFourTwo Newsletter
The best features, fun and footballing quizzes, straight to your inbox every week.