Gary Kemp: Sing When You're Winning
By Nick Moore
"I never wore a kilt to Highbury..."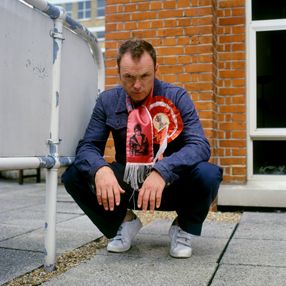 What, pop pundits must ask themselves, was the inspiration behind that frothy and flamboyant hit confection Spandau Ballet which hogged the charts two decades back, and has been bouncing back every few years ever since?
The shotgun wedding of jazz-funk and New Romantic synth-pop?
The invention of eye-liner for men?
The collective craving for an escape from the harsh realities of Thatcher's Britain?
Try George Armstrong, the perpetual motion winger and, by popular acclaim, man of the match in Arsenal's astounding retrieval of a 3-1 first-leg deficit against Anderlecht to lift the Inter-City Fairs Cup at Highbury in 1970, their first major trophy for 17 years.
Then aged 10, Gary Kemp was there.
"I was lucky," he remembers. "Arsenal were my local team and the year I got into them, they won the Fairs Cup. Then, the following season, they won the Double. I never had to endure the years of suffering which preceded those two seasons, and it gave me the belief that success was there for me, if I wanted it.
"I honestly think Arsenal were that important to me. If I'd followed a team who were less successful, I would have grown up more cynical.
"The thing I remember most about the second leg of the Fairs Cup final was the stream of crosses we put in. 'Geordie' Armstrong was our main winger in those days, and one of our tactics was to get crosses in for John Radford and Ray Kennedy.
"In the end we won 3-0 with Radford, Eddie Kelly and Jon Sammels scoring. I can remember running onto the pitch at the end for a clump of grass. I kept it at home in a Bible for years."

A decade later, as the guitarist and songwriter with Spandau Ballet, Gary Kemp possessed a level of self-assurance which almost bordered on arrogance.
Even when the Spands faded from fashion, his self-confidence never deserted him, and he managed the notoriously difficult transition from musician to screen actor in the early '90s when he co-starred with his brother and former band-mate Martin in The Krays and then appeared alongside Kevin Costner in The Bodyguard.
Today in the London offices of EMI Records, promoting a new Spandau Ballet retrospective, Gary remembers going with his dad to his first Arsenal match on March 29, 1969 – "a tedious 0-0 draw against Southampton. The first thing that struck me was the pitch.
"Coming over the Clock End and seeing that playing surface for the first time was like a vision. I'd never seen grass that green before!"
Living in Islington's Essex Road a short distance from Highbury, Gary became a regular, ironing his programmes when he got home and eventually taking his brother Martin, two years his junior, to matches too.
In the 1970-71 Double season, the Kemps decorated the front of their house in red and white for the FA Cup final and even named their new kitten Wilson after Arsenal goalkeeper Bob.
When asked to pick his all-time hero, however, Gary has no hesitation in choosing Charlie George, the mercurial, lank-haired striker who scored the scorching Wembley winner against Liverpool eight minutes from the end of extra-time that landed the FA Cup and secured the Double for Arsenal.
"Charlie George was synonymous with the likes of Rod Stewart and a kind of working-class flash. Islington had been a mod stronghold and I always thought of Arsenal fans as being stylish, so I really identified with Charlie.
"He was also responsible for the greatest football celebration ever. It wasn't just that he lay flat on his back after scoring the winner in the cup final. It was the fact that he kept his body rigid as his team-mates picked him up. It was like the Deposition of Christ!
"I actually sat next to him a few seasons ago, when Arsenal were playing Champions League games at Wembley. I asked him, Where was it? He simply pointed and said, 'Over there, you can still see the dent.' He didn't need to ask what I was talking about."

As the Kemp brothers grew older, their priorities changed. Music became more important and in 1979 the pair formed Spandau Ballet with friends Tony Hadley, Steve Norman and John Keeble. Rebelling against what they saw as the drab and earnest rock scene of the post-punk period, the band played electronic, dance-influenced music.
They dressed in frilly shirts and kilts for the release of their debut single, To Cut A Long Story Short, which gave them their first top five hit in 1980. Underneath all the ruffled finery, however, most of the members of Spandau were still football fans.
But while their allegiances spoke volumes about their north London roots – Gary, Martin and drummer John Keeble were Arsenal supporters; Steve Norman and manager Steve Dagger were Spurs fans – football was more of a private passion for the group during pop's New Romantic period.
"If you'd asked me who I was in the early '70s, the answer would have been simple," says Gary.
"I was an Arsenal fan and a David Bowie fan. As I got older, though, there was a period when I started to hide the football side away. You wouldn't go to the New Romantic nightclubs, such as Billy's or The Blitz, and talk loudly about football. And I never wore a kilt to Highbury! But I still went to football a lot, even when the band were getting off the ground."
It was only when Spandau started touring the world that Gary's bonds with Highbury temporarily loosened. Wherever the band were, though, he would always phone home for the Arsenal result. "And if we'd lost, I'd still be devastated."
When the band played at Wembley Arena in 1986, players from Arsenal and Spurs were in attendance. With two shows, the band offered each team tickets for different nights.
While Gary remembers watching Arsenal's dramatic 1989 Championship victory on TV – "one of the greatest, most nail-biting games of all time" – the club's resurgence under Arsene Wenger has made him a regular again, even if work commitments mean he has to choose his games.
In addition to his acting career (last year he appeared in Yasmina Reza's West End production Art), Kemp is relishing the current revival of interest in Spandau, who last played together in 1989. Their recent singles anthology, Gold, was a sizable hit and now there is even talk of a reunion.
"I don't know why we're popular again," he admits. "I think that people are fascinated by the New Romantics in the same way that they are fascinated by Andy Warhol and the New York scene of the '60s. We were one of the last hurrahs of true working-class flash. We stood out against the grey backdrop. It's much harder to be outrageous now."
Donning his authentic '70s Bowie scarf and Arsenal rosette for the photos, Gary is feeling good about the Gunners. "We won The Double last year, so this is going to be a tougher season," he predicts. "But the Champions League must be the priority. We want to reach the final. And I think we've got the players to get us there."
From the November 2002 issue ofFourFourTwo.
Quizzes, features and footballing fun
Get the best features, fun and footballing frolics straight to your inbox every week.
Thank you for signing up to Four Four Two. You will receive a verification email shortly.
There was a problem. Please refresh the page and try again.