Higuain and Aguero meet again: how the two rivals have consistently shaped one another's careers
As the Argentinian strikers face one another when Chelsea travel to Manchester City this weekend, Richard Jolly studies two players who could have been all-time greats – but for each other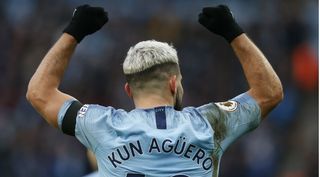 They have 706 goals for clubs and country between them. Not bad for men of 30 and 31. They are numbers that would seem extraordinary but for one fact: an international colleague and, in at least, one case, close friend, has 647 on his own, as well as creating plenty of others. As Sergio Aguero and Gonzalo Higuain prepare for Manchester City against Chelsea and to face one another for the first time since the latter scored in Real Madrid's 3-2 win over Atletico in March 2010, the contemporaries could compare notes.
They are the striking superstars who can be overlooked because they were eclipsed. They have spent their international days and, in a spillover effect, careers as a whole in the shadow of Lionel Messi. Neither is the Argentinian player of his generation.
Indeed, perhaps because of the other, neither is even the runner-up in that unofficial contest; Javier Mascherano and Angel Di Maria have each won a century of caps. Each has been an automatic choice, whereas Aguero and Higuain have spent a decade often competing for the same place; it has been so hotly-contested that Aguero's then father-in-law Diego Maradona preferred Higuain in the 2010 World Cup. It has felt that kind of relationship: complicated, not overly happy and never ending.
Defined by another
They are defined, in part, by Messi; Aguero has been his roommate, the man the Barcelona player has described as being "like a brother". Higuain has been described, rather cruelly, as the man who has denied Messi the title of the greatest footballer ever. Barcelona's record scorer has come agonisingly close to winning a major international trophy, but three finals have amounted to a trilogy of misses from Higuain; in the 2014 World Cup, the 2015 Copa America (compounded by directing a penalty over the bar in the subsequent shootout) and the 2016 Copa America Centenario.
Yet Aguero also played in all three Argentinian anti-climaxes, converting in the 2016 shootout but failing to find the net during open play in any; indeed, he seemed to spend his cameo in 2014 against Germany trying to get sent off. In 2014, as 2010 and 2015, he was benched for Higuain. It is, in its own way, admirable that they are two of Argentina's six leading goalscorers ever when each has had to spend so much time on the sidelines watching the other.
That frequent preference for Higuain indicates a role reversal. Aguero had been the prodigy of the pair, the younger but the first to debut and score in the Argentine top flight, the first to move to Europe and then England and the first to appear for La Albiceleste. Perhaps a sleeker, speedier, more stylish player was more eye-catching. Higuain had more of the rough-and-readiness of the traditional No. 9. In an era of strike duos and a team without Messi, they might have been a natural partnership, the stereotypical big man and quick man.
In competition
Instead, they have been in an unofficial competition, rivalling each other goal for goal in parallel careers that amount to remarkably consistent bodies of work. Aguero has reached 20 club goals in 11 of the last 12 seasons, scoring 314 times since the start of the 2007-08 campaign. Higuain has 264 since the beginning of his breakthrough campaign in 2008-09, only failing to reach 18 in an injury-hit 2010-11 and, so far, the current campaign.
All of which would, in another era, have been astonishing, except that Aguero's highest haul is 33 and Higuain's best is 38 – a total Messi topped in nine successive years. It is sadly obvious why neither has ever won Argentina's Footballer of the Year award.
Records to envy
They have had to console themselves with other distinctions: a City goalscoring record for Aguero, a Serie A best for Higuain after he struck 36 times in a season. Juventus then made him football's fourth most expensive player but, just as Manuel Pellegrini used to tout Aguero as the third best on the planet, behind the two usual suspects, neither really achieved that status: they have been in FIFPro's World XI third and fourth team, but not the first or second. In 2016, they were twinned in the Ballon d'Or standings: neither got any votes.
Regular scoring at club level has not got them that acclaim. Messi and Cristiano Ronaldo apart, there are two obvious factors. The lack of international trophies is one. There is a shared sense of underachievement even if Higuain, the man infamous for squandered chances, has three Copa America semi-final goals and more World Cup strikes than Aguero.
Then there is the other gap on their CVs: Higuain left Real Madrid the summer before they started to win the Champions League again. Aguero, though he long seemed keen to join Real, never did and has not conquered Europe in City's colours. Neither has a surfeit of goals in the Champions League's knockout stages. Aguero's prolific return against the Premier League's top six means he cannot be dismissed as a flat-track bully, while Higuain has a record of scoring against Serie A's finest. They have brought a guarantee of goals to the matches inked in on the fixture list. It is their lesser returns on extraordinary occasions – and the presence of an extraordinary player – which has denied them another level of recognition.
Quizzes, features and footballing fun
Get the best features, fun and footballing frolics straight to your inbox every week.
Thank you for signing up to Four Four Two. You will receive a verification email shortly.
There was a problem. Please refresh the page and try again.