How Arsene Wenger abandoned his philosophy to make Arsenal title challengers again
The Frenchman has demonstrated a new-found willingness to adapt his possession-based tactics in the last year or so. Abhinav Kini writes that such flexibility has boosted the Gunners' chances of silverware...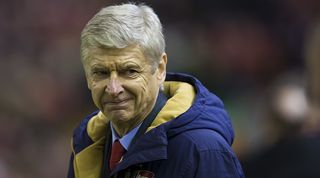 For around a decade, multiple managers figured out how to outsmart Arsene Wenger and his Arsenal sides. Sir Alex Ferguson was one of them, as he explained in his autobiography.
"In later years we learned more about Arsenal's thinking," wrote Ferguson. "Arsene had a template of how he sees his players and the way they play. We didn't need to win the ball against Arsenal, we needed to intercept it. You need good players who can intercept."
It was the perfect game plan to overcome the Gunners: give them the ball, force a mistake, intercept and hit quickly on the break. Ferguson's record of 10 wins in his last 18 league games with Arsenal highlights the success of the approach.
The Scot wasn't the only one to implement such a game plan, with Arsenal's record in big matches gradually becoming worse and worse. By the end of the 2013/14 campaign, Wenger had won only seven of his last 30 league games against fellow top-four opponents. When asked at the tail end of that season if he would ever consider parking the bus in a big match, Wenger insisted his side would play to its strengths.
'We conceded too many goals in some of these games. But overall our policy is to try to play our game because it's the qualities of our players," Wenger said. "I think the system of the team is to adapt to the quality of the players because we have so many offensive players. We just play to our strengths."
The Frenchman's comments were largely met with ridicule as Arsenal - who had led the table for 120 days - finished the season in fourth. Many cited Wenger's refusal to adapt in encounters with the elite clubs - which included a 6-0 defeat at Chelsea, a 5-1 loss at Liverpool and a 6-3 thrashing at Manchester City - as a major factor in his side's collapse.
Change of philosophy
Fast forward to the present day and Wenger has completely gone against what he said nearly two years ago: instead of adapting to the quality of his players, he is now adapting to the quality of the opposition. In 2015, Arsenal won six of their 10 games in all competitions against Manchester City, Manchester United, Chelsea and Liverpool. In previous years, Wenger would try to dominate possession against everyone, even Bayern Munich and Barcelona. These days, however, Arsenal are often willing to let the opposition control the ball as they soak up the pressure and wait for the right moment to counter-attack. It is a deviation from his philosophy that Wenger would have considered unthinkable in the past.
A 2-0 win away at Manchester City in January 2015 was where it all began. Arsenal had just 35.3% of possession that day and, in the same way that other teams routinely did against them, simply focused on sitting deep, remaining defensively solid and breaking with speed.
Despite seeing much less of the ball and recording 300 fewer passes, Arsenal created the same amount of chances as City (seven). It was a similar story in August's Community Shield triumph over Chelsea in August, when Wenger's men had just 43% of the ball.
Their most comfortable recent success came against Manchester United at the Emirates Stadium in October. Despite being the home side, Arsenal had only 37.8% of possession; while they were inferior in that regard, there is no doubt that the Gunners deserved to win emphatically.
Later that month, Bayern Munich were also beaten despite enjoying 74.2% of possession, while Arsenal were able to inflict another defeat on Manchester City in December with just 37.2% of the ball. Olivier Giroud's goal in that game is a great example of Arsenal's new big-game philosophy: after the ball was intercepted close to the halfway line, it took just five touches for Arsenal to make it 2-0.
Giroud scores against Manchester City
Stronger squad
A major factor in all of those victories is the personnel Wenger now has at his disposal. Alexis Sanchez and Mesut Ozil are attackers who are suited to playing on the counter-attack, while Francis Coquelin's commanding presence in the engine room is essential as Arsenal look to nick the ball and move it forward quickly.
It is interesting to note that Coquelin made more interceptions than any other Premier League midfielder in 2015 with 106.
Between the sticks, Petr Cech's ability to organise a defence allows Arsenal to sit deeper, which in turn makes it more difficult for them to be penetrated. Without the former Chelsea goalkeeper, it is unlikely that the Gunners would have kept a clean sheet against Bayern despite the success of their counter-attacking approach further forward.
All of which is not to say that Wenger has simply started parking the bus, because it's been far from that. After all, Arsenal had at least eight shots at goal in all of the aforementioned victories, while in some cases they had more efforts than their opponents. However, Wenger has finally recognised the need to alter his dogmatic possession-based philosophy against the big teams, and it's certainly been paying off.
Arsenal exploit spaces quickly against Manchester United
Changing times
While it would have been handy for Wenger to realise the benefits of adaptation a good few years ago, it's certainly a case of better late than never. Even the 66-year-old himself has admitted that possession is now no longer as crucial as it once was.
"It looks like it's linked with a trend where the possession is not rewarded as much as it was before," he said. "Certainly it's the first year in the Premier League that doesn't give the win as much as before.
"That could explain the fact that the away teams do better. The transition from defence to attack has become much better because the players are quicker physically and they expose you much more when you play at home than away from home."
This same approach has worked wonders for Arsenal against their fellow heavyweight outfits. With big away games against Man City, Man United and Tottenham approaching as the business end of the season looms - not to mention a Champions League double-header with Barcelona - it's almost certain that Wenger will be implementing his counter-attacking tactics once more. It's been a long time coming but the Frenchman has finally shown that he can adapt in the big games. With Arsenal still very much in the title race with just 14 games remaining, it looks as though they have acquired their plan B just in time.
Quizzes, features and footballing fun
Get the best features, fun and footballing frolics straight to your inbox every week.
Thank you for signing up to Four Four Two. You will receive a verification email shortly.
There was a problem. Please refresh the page and try again.