How Chelsea are gaming the system better than anyone – and why they'll keep winning
The Blues have used Financial Fair Play rules to nudge themselves ahead – and all of it is perfectly legal, writes The Times' Rory Smith...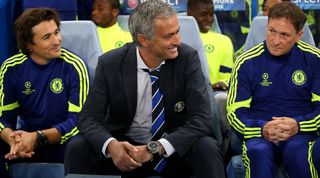 Coming from Jose Mourinho, it seemed, well, a bit rich. "In every transfer window, Chelsea is losing players, selling players," said the Portuguese, at the close of a summer transfer window in which he had brought Cesc Fabregas, Diego Costa, Filipe Luis and Loic Remy to Stamford Bridge. "We are making money to be able to spend money. Chelsea, in this moment, is not a spender."
That, of course, is the same Chelsea whose rise to prominence was triggered by an unprecedented campaign of shock and awe in the transfer market, the same Chelsea who have broken the British transfer record in the last decade, and the same Chelsea who had just finished writing cheques for not far off £90 million to provide Mourinho with what many regard as the strongest side and the fullest squad in the Premier League.
Still, Mourinho wasn't entirely wrong. Chelsea did spend more money than they made this summer, but only just, their purchases almost offset by the lucrative sales of David Luiz and Romelu Lukaku. Look at the calendar year 2014 as a whole, and they are narrowly in the black thanks to Manchester United's decision to furnish them with £38 million for Juan Mata in January.
Ahead of the rest
The problem is that his terminology is too simplistic. What Chelsea have become does not fit comfortably into football's traditional delineation between buyers and sellers, predators and prey. A more subtle set of categories is required, and it is this: teams who have worked out how to thrive in the era of Financial Fair Play, and teams who have not.
This Sunday, Chelsea travel to the Etihad Stadium to face Manchester City. It is the first meeting this season of the two sides widely tipped to contest the Premier League title; it is the campaign's first true clash of the titans. It is also an encounter between one club that has seen UEFA's new financial controls as an obstacle and another who have used it as an opportunity.
It is difficult to feel too sorry for City, given their expenditure in recent years and the inflationary effect it has had on the rest of the transfer market, but there is no question that their activity this summer was curtailed by the punishment they received from UEFA for breaching FFP.
Their squad size, their salary kitty and their transfer spending were all limited by that sanction; it was their inability to reduce their wage bill sufficiently which, eventually, prevented them from beating Manchester United to the loan capture of Falcao. They will not be able to name a full-strength side in the Champions League because of the restrictions placed upon them.
Chelsea, on the other hand, are not just unencumbered by such problems – their losses for the last two years were comfortably inside the £38 million limit detailed by FFP – but seem better prepared for them than any of their rivals at home and abroad, with the possible exception of Bayern Munich.
Master traders
Rejuvenate to accumulate
14/15 In 22.5, out 23.4
13/14 In 21.4, out 21.7
12/13 In 20.1, out 21.1
11/12 In 20.3, out 21.3
10/11 In 19.9, out 21.6
09/10 In 20.5, out 21.2
Figures from transfermarkt.co.uk
To understand why, it helps to imagine that Chelsea are, in effect, two separate businesses. The first is the one run by Mourinho, the one concerned with winning football matches, lifting trophies and buffing the Portuguese's already-gleaming reputation.
Almost entirely separate from that, though, is what has become Chelsea's player trading arm. This is the business that has spent the last five years or so hoovering up some of the best young talent from around Europe and the world, bringing them to the club's Cobham training base for a couple of years and then dispatching them out on loan. Many go to Vitesse Arnhem, Chelsea's unofficial feeder club in Holland; others, up to and including the likes of Lukaku and Thibaut Courtois, are sent out to an appropriate side in the Premier League or elsewhere.
Just occasionally, these two businesses intertwine. Courtois returned from Atletico Madrid this summer and usurped Petr Cech as the club's first-choice goalkeeper; Lukaku, according to Mourinho, might have been retained had he been willing to bide his time behind Diego Costa.
For the most part, though, they are entirely apart. The aim of Chelsea's player trading arm is not to bring players through for Mourinho to use; football at the elite level is so competitive now, the margins so fine, that only ready-made superstars will do. There is no longer time to allow a young player to make the mistakes that are so crucial for his development.
So, when one of Chelsea's prospects has been developed to the peak of his market value, he will be sold – the best example not being Lukaku but his international team-mate Kevin De Bruyne, sold to Wolfsburg at a vast profit despite being singularly unimpressive in his few appearances in a Chelsea shirt. This is not a youth system as we think of them; Chelsea are behaving (entirely legally) like property developers. They are buying players not to use them, but to flip them.
The genius of this structure is that it means Chelsea win twice. The terms of FFP dictate that investment made in a youth academy doesn't count towards a club's overall spend, so buying youngsters actively reduces their liability. But the profits from player trading, from sales, do count, bolstering Mourinho's spending power. They are – again, entirely legally – gaming the system. They are not spenders or sellers: that is too simplistic. They have become traders, and they are excellent at it.
Playing the game
Every single one of the world's elite clubs has spent the last few years engaging a phalanx of lawyers and accountants in an attempt to find a way around FFP. Manchester City's purchase of clubs in the United States and Australia has been designed with this in mind. City's FFP submissions included several large incomings from the sale of their own intellectual property to their partner clubs.
It is not inconceivable that Melbourne City, for example, might buy a high-profile player and then loan him back to England; that has already happened with New York City and Frank Lampard, of course, while the network of Red Bull clubs in Austria and Germany have used their relationship to do just that, too.
Perhaps that will be City's answer. As it stands, though, Chelsea stand head and shoulders above everyone else when it comes to playing the game to their own advantage. Financial controls were supposed to herald the dawn of football's brave new world. Chelsea, more than anyone else, feel at home here.
Thank you for reading 5 articles this month* Join now for unlimited access
Enjoy your first month for just £1 / $1 / €1
*Read 5 free articles per month without a subscription
Join now for unlimited access
Try first month for just £1 / $1 / €1
Quizzes, features and footballing fun
Get daily World Cup 2022 news, updates and other football frolics to your inbox
Quizzes, features and footballing fun
Get daily World Cup 2022 news, updates and other football frolics to your inbox
Thank you for signing up to Four Four Two. You will receive a verification email shortly.
There was a problem. Please refresh the page and try again.