How to do the 12 new FIFA 18 celebrations – plus more of our favourites
From Griezmann's hotline bling and Rooney's KO, to a double from Cristiano Ronaldo, it's time to rub it in your opponent's face with the best FIFA 18 celebrations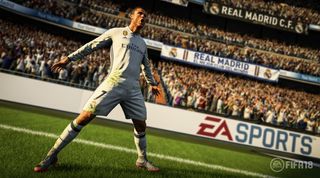 There aren't many better feelings than scoring a goal. Except maybe, in the case of FIFA 18, celebrating a goal as the show-off icing on top of a very delicious cake. Ranging from the ludicrous to the downright excruciating (to sit through anyway), here are the very best celebrations in FIFA 18 and how to do them*.
*FourFourTwo is not responsible for smashed controllers, broken friendships or bruised egos
Let's get started with all 12 of the new FIFA 18 celebrations this year.
Griezmann's Hotline Bling
How to do it: Hold LT and press X/Hold L2 and press square
Want to look like the coolest guy on the pitch? Pulling off the Atletico Madrid forward's tribute to Drake's Hotline Bling will get you halfway there. Alice band not included.
Mannequin challenge
How to do it: Hold LT and flick right stick up/Hold L2 and flick right stick up
EA are nothing if not late to the party of the hottest new trends. Gangnam Style and the dab (more of which later) were a few years late and, hey, here's everyone's favourite 2015 trend.
Giroud's scorpion
How to do it: Hold LT, flick right stick right and then left/Hold L2 and flick R3 right and then left
Originally planned as a callback to the Frenchman's outrageous scorpion kick goal against Crystal Palace, many Gooners weren't pleased with the timing of the celebration: during a 3-3 draw with Bournemouth with the seconds ticking away.
Stir the pot
How to do it: Hold LT and double tap Y
Replacing FFT's favourite chest slide celebration, this move inspired by the NBA's James Harden looks faintly ridiculous. Perfect to wind up your mates, then.
Dybala's mask
How to do it: Hold LB and flick right stick up twice/Hold L1 and flick R3 up twice
One of the new celebrations, inspired by Juventus's Paulo Dybala, has you channelling your inner superhero. Batman's got nothing on you.
Lewandowski's X
How to do it: Hold LB and flick right stick down twice/Hold L1 and flick R3 down twice
EA have gone above and beyond in bringing players some very specific celebrations this year. Here's Lewandowski's X: only available after scoring goals in FIFA 18 and for crash landings.
Hypnosis
How to do it: Hold LT and press Y/Hold L1 and press triangle
FIFA is nothing without its absurd celebrations, and Hypnosis is no different. Gather your team-mates and put them under your spell, before knocking them all to the floor with your telekinetic powers. Brilliant.
Workout
How to do it: Hold LT and double tap X/Hold L1 and double tap square
Scoring in FIFA 18 often gets the blood pumping, so what better way to use up that excess adrenaline than with a half-dozen press-ups?
Pipe
How to do it: Hold LT and flick right stick up then down/Hold L1 and flick R3 up then down
You've already got the defence dancing to your tune, so why not go one better and bust out an imaginary flute and turn into the Pied Piper of the pitch?
Knee slide fail
How to do it: Hold LT and flick right stick right twice/Hold L1 and flick R3 right twice
Often the bane of many managers and physios, the failed knee slide makes a welcome return to the FIFA series. Recoil in horror as your star striker's knee gets planted in the turf, and then sigh with relief as he gets up and starts spinning his arms like a helicopter.
Kiss the ring
How to do it: Hold RT and double tap B/Hold R2 and double tap circle
Want to prove you're the king of FIFA? Kiss the ring and let everyone know who's boss.
Ronaldo-specific celebrations
How to do it: (Trademark) Tap A/X; (Camera celebration) Run to the cameraman
The camera-shy lad from Madeira probably doesn't want all of this fuss but two of his iconic celebrations are in the game anyway. Ronaldo's trademark "Siiii" celebration (including a ludicrous voiceover from CR7) is here, as is his Champions League sit-and-look-at-the-camera celebration. Just find your nearest cameraman for that one.
Along with the new player-inspired celebrations above, there are also a bunch taken from your favourite players from years past. Here are some of our favourites:
Matuidi's Charo
How to do it: Hold LT and rotate the right stick clockwise/Hold L2 and rotate R3 clockwise
There's nothing quite like the Juventus man's bird waddle celebration. Will Strictly come calling?
Benteke's chest-beat
How to do it: Hold RB and double tap B/Hold R1 and double tap circle
Christian Benteke has 'contributed' to one of the Premier League's all-time great goal droughts with Crystal Palace so FIFA 18 might be the only place you can see the Belgian's cocksure celebration in action this season.
The Bale heart
How to do it: Flick right stick down then hold right stick down/Flick R3 down then hold R3 down
Despite attempts to copyright one of the easiest hand shapes you can ever make, it's been copied the world over. You can send some love to the opposition keeper, too. Just don't let Bale know.
Antonio's floor spin
How to do it: Hold LB and rotate the right stick counter-clockwise/Hold L1 and rotate R3 counter-clockwise
A favourite of one Homer Simpson, Michail Antonio's hilarious move is sure to put the D'oh in "do that to me again and I'll put my foot through the telly".
Rooney's KO
How to do it: Hold LB and double tap X/Hold L1 and double tap square
Fun fact: the only celebration to be inspired by Phil Bardsley. This tongue-in-cheek knockout punch will hopefully have your opponents throwing in the towel.
Old man Eto'o
How to do it: Hold LT and click right stick in/Hold L2 and click R3
Samuel Eto'o may not be reaching for the Zimmer frame just yet – but that didn't mean he couldn't poke fun at Jose Mourinho's jibes. Just try not to put your back out doing this.
Want to really annoy your mates? These next three are sure to make any opponents unleash a tirade of expletives and four-letter insults.
The dab
How to do it: Hold RB and double tap Y/Hold R1 and double tap triangle
The Big Daddy of blood-boiling celebrations. There's nothing worse than having just conceded and seeing your opponents wheel away and start dabbing, so turn the tables on them.
Patty cake
How to do it: Hold LB then flick right stick right then left/Hold L1 then flick R3 right then left
Normally reserved for children's birthday parties, patty cake steps into the footballing arena in a big way – by making it the most ridiculous celebration in FIFA 18. We hope they mo-capped this one.
Shhh!
How to do it: Hold right stick to the right/Hold R3 to the right
Ah, the shush celebration. The classic. There's nothing better than nearly inciting a riot with a single finger to the lips.
More FIFA 18...
DREAM TEAM 11 best cheap Premier League players for FIFA 18 Ultimate Team
REVEALED! 10 excellent FIFA 18 Ultimate Team bargains for under 2,000 coins
BUDGETS! FIFA 18 career mode transfer budgets for every Premier League team
TEAMS 10 teams we can't wait to use in FIFA 18
BARGAINS The 11 best free agents in FIFA 18
Thank you for reading 5 articles this month* Join now for unlimited access
Enjoy your first month for just £1 / $1 / €1
*Read 5 free articles per month without a subscription
Join now for unlimited access
Try first month for just £1 / $1 / €1
Get FourFourTwo Newsletter
The best features, fun and footballing quizzes, straight to your inbox every week.