Revealed! FIFA 18 career mode transfer budgets for every Premier League team
How much you've got to spend on transfers and wages – plus advice on where exactly it needs to be invested – in FIFA 18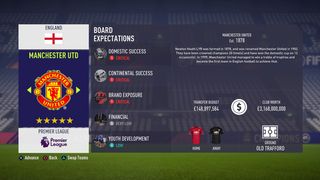 Arsenal
Transfer budget: £79.83m, Wage budget: £311k
You could be as stubborn as Arsene Wenger or, with the dronings of ArsenalFanTV fresh in your mind, go all out and make Arsenal proper title contenders. The choice is yours.
Bournemouth
Transfer budget: £36.36m, Wage budget: £133k
Bournemouth look a little light in the centre of park, so put that reasonably sized transfer budget to good use by bringing in someone like England's Jake Livermore.
Brighton
Transfer budget: £27.79m, Wage budget: £106k
Brighton's squad, on paper, could struggle in the Premier League. Time to stretch that £27m as far as it will go. Ahmed Musa could definitely bolster a ludicrously thin strikeforce.
Burnley
Transfer budget: £35.86m, Wage budget: £116k
Burnley aren't known for breaking the bank so, instead of going gung-ho, go all Sean Dyche on the rest of the league by bringing in Ashley Young to provide some pace on the wings.
Chelsea
Transfer budget: £82.2m, Wage budget: 370k
While the reigning Premier League champions lack the spending power of rivals Manchester City, there's still plenty of room to manoeuvre in the transfer market. Edinson Cavani might be perfect if you want to find a suitable replacement for walking tantrum Diego Costa.
Crystal Palace
Transfer budget: £40.27m, Wage budget: £121k
A goalscorer, somewhat inevitably for the shot-shy Eagles, should be the order of the day. Andy Carroll may be a worthwhile Christian Benteke backup – and then you can finally sort out that goalkeeper problem.
Everton
Transfer budget: £56.67m, Wage budget: 259k
Everton have already gone on a spending spree this summer, and there's no reason why you should stop now. A long-term replacement for right-back Seamus Coleman should be your first port of call.
Huddersfield
Transfer budget: £28.49m, Wage budget: 81k
Huddersfield have the lowest wage budget in the division but that doesn't mean you can't pick up a quality player or two (but definitely not three). Southampton's Dusan Tadic could give the Terriers the added edge their (in-game) squad are so desperately lacking.
Leicester
Transfer budget: £47.26m, Wage budget: £159k
Having finally filled their N'Golo Kante-shaped hole in midfield, Leicester are now scrambling for a Danny Drinkwater replacement. Ki Sung-yueng might tide you over for the first season if you can prise him away from Swansea.
Liverpool
Transfer budget: £66.88m, Wage budget: £285k
Do what Jurgen Klopp couldn't and get Virgil van Dijk. You know you want to – and you'll even have some spare change for an improvement on Simon Mignolet between the sticks.
Manchester City
Transfer budget: £132m, Wage budget: £275k
The blue side of Manchester are never short of a penny or a billion, and you can add to their already considerable squad by bringing in two or three genuine world-class talents with the £132m at your disposal.
Manchester United
Transfer budget: £148m, Wage budget: £310k
Not only do Manchester United have the largest transfer budget in the Premier League at a whopping £148m, they've also got very little to improve upon. Going all guns blazing for a Gareth Bale or Thomas Lemar wouldn't be the worst idea in the world.
Newcastle
Transfer budget: £29.98m, Wage budget: £140k
Virtual Mike Ashley is a tad more generous with his budgets, it seems. Make up for that rare generosity on Tyneside by bringing in a striker like Bournemouth's Callum Wilson.
Southampton
Transfer budget: £44.48m, Wage budget: £178k
Southampton are renowned for producing fantastic British talent, but how about kick-starting a stalled one for a change? Jack Wilshere is available for a snip at £19.5m, and would give the Saints extra bite in midfield.
Stoke
Transfer budget: £42.5m, Wage budget: £142k
Stoke have been trying to shake off the Tony Pulis era for years. Do it in style by bringing Kevin Gameiro to the Premier League. We hear he's got a mean throw-in in his locker.
Swansea
Transfer budget: £39.63m, Wage budget: £149k
Swansea lost captain Ashley Williams to Everton last summer, but Swansea's squad is fighting fit and liable to kill you via death by a thousand passes. Still, a new centre-back wouldn't go amiss. Federico Fazio might be dying for a move back to the Premier League after a miserable experience at Tottenham.
Tottenham
Transfer budget: £62.81m, Wage budget: £237k
Harry Kane can do no wrong for Spurs – but there's also the looming threat of injury. He's also just one man (at least, we think he's human). Try tempting Jamie Vardy to Wembley for a party and maybe a bagful of goals. Alcopops sold separately.
Watford
Transfer budget: £39.46m, Wage budget: £151k
Watford love a cosmopolitan squad. Chelsea's forgotten man, the Ghanaian Baba Rahman, will only be too happy to make the switch to Vicarage Road, and will give the Hornets a sharper sting in their tail.
West Brom
Transfer budget: £36.18m, Wage budget: £138k
WWPD? (What would Pulis do?). If you settle into your role at The Hawthorns – and the cap fits, of course – you may be tempted to throw money at a 6ft-plus centre-back and a man mountain of a forward. But why, when Michy Batshuayi is up for grabs early on?
West Ham
Transfer budget: £55.6m, Wage budget: £212k
Quell the whisperings of discontent around the London Stadium by, erm, ditching fan favourite Mark Noble and bringing in James Ward-Prowse. It'll be like 1966 all over again. Honest.
More FIFA 18...
FOURFOURTWO FILMS The Cult of FIFA: Inside the world of professional gaming
REVIEW FIFA 18: like Ronaldo, it's fashionable to hate but mostly exceptional
Thank you for reading 5 articles this month* Join now for unlimited access
Enjoy your first month for just £1 / $1 / €1
*Read 5 free articles per month without a subscription
Join now for unlimited access
Try first month for just £1 / $1 / €1
Get FourFourTwo Newsletter
The best features, fun and footballing quizzes, straight to your inbox every week.