The 11 best cheap Premier League players for your FIFA 18 Ultimate Team
Heed advice from Phillip Ekuwem when building your FIFA 18 starter squad, with the best Premier League XI for under 50k coins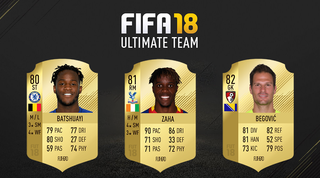 FIFA Ultimate Team is back, and better than ever – but with that comes the arduous task of building an entirely new squad to do battle with in online and single player seasons, as well as the many weekend leagues that lie ahead.
Premier League players are generally overpriced compared to their counterparts in other European Leagues, but thankfully England's top flight remains stocked with a host of quality players who won't eat up all of your virtual currency.
(Please note: Player prices are likely to go up as we approach the first Weekend League, so snap these players up fast.)
Asmir Begovic (GK)
Potential cost: 2.8k
It's much harder to defend in FIFA 18, so one world-class save from your goalkeeper could be the difference between a win and a dab-filled defeat. Hence, you'll want to have a competent guardian between your posts.
Rated at 83, Begovic is capable of making similar saves to the likes of David de Gea and Gigi Buffon. With 82 reflexes, you can expect the former Chelsea man to frustrate your opponent.
Davide Zappacosta (RB)
Potential cost: 4.4k
Zappacosta arrived at Chelsea with a bang, scoring a (self-confessed fluke) worldie against Qarabag in September that immediately put Victor Moses's place under threat. He's not too bad in FIFA 18 either, thanks to attributes that'll make him an extra attacking outlet in your team if you like to have your full-backs overlapping at every opportunity.
The Italian's 82 pace allows him to keep up with most players, and his crossing ability is deadly when combined with a powerful forward.
Andreas Christensen (CB)
Potential cost: 1.4k
Having spent the last two seasons proving himself on loan at Borussia Monchengladbach, Christensen has finally been called upon by Antonio Conte for a more prominent role in his squad that's likely to increase as the season progresses.
He doesn't have to wait to get his chance on your team, though – the Dane is good enough to man your defence and thwart incoming attacks early on.
Eliaquim Mangala (CB)
Potential cost: 3.5k
Lest we forget, Mangala was once British football's most expensive defender – but given that he's long been on the peripheries of Pep Guardiola's squad, the Frenchman probably isn't the first stopper who comes to mind.
Mangala, though, is borderline OP ('overpowered'; fine value) in FIFA 18, with 85 physicality and 79 defending that will make him a brick wall in your backline.
Sead Kolasinac (LB)
Potential cost: 2.6k
Over the years, Arsenal new boy Kolasinac has garnered a reputation for his immense strength and decent pace (rated 91 and 78 respectively in FIFA 18).
The Bosnian will be able to nudge anyone off the ball, and is capable of making deadly strides upfield thanks to his fine physical attributes. Kolasniac's pace and defending abilities make him a multipurpose player who is capable of being used in various systems, defensive or ultra-attacking.
Adam Lallana (CM)
Potential cost: 15k
A combination of power and panache is imperative for the success of any FUT team – and Lallana provides the latter in abundance. Being a four-star skiller, you can spin your way out of sticky situations with the former Saint, and distribute the ball to your forward men with precision. The Liverpool man also boasts a five-star weak foot, allowing him to be effective from an array of areas on the pitch.
Jordan Henderson (CM)
Potential cost: 6k
N'Golo Kante would be in everybody's midfield if he wasn't so expensive in this year's game. He's got a decent alternative, though, in the form of Liverpool workhorse Henderson. Though originally a CDM, you can play Henderson as a CM without compromising his individual chemistry by using a Premier League manager or playing 10 games with him to get loyalty.
Henderson's strengths in the game are intercepting the ball and distributing them to his team-mates in a Kante-esque manner – minus the explosive pace and dribbling. The Liverpool man's shooting is also pretty decent, so you shouldn't have much trouble curling balls into top corners.
Dusan Tadic (CAM)
Potential cost: 2k
Tadic draws parallels to Lallana as he's an effective dribbler, four-star skiller and a fine passer.
He's somewhat one-footed, though – his right foot has a two-star rating – but the Serb is still a decent flair player to have in a No.10 role. He offers a lot more bang for your buck than you'd expect, given his paltry price on the transfer market at the time of writing.
Sofiane Boufal (LW)
Potential cost: 3.7k
Boufal is a must-have player for any budget Premier League FUT side, thanks to his five-star skill rating, four-star weak foot and blistering pace. He might not be making headlines regularly in real life, but the Moroccan is sure to be a key player for your XI – especially if you know your way around the right analog stick. Think of him as the Premier League's Franck Ribery on FIFA.
Wilfried Zaha (RW)
Potential cost: 3.3k
Zaha enjoyed a stellar individual campaign amid Crystal Palace's shaky 2016/17, gaining recognition as one of the league's top performers.
Like Henderson, the fact that Zaha is originally an RM won't affect his individual chemistry, as long as you have a Premier League manager or play 10 games with him to get loyalty. For a winger he's got great physicality, which makes him a difficult player to get off the ball (provided you're not doing battle with a beast).
Michy Batshuayi (ST)
Potential cost: 2.3k
When not scoring own goals for Spurs, Batshuayi can be a very lethal striker. He's far from the best passer in FIFA 18, but in a targetman role up front you can expect to bother goalkeepers regularly with the Belgian striker.
Given that we've got players with great crossing stats in our budget team here, it's very possible that you'll be bagging headers aplenty with Batshuayi.
More FIFA 18...
REVEALED! 10 excellent FIFA 18 Ultimate Team bargains for under 2,000 coins
BUDGETS! FIFA 18 career mode transfer budgets for every Premier League team
TEAMS 10 teams we can't wait to use in FIFA 18
BARGAINS The 11 best free agents in FIFA 18
Quizzes, features and footballing fun
Get the best features, fun and footballing frolics straight to your inbox every week.
Thank you for signing up to Four Four Two. You will receive a verification email shortly.
There was a problem. Please refresh the page and try again.