How Giovinco dazzled for Toronto – and helped MLS to take the next step
The pint-sized Italian has been included in the 2015 FFT100 despite leaving Serie A for the States. Jason Davis explains why his success could be a game-changer for the league...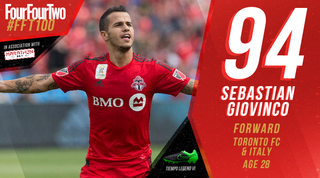 We probably should have known from the very beginning, that Sebastian Giovinco was going to turn Major League Soccer into his personal football playground. All of the signs that the Italian attacker would find immediate success in the North American competition were there: not only were his skills obvious, but Giovinco was so anxious to get to work for his new team, Toronto FC, that he engineered an early release from his final contract at Juventus.
Not an ounce of doubt about his commitment to the cause followed him to Canada. Giovinco's move to MLS in time to start the season with Toronto often went forgotten as his remarkable year unfolded.
TFC's coup – signing an incredibly talented player with caps for the Italian national team and in his prime – was only meant to bear fruit at the end of the European campaign, the traditional migration period for players from the Old World who make the move to MLS.
But Giovinco, relegated to the substitutes' bench under Antonio Conte, saw no reason to play lame duck for the Old Lady. He rushed to the Reds, much to the detriment of defenders across Major League Soccer.
Difficulties of the division
Giovinco, all 65 inches of him (that's 5ft 4in), dominated MLS defenders in 2015. Statistically speaking, his season is among the best in the league's 20-year history. It may in fact be the best, no equivocation needed, a truly stunning achievement considering the strides made by the division in the last two decades.
This is not the league of the late-90s/early-2000s, when an ageing Carlos Valderrama did as he pleased in semi-retirement down in Florida, and the best defenders in the league were American journeymen and fresh-faced college kids still learning their trade.
A more mature MLS is full of teams playing refined systems under coaches pushing well beyond the traditional constraints of the game in this part of the world.
Assumptions about the level of defending, or the ability of teams to shut down talented players through schematic manoeuvring, should be made with care or thrown out altogether.
No one believes that MLS is among the best leagues in the world, but that doesn't mean what Giovinco did in 2015 isn't astonishing. Major League Soccer isn't an easy league, especially when the difficult differences between playing in Europe and North America are taken into account.
Off to a flyer
Giovinco needed no time at all to acclimatise, was not bothered by the artificial surfaces and taxing travel, and never seemed to be affected by the overly physical style of defending utilised by many teams.
More famous names than the Italian have found themselves unable to cope with it all; more celebrated talents have withered in the heat of summer soccer.
Giovinco not only thrived, he carried a previously moribund club in Toronto to the play-offs for the first time in their nine-year history.
Giovinco scored 22 goals and provided 15 assists in 33 games. He is the first player in MLS history to break the 20-goal and 15-assist totals in the same season. Week after week he provided MLS with a bank-vault worth of free publicity as he danced his way through defences, slipped passes through for team-mates as if he possessed ESP and pinged home free-kicks on a par with the best the league has ever seen. He regularly lifted his club up to earn points in games they had no business taking any from.
The Italian's exploits in MLS even managed to get him back into the picture with the Azzurri: after nearly a year away from the national team, Giovinco returned to the side for a pair of European Championship qualifiers in October. His old manager at Juventus, Antonio Conte, recalled the forward and used him as a substitute in both matches as the Italians secured qualification for France. By all accounts, Giovinco comported himself well, doing no damage to his chances of maintaining a place in Conte's future plans.
MLS on the map
It was on his return from that stint with Italy that Giovinco wrote an astounding entry in his growing MLS legend.
Desperate to help his club side as they pushed for a play-off berth, Giovinco made himself available to play only hours after his flight from Rome touched down in Canada.
The timing was tight enough that he went straight from the airport to the stadium, entering the game against the New York Red Bulls in the 71st minute and scoring an extraordinary goal that involved a long, darting run through most of the opposition team.
It was that strike that sewed up Toronto's play-off spot, sparking wild celebrations among a group of supporters who have had more than their fair share of pain in recent times.
It's difficult to frame just how significant Giovinco's call-up is for MLS in the big picture. For the nascent league to have a player earn his way back into the Italy team for meaningful games based on his performances in it could be a transformative moment in the competition's history.
If MLS can evolve past its image as a retirement league where players from top nations become former internationals, it may reap the benefit of other players of Giovinco's quality joining in their peak years.
A preternaturally gifted attacker took a chance on a young league an ocean away – at a financial premium of course – and showed what making true commitment can deliver.
If there's one measure of just how great Giovinco was in 2015, perhaps it's this: according to his agent and various reports, treble-winners Barcelona made an enquiry about his potential availability.
Sebastian Giovinco, Major League Soccer's author of the unthinkable.
The #FFT100 list
50-41
The small print: how we chose the #FFT100 list
#FFT100 The Best 100 Football Players in the World: list and features here
Thank you for reading 5 articles this month* Join now for unlimited access
Enjoy your first month for just £1 / $1 / €1
*Read 5 free articles per month without a subscription
Join now for unlimited access
Try first month for just £1 / $1 / €1