FourFourTwo's Best 100 Football Players in the World 2015 No.7: Manuel Neuer
By Andy Brassell published
The Germany no.1's effectiveness is so great that it affects his peers, explains Andy Brassell...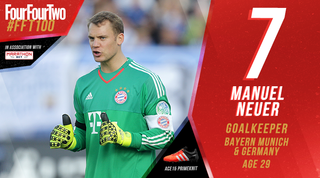 The difference between keeping goal for a run-of-the-mill top-flight team and doing so for one of Europe's elite is so profound in terms of concentration that fulfilling the latter role is akin to playing a different sport. The feeling that Manuel Neuer is doing just that is inescapable every time we watch him play for both Bayern Munich and Germany.
Another product of Schalke's prolific academy to reach his full potential away from Gelsenkirchen (much like Mesut Özil, who attended the same high school as Neuer two years below), he always had presence, and he needed to have it.
Schalke, the original giant of German football, is an intensely demanding arena and as such is no place for shrinking violets.
This makes it all the more remarkable that Neuer made his first-team debut at the age of 20 in 2006, replacing the experienced Frank Rost and quickly establishing himself as first choice.
Neuer first came to international prominence in March 2008, almost single-handedly steering Schalke into the Champions League quarter-finals at the expense of Porto. Still only 21, he mustered a virtuoso display in the second leg, making a number of great stops and beaten only by a Lisandro Lopez blockbuster.
Penalty saves
In extra-time, he denied Ricardo Quaresma a winner, spreading himself to improbably turn the winger's effort around the post. He pulled another couple of jaw-droppers out of the bag in the penalty shootout to deny Lisandro and Bruno Alves, sealing passage through for Mirko Slomka's team. All of those saves, if you looked back at them now, would draw the same reaction; they're what's become recognised as classic Neuer, stretching every sinew of that 6ft 4in frame wide to make himself into an impassable wall. It was also the beginning of a notable relationship between the keeper and the Champions League.
In 2011, his influence in Schalke's run to the semi-finals – where they were knocked out by eventual runners-up Manchester United despite Neuer's sterling resistance – was such that he was named German Footballer of the Year for the first time, as voted by the country's sport journalists.
The fans turn
Despite being a big year for Neuer, it was far from an easy one. Some fans at his hometown club turned on him after he made it clear that he wouldn't be extending his Schalke contract, which expired in 2012.
In the public celebrations that followed the 5-0 win over Duisburg in the DfB Pokal final, his last game for die Königsblauen, one supporter stepped forward from the crowd and slapped Neuer.
After completing his move to Bayern Munich for a €22 million fee, making him the second most expensive keeper ever (after Gianluigi Buffon), the welcome was not too much warmer at the Allianz Arena. A union of five Bayern ultra groups issued a code of conduct outlining the limits of Neuer's relationship with them, after he had previously poked fun at Oliver Kahn, aiming to limit his role in post-match celebrations.
Neuer brushed off these "trivial matters," as he put it, although the club organised a meeting with fans to smooth things over. Either way, he had won sceptics over by the following April, being called over by the travelling fans in the Bernabéu to lead the chants after more shootout heroics in the Champions League semi-final second leg, saving Cristiano Ronaldo and Kaká penalties to deliver Bayern to the Munich final.
Victory at Wembley
Like his Schalke exploits, it didn't yield the trophy, but it wasn't long coming, with Bayern winning an all-German Champions League final in 2013 before his displays at the World Cup the following summer earned him a podium spot at the 2014 Ballon d'Or and the Golden Glove award for the tournament's best goalkeeper. He did win German Footballer of the Year for the second time shortly afterwards, though.
Quite whether Neuer is the innovator that he is so often said to be is debatable – Bruce Grobbelaar brought the sweeper-keeper role, recycling possession for an all-conquering side, into mainstream consciousness decades ago, after all – but what is indisputable is his impact on the modern game, and upon his peers.
#FFT100
The struggles of Borussia Dortmund's Roman Weidenfeller last season were a case in point. The experienced Weidenfeller spent the 2014 World Cup shadowing Neuer while not playing a minute, and it seemed like his Bayern counterpart got into his head. One of the Bundesliga's outstanding goalkeepers for the best part of a decade became prone to rushes from his line that he was ill-suited to, precipitating the eventual loss of his Dortmund place.
Like any truly great goalkeeper you might wish to name – Peter Schmeichel, or Gianluigi Buffon immediately spring to mind – Neuer has created an aura for himself, where myth and projection surround and supplement an already outstanding talent.
#FFT100 The Best 100 Football Players in the World: list and features here
Thank you for reading 5 articles this month* Join now for unlimited access
Enjoy your first month for just £1 / $1 / €1
*Read 5 free articles per month without a subscription
Join now for unlimited access
Try first month for just £1 / $1 / €1
Quizzes, features and footballing fun
Get the best features, fun and footballing frolics straight to your inbox every week.
Thank you for signing up to Four Four Two. You will receive a verification email shortly.
There was a problem. Please refresh the page and try again.