How Javier Hernandez is sticking two fingers up to Louis van Gaal this season
The Mexican goal-grabber struck a Bundesliga hat-trick while his former club were losing to Bournemouth on Saturday - with Nick Powell up front. Ed Stratmann assesses what United are missing...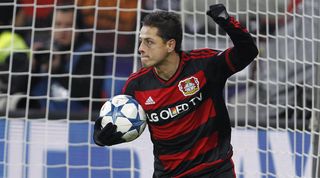 After Bayer Leverkusen's 3-1 win over Eintracht Frankfurt back in November, manager Roger Schmidt was full of praise for his new Mexican up front who'd just netted a clinical brace.
"It does the team a lot of good to have a striker like Chicharito who scores regularly," Schmidt glowed. "He's integrated himself very well into our style of play. The fact he's scoring so often is extraordinary."
Since that fruitful fixture at the Commerzbank-Arena, where Javier Hernandez's double meant he became the first Mexican to score in seven consecutive games in a European league (surpassing the previous record of six set by Real Madrid legend Hugo Sanchez), Hernandez has added another six goals to take his tally to 18 from 21 appearances for his new club.
RECOMMENDED Who the hell is Hugo Sanchez?
The other 99%
It's been remarkable stuff from the former Manchester United man, who continues to make a mockery of his club and Louis van Gaal's decision to offload him in the summer for just over £7 million.
In truth, though, the Mexican's move was largely of his own engineering and probably necessary. After all, Hernandez hadn't hit double figures for league starts since 2011/12, having warmed Real Madrid's bench for most of last season and United's for the two seasons before that.
In a recent interview with Spanish TV show Fiebre Maldini, the player explained exactly why he needed a move away from Old Trafford.
"I didn't have the intention to leave but I wanted more playing time," said the 27-year-old. "Van Gaal told me that he already had his strikers, that I would have to fight for a place, but could take an offer if an opportunity arrived.
"The board told me that I could go on loan to Real Madrid [last season] and it wasn't a difficult decision for me. Then I returned to Manchester. I started to have opportunities but one day I spoke with Van Gaal and I had only a one per cent chance of playing so I needed to make magic. So I moved to Bayer.
"I have been confident since the first day and I feel important here, not only for the goals but in all the games, I see myself in the line-up."
Hot streak
Being left with only an out-of-form Wayne Rooney as a recognised striker has backfired on Van Gaal this season, but United's loss has been Leverkusen's gain. With last week's strike against reigning Champions League holders Barcelona, his sensational 13-minute hat-trick against Borussia Mönchengladbach at the weekend and another in midweek at Unterhaching, the Mexican has now netted an astonishing 16 goals in his last 13 games for die Werkself.
Andre Schubert's Gladbach were riding the crest of a wave going into their trip to the BayArena, having dismantled Bayern Munich 3-1 the previous weekend to bring up their eighth win in 10 under the new boss. But Leverkusen, and Hernandez in particular, ended their streak in spectacular style by inflicting a savage 5-0 defeat.
In yet another record-breaking performance from Hernandez – he became the first Mexican to score a Bundesliga hat-trick – the predatory instincts he's demonstrated over his five-and-a-half years in Europe set him apart against a Foals defence that couldn't handle him.
Hernandez is a player who has been somewhat unfortunately pigeonholed into the fox-in-the-box category of striker. It's understandable in many ways, for a hefty number of his goals have been close-range tap-ins, but what's often overlooked is the crafty movement that allows him to find such excellent areas to begin with.
Foal slayer
Using variety and subtle switches with his fellow attackers against Gladbach, Hernandez proved an elusive adversary. It's well known that his preferred area of operation is on the shoulder of the last defender, but within Schmidt's dynamic, interchangeable outfit, the Mexican once again showcased the power of Bayer's flexibility. He'd drop deep to link play, drift out to the right and switch subtly with winger Karim Bellarabi, and glide either side of strike partner Stefan Kiessling to give Gladbach's three-man backline plenty to think about it.
By doing all of the above, he never allowed the away side to settle into a marking pattern to cope with him and his team-mates. The element of uncertainty lingered, and meant Hernandez could attack Gladbach's nervy defence from an array of different angles.
It came as no surprise, then, that each of Chicharito's three goals arrived courtesy of his intelligent movement. The first, a move which he started and finished, arose when he initially played a neat first-time pass to Kiessling near the right edge of the 18-yard box. Here, as soon as Hernandez hit his lay-off, he immediately darted in behind his partner, who had the expertise and nous to notice his run. The big German duly obliged with a delicate backheel, before the Mexican slalomed past a bamboozled Nico Elvedi to cooly stab his finish home with the outside of his right foot.
It was a moment of great understanding from the two strikers, but more than that, it encapsulated Hernandez's intellect and willingness to simply be in the box and provide a goalscoring option for his team-mates.
His second was a lesser-spotted effort from outside the box; a terrific two-touch swivel after receiving the ball from Kiessling 20 yards out with his back to goal, followed by an instinctive swing of the boot that left Yann Sommer rooted to his line.
The hat-trick finish came after Bellarabi's zippy run down the right which preceded a cross Hernandez was never going to waste. Chelsea loanee Andreas Christensen could only chase the Mexican's shadow in disgust.
Simply, it was one of those games the striker could do no wrong in – indeed, he scored with all three of his efforts on the evening, as the Stats Zone screen below demonstrates.
In tandem with the experienced Kiessling, Bayer's dynamic duo up front were far too streetwise for the comparably inexperienced Gladbach defence.
"Last game we scored one, now we scored five," said a satisfied Hernandez in his post-match comments. "That's football, you can't predict anything.
"All the goals are perfect because they all count the same – it doesn't matter if you score with your head, left foot, right foot, if it's outside the box, inside, if it's magnificent play or if it's just a normal play."
The if only
That attitude of never getting too far ahead of himself was instilled into him by his father and grandfather, both professional footballers in their day, and is one currently keeping him grounded in his purple patch.
Hernandez has rarely had trouble scoring goals but for him this season has been about proving that he's not just simply an impact player. With regular starts and faith from his new manager, the 27-year-old Mexico international is doing a good job of it.
Manchester United fans have lamented the lack of a consistent scorer since the beginning of Van Gaal's tenure in 2014, but perhaps even more so in light of their former striker's recent glut and their own side's woes at the sharp end.
Quite how Hernandez has conquered German football so quickly in unfamiliar territory has, however, been as unexpected as it has pleasantly surprising. For now, United can only quietly lament the niggly feeling that he always had it in him.
Thank you for reading 5 articles this month* Join now for unlimited access
Enjoy your first month for just £1 / $1 / €1
*Read 5 free articles per month without a subscription
Join now for unlimited access
Try first month for just £1 / $1 / €1