Who the hell is Hugo Sanchez?
Paul Simpson ponders why the Mexican isn't a household name on these shores...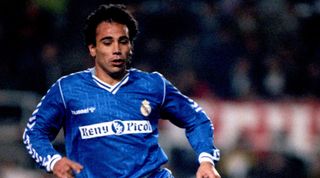 "Who the hell is Hugo Sánchez?" That blunt enquiry from a fan in a Yahoo Answers forum is a reminder that, in football, all glory is fleeting. The fan was probably enraged because the forum was committing a kind of footballing blasphemy – asking whether Sánchez was better than Pelé – but even so the exploits of the legendary Mexican striker deserve a little more respect.
Yet to a generation of fans, Sánchez is primarily known as the Real Madrid player whose 234-goal tally in la Liga has just been surpassed by Lionel Messi. La Pulga's first goal in Barcelona's thrilling 4-3 victory at the Bernabeu made him the highest-scoring foreigner in the history of la Liga and the league's second highest scorer of all-time. Topping the list is Telmo Zarra, whose 251 goals in 278 games were scored at a slightly higher strike rate (0.91 per game), that is slightly higher than Messi's (236 in 268 is 0.88), but is primarily remembered by fans of Athletic Bilbao, where his prowess helped rebuild a team – and a club – emerging from the wreckage of the Spanish Civil War.
The fan who didn't know who the hell Sánchez was will never have heard of Tarra either. He might have heard of Alan Shearer (top scorer in the Premier League with 260 goals) and Gerd Müller (who holds the Bundesliga record with 365 goals) but will he recognise such all-time league top scorers as Roberto Dinamite (Brazil, 190 goals), Arsenio Erico (Argentina, 293), Dello Onnis (France, 299), Fernando Peyroteo (Portugal, 330), Silvio Piola (Italy, 274), or Slobodan Santrač (Yugoslavia, 218)?
Those names do suggest that, with a few exceptions, scoring goals in industrial quantities isn't necessarily a mark of greatness. You find the same pattern with World Cup Golden Boot winners: for every Ronaldo (the Brazilian phenom) you find an Oleg Salenko.
Who was Hugo?
So, to return to the original question, who the hell was Sánchez? Was he a great player or merely a prolific goalscorer?
Can't see the video? Click here
The Mexican legend certainly knew how to score goals. He is the only player to have finished sole top scorer in la Liga for four seasons in a row: in 1984/85 for Atlético Madrid and in 1985/86, 1986/87, 1987/88 for Real Madrid. He was top scorer again in 1989/90 with 38 goals, enough to win him the European Golden Shoe. That was the most prolific la Liga campaign by any striker ever, until Cristiano Ronaldo scored 40 in 2010/11 and Messi bagged 50 the season after. Sánchez can take some comfort in the fact that his four-in-a-row sequence of Pichichi awards is a record Messi can't surpass until the end of 2015/16.
With Sánchez, as with Messi, it wasn't just how many goals he scored, it was the way he scored them. Like any great striker he had his share of tap-ins but he could be usually be relied upon to bring a touch of showmanship, even melodrama, to the business of scoring goals.
Diving headers from improbable distances, free-kicks that seemed to swerve impossibly to find the net from absurd angles and, above all, the chilena, the bicycle-kick – these were the kind of goals that those privileged to be in the stadiums would never forget.
Bicycles and somersaults
Sanchez was peculiarly suited to the chilena, the most flamboyant method of goalscoring. He seemed to be able to move – and adjust – his body in the air at will. That strength probably owed something to a childhood in which he trained hard as a gymnast. The apparently effortless somersaults with which he celebrated every goal reflected that training – and honoured his sister, a gymnast who represented Mexico at the 1976 Montreal Olympics.
As a boy, he had watched his father Héctor, a centre-forward who played semi-professional football, fly through the air in the park, seeking to perfect the chilena. That, the hero-worshipping Hugo thought, was how football should be played.
Yet he was 15, before it became clear that the game was his destiny. His elder brother Horacio played for the Mexican amateur side and, after much pleading, Hugo was allowed to train with them. His skills soon earned him the nickname Niño de Oro (Golden Boy), a place in the Mexican squad for the 1976 Olympics, and a contract with university club Pumas UNAM, with whom he won the league in 1976/77, when he was 18. A year later, his promising talent couldn't stop Mexico losing all three games at the World Cup in Argentina, the first of many such disappointments in that tournament.
He kept scoring – for UNAM and the San Diego Sockers – and, in retrospect, the only surprise about his 1982 transfer to Atleti was that it hadn't happened earlier. As odd as this sounds now, Mexican footballers were then regarded as a serious gamble by European clubs and, for all his gifts, Sánchez struggled in his first season, languishing on the bench and scoring just eight goals.
Luckily, the Colchoneros president had faith in the striker. In 1984/85, his first Pichichi award as top scorer, with 19 goals in 33 games, was enough to earn him a controversial transfer to Real Madrid, a move that marked the start of his golden era when he more than lived up to the nickname 'Hugol'. Between 1984/85 and 1989/90, he never scored fewer than 22 goals in a league season, won five la Liga titles and one UEFA Cup.
The statistics are impressive but, to a generation reared on the relentless, goal-a-game form of Messi and Ronaldo, not spectacular. To really understand what Sánchez achieved, watch a few videos. He was a YouTube footballer before YouTube even existed. That's not to say he only played in flashes, just that, at his flamboyant best, his artistry rendered the rest of the action irrelevant.
Can't see the video? Click here
His most famous goal, a career-defining masterpiece that embodies what made Sánchez so distinctive as a footballer, was a gravity-defying overhead kick for Real Madrid against Logrones in April 1988.
The ball is lofted in from the left by Martín Vázquez. The cross looks as if it will fall behind Sánchez until he takes a step back and decides when best to jump so he can volley it into the net with his left foot. Modesty is not one of Sánchez's strong points and, recalling the goal later, he said: "The ball was so balanced, I could choose whether to direct it to the near or far post. I opted for the latter, which made it more spectacular."
Leo Beenhakker, then coach of los Blancos, famously remarked that: "When a player scores a goal like that, play should be suspended and a glass of champagne offered to the 80,000 fans that witnessed it."
The Dutchman isn't exaggerating, the goal really is that good. It became known in Spain as "Señor Gol" (great goal). Appropriately enough, that reads as Logrones backwards.
So there's 'Hugol' Sánchez for you. A great goalscorer and a scorer of great goals who has inspired his own palindrome – an achievement that has so far eluded that fantastically prolific duo, Messi and Ronaldo.
Thank you for reading 5 articles this month* Join now for unlimited access
Enjoy your first month for just £1 / $1 / €1
*Read 5 free articles per month without a subscription
Join now for unlimited access
Try first month for just £1 / $1 / €1
Get FourFourTwo Newsletter
The best features, fun and footballing quizzes, straight to your inbox every week.