How Liverpool signed PSG's Eiffel Tower - Mamadou Sakho
By Jon Fadugba
FFT's Jonathan Fadugba examines the career path of Mamadou Sakho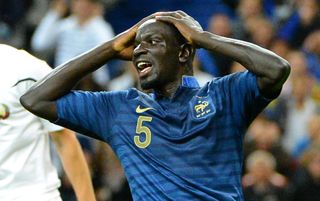 It always happens this way. When a billionaire owner takes over at a club on the fringes of the elite, amidst all the wild promises and grand plans for 'the project' the first thing to be cast aside is the youth setup.
It happened at Chelsea, where John Terry is the only academy graduate to make a significant impact in the Roman Abramovich era. It happened at Manchester City, a club so proud of its academy there is a board residing at their Platt Lane academy training complex canteen listing every player to have made it into the first team, but whose focus under the Abu Dhabi regime has since strayed. Now it's happening at Paris Saint-Germain.
In a way it's understandable. Club X receives huge cash injection, proceeds to make big marquee signings to help elevate its status in world football. Fair enough. An unfortunate consequence, however, is that players who spent their whole lives at that club suddenly find themselves no longer considered fashionable enough; not sufficiently 'box office' to be worth persevering with. Through little fault of their own, they become marginalised and, eventually, sold.
This was the case for Mamadou Sakho, and the benefits to Liverpool in their quest for a return to Champions League football could well be huge.
Sakho's path to Anfield was a reluctant one. The bottom line is he never wanted to leave PSG. Les Parisiens are Sakho's boyhood club, his hometown team, the team he dreamed of playing for all his life. PSG's supporters never wanted him to leave either. Sakho is one of them, Parisian-born, a child of Paris' Goutte d'Or quartier who joined age 12 and rose through the ranks to become a symbol of the club.
Mamadou Sakho Factfile
DOB 13/02/90
Born Paris, France
Height 1.87 m
Weight 83 kg
Clubs PSG, Liverpool
Int Caps 14
Honours Ligue 1, Coupe de la Ligue, Coupe de France.
At 13 Sakho came very close to leaving PSG. Distraught at the prospect of not making it, he went as far as telling his father he planned to quit football. He almost wanted it too much. However, PSG's coaches saw he had a big future and refused to let him go, instead going about setting him on the path to professional football. It was a path he would follow straight into the first team.
Tragedy struck Sakho in his early teenage years when his father died suddenly. His world transformed in heartbreaking fashion and PSG became Sakho's adopted home. Prematurely, he was forced to become the man of the house. He matured on and off the pitch, excelling at every age group in PSG's youth teams to such an extent that first team football became a mere matter of time.
In October 2007, Paul Le Guen handed him his first league start against Valenciennes. As if that wasn't responsibility enough, he made him captain. Sakho was 17, the youngest player to ever captain PSG.
From there, Sakho grew to become one of France's best defenders. An absolute powerhouse at the back, with an immense physical frame, maturity beyond his years and a fierce aggression in all aspects of his defending, he won France's young player of the year award in 2011 and was named in the Team of the Season. France came calling for the player nicknamed Kirikou too and he made his international debut against Belarus.
"Sakho loves the club and symbolises this new generation, for which we have such high hopes," Le Guen enthused after Sakho's PSG debut, but it was not to be. Paris' Qatari revolution meant there was no room for the 23-year-old as defender after defender was drafted in, each one knocking his morale, pushing him from first team to bench and, finally, to the exit door.
Really, the writing was on the wall from day one of Qatar Sports Investments' takeover. First Diego Lugano and Milan Bisevac came in, then Alex, followed by Thiago Silva and, finally, Marquinhos - one obstacle too many for Sakho to take. With a World Cup to think about next summer, it was time to move on.
Many PSG fans have reacted to the sale of their idol with anger and disbelief. "Sakho is to PSG what the Eiffel Tower is to Paris" wrote one disgruntled fan after his £16million switch to Anfield was confirmed, as part of an emotional farewell open letter to Sakho by PSG fan site Pariskop.fr.
Indeed, his departure is not without its symbolism, a PSG fan pushed out of the club he loves by the new regime, like so many others who, uncomfortable with the direction the club has taken under QSI, have wound down their interest in PSG. But that's for the club to worry about.
For Liverpool, the signing could well be a major coup. Brendan Rodgers' transfer strategy has been extremely shrewd over the last twelve months. He's generally moved for players largely overlooked by their clubs (and therefore affordable) but with huge potential for an upturn in fortunes, helping to rebuild a club growing more and more optimistic by the day.
Mamadou Sakho fits into that category. His physical qualities and style of play are perfectly suited to the Premier League, and at 23 he has a huge margin for improvement. While the fee does raise eyebrows for a player who would have been out of contract next summer, the potential upside in signing him is enormous and his leadership qualities, if transferred correctly, could even make him future Liverpool captain material. Blaise Matuidi's emotional Instagram tribute to his 'brother', alongside Salvatore Sirigu's glowing tribute, portray a player who was a pillar of the dressing room.
There are some question marks, such as where he will fit into the team, not to mention vague utterances behind the scenes at PSG that he wasn't always the most motivated or disciplined person in training.
Nevertheless, the penny looked to have dropped for Sakho when Didier Deschamps left him out of the France squad at the end of August and said no player could expect an international call-up if he isn't playing regular football. Pushed to the exit door by his dream club, Sakho should now be extremely motivated to prove himself, as Daniel Sturridge and Phillipe Coutinho have been previously, to Liverpool's great gain. Slowly but surely, Rodgers is building a team of hungry players with big points to prove.
Quizzes, features and footballing fun
Get the best features, fun and footballing frolics straight to your inbox every week.
Thank you for signing up to Four Four Two. You will receive a verification email shortly.
There was a problem. Please refresh the page and try again.