How Luis Enrique has already revitalised Messi at Barcelona
Lee Roden analyses the uprising of Barca's former Ballon d'Or winner after a difficult campaign for the Blaugrana under Gerardo Martino...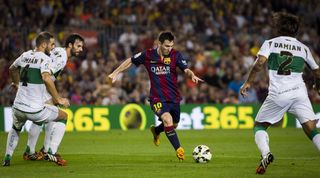 The last 12 months of Lionel Messi's career have revolved around one giant contradiction. The Argentine has managed to be both his club and country's best player, while at the same time also regularly being their most criticised.
Messi was at the heart of Barcelona's few bright moments last season, most notably producing an attacking masterclass during the 4-3 victory over Real Madrid at the Bernabeu. Yet when things went wrong for the Blaugrana it was often attributed to a lack of running or effort from the No.10 – a reductive argument that ignored the evident positional problems running throughout the team.
The controversy surrounding his Golden Ball win at the 2014 World Cup followed a similar logic, despite Messi virtually carrying Argentina to the final and then paying the price for that in exhaustion come the tournament's end. Perhaps as an inevitable consequence of the 27-year-old setting his past standards so ridiculously high, anything below astronomical is now deemed not good enough.
While the 41 goals Messi scored for Barcelona last season proved he was still in the elite bracket, it is true that we saw a different version of the Argentine in 2014.
He was increasingly forced to do the lion's share of Barcelona's creative work rather than focusing on short, calculated bursts of brilliance as he did so well in the past. As a result, Messi often suffered due to the lack of solid, well-drilled team unit around him as had always been the case under Pep Guardiola.
Senior Barça players complained that training was light under Tata Martino, grievances that were supported by the irregularity of the team, with Messi left to pick up the pieces and drag his side over the line.
Add to that his injury problems, an ongoing tax case and rumours from within Barcelona that the club would look to sell him in the near future, and it's a minor miracle that Messi still managed to retain some level of focus and outscore most top-level players by at least 10 goals in 2013/14.
New direction
When Luis Enrique was named Barcelona manager, there were suggestions that Messi's role in the team would diminish, and that the Asturian would be tasked with taking a hard line to downgrade his importance in the team, particularly with Luis Suarez joining Neymar in the attacking ranks.
Yet far from looking to phase Messi out, the new coach has been clear about his intentions from day one. Enrique stated at his presentation that he would look to provide the best conditions possible for Messi to achieve his maximum level, and reminded observers of the exceptional nature of Barcelona's No.10. He has reiterated that he considers Messi the best player on the planet.
So far Enrique's words have proved to be more than just rhetoric. After bright cameos in pre-season, an inspired version of Messi has played in Barcelona's two league matches of the 2014/15 campaign, and in both games he has been decisive.
Gone is the frustrated, tired-looking Messi we saw at times last season, and in his place is a player who looks happy with the support provided by his team-mates and manager, and one who works hard for them in turn.
To the frustration of opponents and delight of his fellow Barcelona players in equal measure, the brilliant dribbles with an unrivalled turn of pace are back.
Against Elche, Messi attempted more take-ons than any other player on the pitch, completing 7 of 15, while against Villarreal he managed a similar margin, succeeding with 5/10. La Pulga looks inventive, bold and, importantly, fit, seemingly no longer concerned about re-injuring himself with one sprint too many.
Off the ball there have been further shades of Messi from recent years. In the Elche game he worked extraordinarily hard, recovering the ball 3 times and even committing 2 tactical fouls to break up opposition counter-attacks.
His performance against Villarreal followed that trend, with the Argentine looking to recover possession high up the pitch from the opening stages of the game through to the dying minutes. Wearing the captain's armband he led by example, and his hard work in defence helped initiate the decisive move that he would virtually go on to finish by teeing up youngster Sandro to tap in the game's only goal.
Along with his inventive dribbles and focus off the ball, Messi has also produced brilliant free-kicks and beautiful, cutting passes, but perhaps the most notable aspect of his performance against Villarreal is one that isn't noted often enough.
Pep talk
Unsurprisingly, for someone who excelled so much under Pep Guardiola, Messi is highly effective when asked to perform a specific tactical task. Consider the contrast between how he plays the false nine role, and how others have subsequently attempted (and failed) to do so, for a good example of that.
Against Villarreal, boss Enrique clearly requested that the Argentine should attack the space between the left full-back and central defender, and while at first it didn't come off, Messi stuck to his task.
Pulling to the right of the Villarreal area and then either bursting in behind or producing diagonal balls for runners, one such instance set Neymar up for a glorious chance that the Brazilian should have finished off. Another dribble and shot across goal from a similar position created Sandro's winner.
Enrique hasn't sprinkled magic dust over Messi, but simply worked to recover a strong foundation from which the Barcelona star can excel. With the team pressing from the back through to the narrow midfield and forward line, Messi's work is much more focused under the new coach.
It's stark contrast to when he was forced to bear the brunt of an increasingly anarchic side, as was the case in recent years – a burden that understandably took its toll on his creative spark.
Messi's new manager said it best when he reminded the media that, as a manager, he isn't responsible for the player's level, but is instead responsible for making sure all of his players are at their maximum both physically and tactically. With that achieved, the inspiration can follow.
The October 2014 issue of FourFourTwo is a Real Madrid vs Barcelona special, looking at Europe's maddest ever strikeforces. Available now in print and in a specially-designed-for-iPad version.
Thank you for reading 5 articles this month* Join now for unlimited access
Enjoy your first month for just £1 / $1 / €1
*Read 5 free articles per month without a subscription
Join now for unlimited access
Try first month for just £1 / $1 / €1
Get FourFourTwo Newsletter
The best features, fun and footballing quizzes, straight to your inbox every week.