Ian Brown: Sing When You're Winning
"I was the red sheep of the family"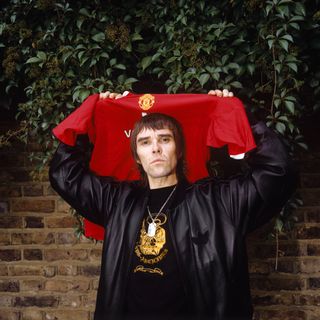 "Man City? Man City? Nah, he's a f***in' fraud, man!
No sooner has Ian Brown shaken FourFourTwo by the hand, he's questioning a recent issue of this very magazine. It featured Badly Drawn Boy, resplendent in a Manchester City scarf.
"He's a Bolton fan. He's not Man City."
Neither is Ian Brown 'Man City', but by rights he should be.
Brown grew up in Timperley, a place where "the houses were either Red or Blue." Brown's house was Blue, but he went over to the other side in 1968, aged just five.
"Me uncle went down to Wembley for the '68 European Cup final against Benfica and brought me back a programme," he smiles. "I was hooked from that moment on."
Predictably, the family took his defection hard. "I was the red sheep of the family because they were all City season ticket holders; me father, brother, two of me uncles, brother-in-law, sister, niece, all of 'em. Me nana supported 'em too and she used to buy me City moneyboxes and City badges to try and turn me. But I was strong. I'd be like, no way, I'm a Red. They tried to turn me, but I wasn't gonna turn."
In 1971, celebrating his eighth birthday, Brown stood in the Stretford End for the first time as United thumped Southampton 4-1. "I remember that day so clear, man, it was like it was last week. It was such a buzz being in such a massive place. Obviously Old Trafford was a lot smaller than it is now, but it was all terracing and the atmosphere was just amazing."
The hero that afternoon had been Alan Gowling, who helped himself to a hat-trick. But for Ian Brown, his mates and numerous undersized kids around the world, there was only one true hero; El Beatle.
QUICK QUESTIONS
Best United moment?
Worst United moment?
All-time United hero?
All-time United villain?
Who do you hate?
Dream signing?
"George Best was the man. When I was a kid he used to have this boutique on Bridge Street in Manchester, which is where the village barber is nowadays. We used to get a train into town every day and there'd be posses of little kids waiting outside his shop to see him. He'd turn up in his yellow Lotus Europa, with some blonde in the passenger seat, and disappear round the corner. A few minutes later, he'd come back with a big bag of Blackjacks chews, hand 'em out to us and tell us to all run along. You can't do that these days, giving sweets to kids, but it was alright back then."
His passion for United was shared by John Squire and Mani, "Reni was an ex-City ball boy, so he supported them, but the other two were both United. Mani was always a big Red. In 1994, when we'd just finished The Second Coming, we knew we'd be going on a world tour the next year and I was sat there with Mani. I said to him, 'We're gonna have an amazing year in 1995, and he just turned round and said, "Yeah, you're right, we're gonna win the league, we'll win the FA Cup… it'll be amazing." The rest is rock and roll history, with the Roses imploding in a mess of drugs and resentment.
Since going solo, Brown has come up smelling of roses, having just released The Greatest, the first of several greatest hits albums he has planned. Despite relocating to West London, he gets back to Old Trafford as often as his schedule allows and is usually flanked by two of his three sons. "The two who live in Manchester with my ex are both firm United. I actually launched my Golden Greats LP at Old Trafford at the Leicester game in 1999 and we had all these balloons with my face on whacking around us. After a while, one of 'em says: 'These balloons are bugging me, Dad, I can't see the game. Can I pop them?' I thought that was really funny – my mug getting in the way of the game."
The other son, Emilio, lives in London with Brown and his Mexican wife, Fabiola. "She supports Tuzezo, a Mexico City team," he smiles. "I've got mates over there who keep telling me that next time I'm over, they're gonna take me to see 'em. I can't wait."
Emilio's allegiance, though is more of a concern. "He should be a Red really, but his pals are Chelsea and they're all saying Man United are rubbish, so he looks as though he'll support them instead. It won't be easy to take if he does, but they're his local team so what can I do? I'm still working on it though."
In the shorter term, Brown's biggest concern is that United bounce from a trophy-free season last time around. "We need to be winning titles every season," he says, "but obviously that got a lot harder with Abramovich's money."
It's perhaps surprising, particularly given his fiercely and famously anti-authority stance, Brown thinks Malcolm Glazer could be the man to reel Chelsea in this season.
"I don't agree that he'll be bad for United, like a lot of Reds do, and I certainly don't agree with all that burning effigies business," he shrugs. "United's a PLC and someone was always likely to buy it. From what I've seen and heard so far, Glazer will make money available for transfers and the standards will be maintained. He understands the history of the club and what we're about and it seems that we've just got to give him a chance. Time will tell, though."
And with that, King Monkey stubs out his fag, shakes FourFourTwo's hand… then shakes his head once again at Badly Drawn Boy. "City? He's from Bolton…"
Interview: Nick Harper. Portraits: Steve Orino (opens in new tab). From the November 2005 issue of FourFourTwo.
Thank you for reading 5 articles this month* Join now for unlimited access
Enjoy your first month for just £1 / $1 / €1
*Read 5 free articles per month without a subscription
Join now for unlimited access
Try first month for just £1 / $1 / €1