Inside Jurgen Klopp's Liverpool: the secrets of the Reds' German genius
The rock-and-roll football maestro has got the Reds pressing to his beat. So can he turn the club's ambitions up to 11 and put them back on their perch? Oliver Kay dug deep for the October 2016 issue of FourFourTwo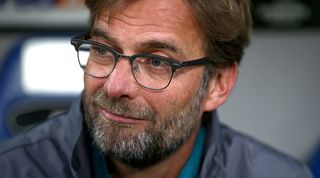 Jurgen Klopp likes a party. That much became clear to Liverpool's players on their way back from Vicarage Road, Watford, on December 20 2015. They had wondered if their manager, seething at their display in an abject 3-0 defeat, might cancel the Christmas party that was scheduled for that evening. Most had assumed and even hoped that he would. Nobody was in the mood.
To their surprise, Klopp insisted the party must go ahead. More than that, he issued a three-line whip, attendance compulsory. His players, his staff and their partners all headed to the Formby Hall hotel that night with a feeling that they would rather be doing almost anything else. When everyone was present, Klopp took the microphone. "We are all disappointed, but the game has gone now," he told them. "Right now, this is our priority. I don't mind whether you drink, but no one leaves here before 1am. Whatever we do together, we do as well as we can – and tonight that means we party."
So party they did. And Klopp, according to those present, was the life and soul, heading straight to the dancefloor with his wife, Ulla, and by all accounts displaying some surprisingly nimble footwork for a big man, albeit let down by a little too much clapping. He did not stop smiling all evening and, soon enough, that infectious grin began to spread to his players. As 1am approached, nobody was clock-watching. Instead, players, partners and staff alike were involved in a dance-off, with the wretched display at Watford put firmly to the backs of their minds.
A few days earlier, Manchester United's Christmas party had been cancelled by their players. They sensed, perhaps correctly, that neither the United fans nor manager Louis van Gaal would want to hear of the squad revelling in the festive spirit so soon after tumbling out of the Champions League, while also in the midst of a dreadful league run that brought consecutive defeats by Bournemouth, Norwich and Stoke.
Importance of togetherness
Christmas being cancelled has become a regular part of the Premier League narrative, with Harry Redknapp and Alan Pardew among those to play Scrooge in recent years. But Klopp, two months after his arrival in England, preferred to take the opposite approach. The party, he felt, was even more important considering what had happened that afternoon at Vicarage Road.
If they had done their homework on Klopp, Liverpool's players would not have been quite so surprised. He had played exactly the same card in Germany 12 months previously. Stuck in the worst period of his coaching career, with his Borussia Dortmund team unthinkably finding themselves just one point off the bottom of the Bundesliga halfway through the season, he was determined that they head into their winter break in happier spirits. He sent a text to his players: "Don't think for a moment that this is optional. No exceptions. Everyone comes."
The alternative, Klopp concluded in both cases, was that the players would go home separately and sulk – and he does not believe in sulking. He believes that a team should behave like a band of brothers, winning together, losing together and certainly partying together at the right time. The word "together" features prominently in his English lexicon. "If we stay together and go this way together then it's a bright future for Liverpool," he said towards the end of last season, which ended with a deflating defeat by Sevilla in the Europa League final in Basel.
As for the atmosphere at the pre-planned post-match party at their Basel hotel? You've probably guessed. It started like a wake, with many of the players facing up to uncertainty over their futures as the summer began, but the mood picked up with a few drinks and then soared dramatically after Klopp called them into a huddle on the dancefloor and said: "Two hours ago you felt like s**t. Now hopefully you all feel a bit better. Listen: this is just the start for us. We will play in many more finals."
With that, he started singing, "We are Liverpool, tra la la la la". His players joined in the sing-song and immediately the mood was lifted. He's that kind of manager. He leads. His players follow.
Turning doubters into believers
On his first full day as Liverpool manager, on October 9 last year, Jurgen Klopp shared with his players the diagnosis that he had reached from a distance, watching from afar in the weeks before he took the reins from Brendan Rodgers.
"At this moment, all of the LFC family is a little bit too nervous, a little bit too pessimistic, a little bit too much in doubt," he said. "The atmosphere in the stadium is good, but nobody is really enjoying themselves. They don't believe at the moment. They only see five years ago, 10 years ago, 20 years ago. You are winning and then you hear, 'Well, the defence is a problem.' We have to make a restart. It's a really important thing that the players feel the difference from now on. We have to change from doubters to believers."
Doubters? From day one, every single Liverpool supporter believed in Klopp. Nowhere in English football, perhaps, is the cult of the manager stronger than at Anfield. Both Gerard Houllier and Rafael Benitez were worshipped even before they had won a trophy, let alone afterwards; Benitez, of course, ended his first season with the Merseysiders as the mastermind of that most unlikely Champions League triumph. But three months earlier, he had won just 13 of his 27 league games in charge – and had recently suffered a chastening FA Cup defeat at the hands of lower-league Burnley – when his gold-framed portrait was venerated as it was carried around the streets of Cardiff on 2005 League Cup Final day.
Kenny Dalglish (for obvious reasons) and Brendan Rodgers received varying degrees of the Messiah treatment before finding that they could not deliver what was expected and hoped of them. With the exception of Roy Hodgson, who was the wrong man in the wrong place at the wrong time, no Liverpool manager in the difficult past couple of decades could have any qualms about facing resistance on arrival. Klopp, refreshed after seven mostly wonderful years at Borussia Dortmund, was just the latest new manager to find himself cast as the man to lead Liverpool back to the promised land.
Easier said than done. It's one thing for an incoming manager to lift the mood on the terraces and the training ground, but Klopp inherited a dysfunctional squad, and with the transfer window closed and the fixtures coming thick and fast, he had limited scope in trying to improve it. His high-intensity gegenpressing tactic brought spectacular dividends in Dortmund but this is not Football Manager, where you can toggle a switch and get players to start pressing the opposition in the way you demand.
Different circumstances
At times, his Dortmund team ran more than 120km on Champions League nights, outrunning and overwhelming more illustrious-looking opponents; however, that did not look feasible with the demoralised Liverpool squad he inherited in October 2015.
These things take time – and time on the training ground was something that Klopp didn't have in a season which featured 63 matches in four competitions, including runs to the finals of the Europa League and the League Cup. He was not going to turn that Liverpool team into Dortmund overnight, or indeed without making significant changes to his squad, which he determined would have to wait until the summer.
From the start, Klopp had the feeling that something at Liverpool was, as someone close to him put it, "a little bit broken". He believes that a football team lives off positive energy, off heart and soul – and he didn't sense anything like enough of it at Melwood or at Anfield. There were occasions when Liverpool hit remarkable heights: in the Premier League they beat Chelsea 3-1 and Manchester City 4-1 and 3-0, also thumping Everton 4-0 in the Merseyside derby; in the League Cup they thrashed Southampton 6-1; and in Europe they saw off Manchester United 2-0, Villarreal 3-0 and Dortmund 4-3 (the latter, an astonishing comeback). But with these spectacular peaks came an alarming number of troughs; a series of limp defeats that had Klopp pulling his hair out.
Belief in the manager was unquestioning, from the terraces, from the dressing room and even the boardroom, perhaps for the first time since Fenway Sports Group bought the club in 2010. Klopp, though, wasn't quite so content as his first season in England headed towards its denouement.
A thrilling run to the Europa League final papered over several cracks. Victory in Basel would have disguised them even more, but as it transpired, the frailties were laid bare by Sevilla in a torrid second half. Liverpool had crumbled under pressure. This team still did not bear Klopp's hallmark. It was going to be a long summer.
Endless running
If there was one cause of dissatisfaction in the Liverpool dressing room during Klopp's first few months in charge, it was his training schedules.
In recent seasons players across the Premier League have grown wearily accustomed to double sessions, but Klopp sometimes calls for three in a day: one in the morning and two in the afternoon – or, much worse, one in the afternoon and two in the evening.
Now, suddenly, Liverpool's players were being asked to adjust to different training patterns from one week to the next. In the build-up to night matches, they would train in the evenings, to condition their bodies to peaking at the right time of day. Circadian rhythm training, it's called. It makes perfect sense – but footballers tend to prefer the routine of a fixed training regime. You don't mess with players' routines unless you're confident they will see and embrace the potential benefits.
Klopp's first training session at Liverpool last October ended with Portuguese youngster Joao Teixeira being sick (he has since left the club) and another two players doubled up in pain. Some have wondered, at times, if they are being pushed a little too hard. The familiar figure of Raymond Verheijen, the outspoken Dutch fitness coach, frequently took to Twitter to blame the Liverpool manager for the spate of injuries his team suffered over the course of last season – a "classic mistake" in trying to inject too much intensity too soon. Even Frank de Boer, upon taking charge of Inter, suggested Klopp should have "slowed down" the introduction of his pressing tactics.
When Klopp took his Liverpool squad to California in July, he pointedly declared that it was not to be regarded or described as a pre-season tour. It was not a 'tour'. They were to play matches in Los Angeles, San Francisco and St Louis in the International Champions Cup series, but, he said repeatedly, this was a training camp. It was to be intense. He's brought in a new head of fitness and conditioning: Andreas Kornmayer, a Klopp lookalike who worked under Louis van Gaal, Jupp Heynckes and Pep Guardiola at Bayern Munich. Klopp creased up with laughter when Kornmayer warned the players that he's going to work them harder and get them fitter than ever before.
Intensity in all aspects
At their training camp at Stanford University, California, the consensus among several of Liverpool's players and staff was that none of them could recall such an intense, rigorous pre-season workout at any of their previous clubs.
It was far more than a boot camp, though: as well as getting Kornmayer to put their bodies to the test, Klopp wants to sharpen minds. Players are challenged tactically, as the manager and his assistants, Zeljko Buvac, Peter Krawietz and Pepijn Lijnders, take them far from their comfort zone. They had four pre-season games before departing for the States, beating Tranmere, Fleetwood, Wigan and Huddersfield all in away matches without conceding a goal, but then it was time to do some serious work on the training pitch.
Outside of training sessions, the mood is a little more relaxed. Klopp wants to see smiles and hear laughter when his players are together. And as merciless as his training regime might appear, as studious and physically rigorous as his pre-season was, there is a light-heartedness to it.
His playful headlocks are recognised and enjoyed as a sign of approval. "On the training pitch, he's very affectionate and has a laugh and a joke," Adam Lallana said in May. "People speak about the hugs he seems to give everyone, but sometimes it can mean a lot to a player. It can make you feel wanted and it shows he appreciates the hard work you've just put in. He demands hard work. He demands 100 per cent."
That is why Mamadou Sakho was sent home from the training camp. Klopp often refers to 'Mama' with affection, but the manager was enraged when the French defender arrived late for check-in for the flight to San Francisco, then missed a rehabilitation session and showed up late for a team meal. Sakho also made the mistake of interrupting a Klopp interview during the squad's tour of Alcatraz. That did him no favours, but Klopp's frustrations were primarily with the player's timekeeping. He explained: "We have some rules and we have to respect them. If somebody doesn't respect them, or gives me the feeling he is not respecting them, then I have to react, that's all."
Back at Stanford University, the team's focus was frequently on gegenpressing, Klopp's trademark high-intensity version of the pressing game. It requires a determination not only to win possession in the opposition half but to do so in a concerted, calculated manner, closing down both the man in possession and any potential outlets, and then looking to strike immediately through quick, incisive attacking football when the opponents are at their most vulnerable.
They go through those drills again and again: the transition from defending to attacking to scoring. As the training camp went on, the moves became quicker, slicker and more incisive. Klopp would stand on the touchline, arms folded, becoming ever more impressed by what he was seeing. He didn't need to say too much at that stage. The mantra comes from Pepijn Lijnders: "If we win the training, we win the football."
A coach, a manager and a director of football rolled into one
Among the movers and shakers at Fenway Sports Group, Liverpool's owners, there has long been a sense of bewilderment at the trust and power invested in 'soccer coaches' in England. Drawing on their experience with Major League Baseball outfit the Boston Red Sox, FSG prefer a model in which the coach trains and picks the team but recruitment and long-term strategy is determined by committee.
Brendan Rodgers struggled with that. Even during that exhilarating 2013/14 season, as Liverpool came so close to winning their maiden Premier League title while playing some thrilling football, there was the feeling around Anfield that the manager and the club owners were trying to pull in different directions. Even when Rodgers signed a new and improved contract in May 2014, there were areas of friction. The following season, after the sale of Luis Suarez to Barcelona and amid the difficulties in integrating several new signings who were felt to be more the committee's choice than Rodgers' own, results started to deteriorate and the relationship drifted towards breaking point.
Not everyone at Liverpool was convinced in the autumn of 2015 that Jurgen Klopp would be the right fit for the FSG model. But at his job interview in New York, he relayed his experience working under Michael Zorc at Borussia Dortmund and spelt out to Liverpool's owners and investors that this model would suit him perfectly on Merseyside – providing that the levels of expertise were up to the standards that he expected.
The German also expressed great approval of their transfer strategy; even in that first meeting he was enthusing about how he would get the very best out of Emre Can and Roberto Firmino, two players FSG had expected Rodgers to integrate into his team more quickly.
Klopp has quickly forged a close working relationship with Mike Gordon, the FSG president, who held perhaps the most influential voice on the transfer committee during Rodgers' tenure. Gordon was previously regarded within the club as 'de facto director of football', but he's been happy, based on the evidence so far, to give more power to Klopp. FSG have quickly come to regard the 49-year-old as a coach, a manager and a director of football rolled into one.
Perfect match
This summer, the sweeping changes to the backroom staff, the modifications behind the scenes at Melwood, the vast majority of the transfer activity and even a few adaptations to the design of the training kit were all Klopp-driven. In early July, less than nine months and 13 Premier League wins into the job, he was offered a new six-year contract.
He signed it with little hesitation. Klopp always wanted to be certain that he picked the right club after seven happy years at Signal Iduna Park. He was sure that he had found it – and his employers were more than sure that they had found the right manager.
Klopp would probably bristle at the suggestion that he could manage only a certain kind of club, in a certain kind of city, so maybe it is better put in other terms: Borussia Dortmund suited him down to the ground and, on that basis, so do Liverpool – a historic, blue-collar club that perceives itself as being built on a powerful relationship between team and fans, taking on the more aristocratic clubs at home and in Europe.
When Klopp announced his intention to leave Dortmund for a new challenge, it was hard to imagine him at Bayern Munich or Real Madrid. "It wouldn't make sense for him to be the manager of the prevailing power," says Neil Atkinson of the Anfield Wrap podcast. "He seems to need this sort of challenge. I couldn't see him at a Barcelona or a Real Madrid or even an Arsenal. He wants the kind of club where football is the lifeblood of the city. That's what it's like in Dortmund and Liverpool – possibly Manchester, too. Other cities have a different dynamic."
There's a perception of how a Liverpool boss is supposed to be and especially sound – which is generally presumed to be a 21st-century reincarnation of Bill Shankly. Houllier, Benitez, Dalglish and Rodgers all, in different ways, tried to live up to that image, but the 'man of the people' spiel comes more naturally to Klopp, who can wear a Beatles T-shirt to a press conference without looking as if he is trying too hard. "I love how Liverpudlians live football; the history around it," he says – and, even if he is preaching to the converted, you sense he means it.
"I think he believes in that nebulous concept of 'the people'," says Atkinson. "He believes in the power of a crowd. He believes in that bond between players and fans. We saw it after the West Brom game very early on [a scrappy 2-2 draw at Anfield], where he got the players to come over as one and applaud and… almost celebrate the result. Some of the fans weren't sure about that, but it was about him and the players thanking us for staying with them – rather than people leaving early, which he had pointed out when it happened a few weeks earlier – and trying to strengthen that bond. I think the crowd responded."
"I feel there's a power at this club," Klopp said in a press conference towards the end of last season. "I felt it when we played Dortmund at Anfield. I believe there are some clubs who are always more likely to win trophies than other clubs. I felt it for the first time when I was at Dortmund. Michael Zorc [BVB's sporting director] told me not to worry when Bayer Leverkusen were breathing down our necks at the end of one season. He said they would not win because Leverkusen never win, and that Dortmund are a club that wins titles. I feel that at Liverpool as well, and I think the supporters do, too."
Working hard and playing harder
Do you ever stop working? The question is often asked of Jurgen Klopp. Every manager is a workaholic these days but, whereas most prefer one side of the job or the other, Klopp insists on being on top of everything.
It looks all-consuming, such is his commitment to micro-managing people and moods as well as micro-managing tactics and details. Add to that the particular challenges of managing Liverpool – managing and meeting supporters' expectations, managing upwards as well as down – and it sounds even more exhausting. He's relentless in his work. And, as his players discovered last December, he likes to play hard, too.
He makes one concession to fatigue. Every evening, on returning from Melwood to his Formby home, Klopp goes for a power nap – sometimes for more than an hour, but never for more than two. Then, it's said, he wakes up reinvigorated, and when there's an evening left to enjoy he does so.
He and his wife like to go out walking with their beloved dog, Emma (a collie-retriever cross named after the late Lothar Emmerich, the Dortmund striker of the 1960s), on Formby beach and in the woods nearby. He and his coaching staff like to drink or eat in the town's pubs and restaurants. Locals sometimes see Klopp and his coaches playing table tennis and darts. They're not short of energy or joie de vivre.
The Liverpool hot seat has been known to exhaust managers. The circumstances behind Kenny Dalglish's abrupt resignation in 1991 were markedly different, following the emotional trauma of the Hillsborough disaster and its aftermath, but Graeme Souness and Gerard Houllier suffered serious heart problems during their respective missions to restore the club to pre-eminence; Benitez was driven to distraction by energy-sapping internal tensions; Hodgson seemed to find it more pressurised than the England job; Dalglish returned full of vigour in early 2011 but looked severely jaded by the Luis Suarez affair and a great deal else by the time he eventually departed at the end of the following season; and even Brendan Rodgers went from being boundlessly optimistic to downbeat during a difficult third campaign.
No time for mind games
Klopp, like many of his predecessors, believes in throwing himself whole-heartedly into almost every aspect of the job, but there are some things on which he prefers not to waste energy.
One of them is the "media game" of being drawn into spats with rival managers. Klopp has no interest in that. Some remarks he made about the transfer market, explaining why he didn't believe in investing sums close to £100 million on a single player ("because the game is about playing together") were willingly interpreted by the media and Jose Mourinho as a thinly-veiled attack on Manchester United for their pursuit of Paul Pogba.
Mourinho hit back, saying that certain other managers would never have to contend with such dilemmas because they did not manage "one of the top clubs in the world". Reporters waited for Klopp's riposte. "I'm absolutely not interested in what other clubs are doing," the Liverpool manager said. "There's completely no point."
Managing Liverpool, it seems, is demanding enough without being coaxed or goaded into public or private spats with rival managers, let alone with your employers. It's a lesson that some former Reds bosses learned the hard way. Klopp is certainly susceptible to fits of rage, as anyone who has scrutinised his disciplinary record at Dortmund would recognise, but he knows what is a good use of his energy and what is not. The job is difficult enough as it is. If he starts picking battles at Liverpool, he's determined that they will only be those worth waging.
A sign of things to come – or another false dawn?
The away dressing room, Emirates Stadium, August 14, 2016. It's been a difficult first half for Liverpool in their season-opener against Arsenal, but a spectacular free-kick from Philippe Coutinho levelled the scores at 1-1 on the stroke of half-time. As his players sit down, sipping from energy drinks, Klopp has a very specific message. "You are fitter than Arsenal," he tells them. "Go and show it. If you show it, we win."
Within 18 minutes of the restart, Liverpool are 4-1 up, the result of a stunning purple patch in which the fluidity, speed and movement of the visitors' attacks – particularly for Adam Lallana's goal and Coutinho's second – encapsulate almost everything Klopp has been working towards. The match ends 4-3, too tense for comfort, but it's an intoxicating afternoon for Liverpool supporters, who delight in the opportunity to heap familiar early-season misery on Arsene Wenger.
A sign of things to come? Or yet another false dawn for a club that has gone 26 years without winning the league title? Klopp ridiculed the idea that, in one afternoon, Liverpool had proved anything to anyone.
MORE MAGAZINE FEATURES
That evening, though, a statistic emerged. Over the course of 90 minutes at the Emirates, Liverpool's players were reported to have run 117.6 kilometres – the highest figure measured in the Premier League in the seasons since such records began. On the first day of the campaign – a day when Wenger echoed dozens of other managers up and down the land in saying that his own team were "not ready" – that seemed extraordinary.
No trophy in football was ever given out for running further than the opposition, but, for Klopp, it's one of the first things he looks out for in a detailed post-match analytics briefing. Energy, stamina, the determination to go the extra mile – and to do all that running in the right places, as they certainly did against Arsenal – adds up to a solid foundation for any performance.
Eight months on from the Watford debacle, he and his players headed north again in considerably higher spirits. Their standard for the season had been set on day one. They will play hard, at the right time, but more than anything under Jurgen Klopp, they will work hard. Do that, he tells them, and the sky is the limit.
This feature first appeared in the October 2016 issue of FourFourTwo magazine. Subscribe!
Thank you for reading 5 articles this month* Join now for unlimited access
Enjoy your first month for just £1 / $1 / €1
*Read 5 free articles per month without a subscription
Join now for unlimited access
Try first month for just £1 / $1 / €1
Get FourFourTwo Newsletter
The best features, fun and footballing quizzes, straight to your inbox every week.