Iran's liberated expats making the most of their Brazilian bash
By Pete Hall published
Pete Hall chats to the Iranian fans enjoying a World Cup party with their fledgling national team...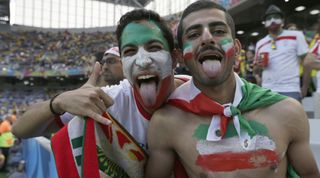 "We showed great concentration in what was an emotionally intense game," claimed Iran coach Carlos Queiroz after a heartbreaking last-minute defeat to Argentina, who needed a Lionel Messi wondergoal to deny 'Team Melli' a famous point.
IRAN GEAR
It has been quite a journey under the former Portugal and Real Madrid boss, and in almost shutting out one of the pre-tournament favourites, Iran announced themselves to the footballing masses on the 16th anniversary of their finest hour.
That victory over the USA at the 1998 World Cup, one of the most politically-charged football matches in history, lives long in the memory. But for a younger generation who remember little of that famous night, this showing against Messi & Co. reignited passion for their heritage.
For those who grew up, or have spent the years since that victory in Lyon as Iranian expatriates, the spirited performance given by those in red sparked scenes of immense national pride, and won the hearts of the locals along the way.
Iranian invasion
An estimated 10,000 Iranians have made the journey to Brazil, the majority of whom are expats. That number would have been far greater were it not for economic and visa acquisition problems making it difficult for natives to travel abroad.
Of those fans in Brazil, over 2,000 held their own among the substantial Argentina support in Belo Horizonte, and playing on the local Brazilian fans' dislike of their South American neighbours, the Iranians for once had an ally.
"We are Iranians, and now we want to show the world what we can do," one enthusiastic fan told FFT after the match. "Many of us live in the States, but still speak Kurdish.
"Queiroz knows us, and he has worked hard to make us like this."
The former Manchester United coach has been in charge for three years, and despite having to overcome many obstacles, he has transformed the fortunes of the West Asian nation. Expats have been key to his success on and off the pitch.
While other managers have either failed to lure footballers from the Iran diaspora, or have been morally against including them in their squads, Queiroz has built an Iran side around talented foreign-based stars like Fulham's Askhan Dejagah (a former Germany youth international), and installed a new brand of football.
With a side now capable of competing against the best, fans are more willing to make the arduous journey to Brazil knowing the chances of going home without are point are far lower under Queiroz. These fans are from all walks of life, and travel with a freedom ill-afforded to many of their ancestors back home.
"In post-revolution Iran, women consider following football as a sort of resistance to the religious authorities' desire to push them back into a more traditional role," Iranian journalist Afshin Afshar tells FFT.
Here in Brazil, Iranian women certainly seem to share that viewpoint, with a large portion of the Persian contingent being colourful and relaxed females, very much in western-style dress.
It is not just women who use the World Cup to get their message across. Outside the Mineirao Stadium, two Iranians dressed as Darth Vader and a Stormtrooper carried a banner stating: "We are equal" in Portuguese.
King Carlos
What has also endeared Queiroz to Iranians all over the world is the way he has overcome obstacles in creating a team worthy of competing in Brazil.
"Nobody wants to play Iran – why would they?" says one pessimistic fan.
He's not wrong. Queiroz has seen a huge number of high-profile coaches turn down requests for friendlies, with political instability often cited as the reason for any refusal. Then there's the somewhat archaic attitude of the authorities towards football.
"Developing, planning, and implementing a comprehensive preparation programme prior to tournaments and important matches is another new concept," journalist Afshar adds.
"Until Queiroz came on board most coaches focused on certain areas more than others. Queiroz's attention to detail has been exemplary."
Even the president is on board. Hassan Rouhani, who is also a cleric, posted a photograph of himself on Twitter in an Iran shirt, bare arms on show, with a message of support for his team – a move many have considered too 'Westernised' by someone of such authority.
The biggest challenge for Iran to overcome is dealing with life after Queiroz, who will move on after the tournament. But thanks to the foundations he has built, and the fans he has encouraged to rediscover love for their homeland, the future looks bright for Team Melli.
We ask one fan whether he will migrate back to Iran. "One day," he says with an endearing smile, covered in facepaint and draped in his fatherland's flag. Then he rejoins local Brazilians and fellow Iran fans in another verse of "Oleeee, ole, ole, ole, Iiiiiran, Iiiiiran, Iiiiiran."
SEE ALSO The most politically charged game in World Cup history (opens in new tab)
Thank you for reading 5 articles this month* Join now for unlimited access
Enjoy your first month for just £1 / $1 / €1
*Read 5 free articles per month without a subscription
Join now for unlimited access
Try first month for just £1 / $1 / €1
Quizzes, features and footballing fun
Get the best features, fun and footballing frolics straight to your inbox every week.
Thank you for signing up to Four Four Two. You will receive a verification email shortly.
There was a problem. Please refresh the page and try again.