John Terry's summer destination, decided by FIFA 16
Where should the Chelsea skipper go after his contract expires? By playing out the 2016/17 season with Terry attached to five different teams, Ben Wilson's crystal ball produces the answer…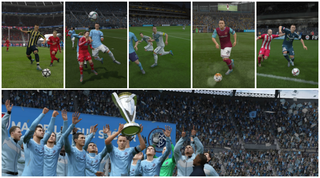 How it must feel to be popular. So long considered one of football's biggest public enemies, bookies reckon there are nonetheless numerous potential suitors for John Terry upon the expiry of his Chelsea contract this summer. A reunion with best buddy Frank Lampard is just evens at one bookmaker, with other options said to include LA Galaxy, Fenerbahce and mega-rich China club Guangzhou Evergrande.
How, then, to select from these myriad options? Terry could take the best financial offer, of course – but we like to think that the possibility of adding one or two medals to his trophy cabinet is tempting too.
That's where FIFA 16 comes in. By playing the 2016/17 campaign five separate times, each as a different team with Terry installed in central defence, we can definitively (sort of) reveal where the 78-capped England defender is best off. Two options see him stay in London, while one takes him to the other side of the globe. Which works out best? Read on and find out…
RECOMMENDED Chelsea need to let John Terry go in order to embrace the future
Option 1: West Ham
The ultimate eff-you Terry could deliver on departing Stamford Bridge? Heading east to join rivals West Ham in time for their first season at the Olympic Stadium. In FIFA 16 his doing so has an immediate positive impact, as Bas Dost and Alex Iwobi arrive from Wolfsburg and Arsenal respectively. A move for old pal Frank Lampard collapses thanks to Lamps' retirement plans, but no matter: former England team-mate Stevie Gerrard is tempted back across the Atlantic instead.
Things start awfully as a broken ankle suffered in pre-season knocks Terry out of the campaign's first seven weeks, but stellar away wins at Hull and Stoke (see video below) upon his belated introduction to the side propel the Hammers to fifth by the start of December. The east London side also reach the UEFA Cup knockout stage with ease, snaring 11 points from a group that includes Braga, Panathanaikos and Odds BK.
In a bid to enhance those European ambitions, Leighton Baines arrives in January as experienced cover for Aaron Cresswell – in vain, it transpires, as the Irons are knocked out by Athletic Bilbao. Terry's return to Stamford Bridge in a West Ham shirt proves similarly miserable, ending in a 0-3 defeat. It's symbolic of the side running out of steam once its European dalliances are curtailed, although a last-day 3-2 win over Arsenal still enables them to finish a respectable 7th. (While Leicester, amazingly, are relegated.)
Team stats: P 38 W 17 D 11 L 10 F 56 A 47 Pts 62 Position 7th
FA Cup 5th round, League Cup 3rd round, UEFA Cup last 16
Terry stats: Played 29 Goals 0 Assists 1 Clean Sheets 6 Yellow Cards 3 Red Cards 0
Verdict: A more-than-decent season in the old enemy's claret-and-blue – although the prospect of a Stamford Bridge hammering likely renders this a no-go in real life.
Option 2: Fenerbahce
With no Chinese league in FIFA, we can't test Terry's Guangzhou Evergrande hopes — so 16/1 prospects Fenerbahce come into play instead. The chance to line up alongside former Premier League stars Robin van Persie and Nani should be enough to help JT settle in Turkey – but just in case it isn't, Victor Moses also arrives from Chelsea for a cool nine million quid. Early results are patchy, but a 6-0 demolition of Gaziantepspor, with RVP grabbing a hat-trick, showcases those attacking powers to the full.
Preparations for a massive Champions League tie in Munich are thrown into chaos as Nani suffers an injury which will sideline him for two months. His loss is Alper Potuk's gain: the Turk's first start of the season sees him head home the opening goal, with VicMo doubling the lead from an RVP cross. Bayern rebound strongly in the second half, Robert Lewandowski pulling one back with a powerful volley – but stout keeping from Volkan Demirel behind Terry cements a famous 2-1 away win (see video below).
Nani returns in January, with his side locked in a three-way title tilt against Galatasaray and Trabzonspor. Not for long, however: February wins over both help build an unassailable lead with two months of the season still to play. The Champions League affords no such comforts. Having done the double over Bayern, it's a lesser German side who prove Fener's shock undoing – Wolfsburg sending them out at the last-16 stage. Still, a Turkish championship in his debut season represents a spectacular swansong for Big John, who announces his retirement.
Team stats: P 34 W 24 D 5 L 5 F 67 A 23 Pts 77 Position 1st
Champions League last 16
Terry stats: Played 32 Goals 1 Assists 1 Clean Sheets 10 Yellow Cards 5 Red Cards 1
Verdict: The dream year in Turkey. Big money, quality results, and the opportunity to retire with one more league title to his name – Istanbul is without doubt a credible summer destination.
Option 3: Melbourne Victory
Given Terry's close personal friendship with Australian snooker player Neil Robertson – and reputation for occasionally playing 'home and away' with the 'neighbours' – there's always the option of a new career down under, with Robertson's local side Melbourne Victory. In FIFA 16, his signing virtually decimates the club's entire wage budget, although loan moves are snuck through for two countrymen: Chelsea youth keeper Jamal Blackman and Bolton prospect Max Clayton.
Blackman doesn't play a single game, but poms Terry and Clayton both prosper, the latter notching five goals and two assists in 17 appearances. Under JT's leadership, Victory open up a four-point A-League lead by mid-December – but a tense derby game against Melbourne City transforms both teams' fortunes. City scramble a goal and despite hitting the woodwork twice – including Terry smashing the post late on, as a makeshift striker – Victory cannot find an equaliser. (See video below.)
From there Melbourne City march on to a first-place finish, while a Terry injury ends his season in early April. Victory never recover from the loss of their best player, finishing third and being swiftly dismissed from the A-League play-offs by Perth Glory in his absence. Not that their cross-town rivals fare much better: Adelaide United send them packing in the play-off semis, before downing Perth 1-0 in the final to collect their first Australian championship.
Team stats: P 27 W 13 D 7 L 7 F 31 A 21 Pts 46 Position 3rd
A-League play-offs semi-finals
Terry stats: 
Played 22 Goals 1 Assists 0 Clean Sheets 8 Yellow Cards 2 Red Cards 0
Verdict: Cast as the wizard of Oz, Terry's magic wears off after a season-ending injury – making the 10,000-mile trip a worthless one overall.
Option 4: New York City
"Maybe there is a time when I look to go to play in America or whatever might be best for my family," said Terry when discussing his future with talkSPORT. No wonder the bookmakers see him heading to New York City FC, then – and it's a switch which proves fruitful. Inevitably JT picks up his first red card just a dozen games in, but with the likes of Andrea Pirlo and David Villa pulling strings, his three-match omission is barely felt. Alongside Pirlo it's not buddy Frank Lampard who shines, but home-grown midfielder Thomas McNamara – four goals and four assists propelling NYC into top spot.
Twenty games in, the mega-rich New Yorkers have only lost twice, and lead second-placed DC United in the Eastern Conference by a colossal 10 points. Things aren't so routine in the US Open Cup, where Terry is injured in a first-round match against Chicago Fire – again, his experienced team-mates deliver in his absence, securing a 3-1 win. The pulled groin only keeps him out for a fortnight, and he's back in time to extend that uncatchable lead, one highlight an emphatic 3-0 win over Vancouver Whitecaps (see video below).
Terry's first taste of American silverware comes via a 2-1 triumph over LA Galaxy in the US Open Cup, vindicating his decision to choose east coast over west. There's even better to come. After topping the conference, NYC breeze past DC United and Columbus Crew to an MLS Cup final date with FC Dallas. They win 1-0, with Terry lifting the trophy thanks to a goal from not Lampard or Pirlo or even McNamara, but another unlikely hero: uncapped Moroccan midfielder Mehdi Ballouchy.
Team stats: P 34 W 17 D 12 L 5 F 58 A 34 Pts 63 Position 1st (Eastern Conference)
MLS Cup winner, US Open Cup winner
Terry stats: Played 34 Goals 2 Assists 0 Clean Sheets 13 Yellow Cards 7 Red Cards 1
Verdict: It's not hard to see why New York appeals. Old mate Frank, superstar colleagues, and near-guaranteed trophies make this a near-perfect real-life destination.
Option 5: QPR
Should Terry wish to stay in west London, there's always the option of 'doing a Rio' with Queens Park Rangers. Terry's arrival eats heavily into the club's overall budget, but no matter: returning loanees Sandro, Leroy Fer and Stephen Caulker effectively form three new signings alongside Terry. Collectively, their performances ensure that the club flirt with automatic promotion throughout the 2016/17 season.
Relegated Sunderland and promoted Millwall are among the clubs to falter at Loftus Road in the early campaign, and the January sale of Rob Green nets just enough cash to cover Dwight Gayle's arrival from Palace. His 10 goals from 13 games keep the R's hopeful of automatic promotion, but they need to win at home to Burnley on the final day in order to seal 2nd place – where a Terry error sees Ashley Barnes earn a 1-1 draw, consigning Rangers to the play-offs. (See video below.)
That Burnley game delivers a second – more literal – blow, as Gayle is subbed with a season-ending injury. Incredibly, Terry too is eliminated from consideration for the rest of the play-offs after suffering an early knock in the first leg at Forest. But imperious displays from stand-in captain Caulker and keeper Alex Smithies secure three consecutive clean sheets, the most crucial coming in the final against Cardiff – where Fer's cool penalty four minutes from time earns a 1-0 win, and Premier League return, despite Terry watching on.
Team stats: P 46 W24 D 12 L 10 F 71 A 37 Pts 84 Position 3rd
FA Cup 4th round, League Cup 2nd round, Play-offs won
Terry stats: Played 35 Goals 1 Assists 1 Clean Sheets 7 Yellow Cards 4 Red Cards 0
Verdict: After that famous night where a suspended Terry changed into full kit to lift the Champions League trophy, could he truly enjoy basking in another skipper's success? No doubt his abilities would benefit QPR considerably, but a step down to the Championship feels unlikely whatever the remuneration.
More FIFA 16
Overall verdict: 
Two trophies in New York, one in Turkey, one (albeit with him watching from the sidelines) in the Championship: if FIFA 16 is anything to go by, Terry's 2016/17 campaign will be a prosperous one wherever he ends up.
But fun as it is to prove oddsmakers wrong, an American adventure alongside his team-mate and close friend of two decades really does look to be the most appropriate way to close out his career.
Quizzes, features and footballing fun
Get the best features, fun and footballing frolics straight to your inbox every week.
Thank you for signing up to Four Four Two. You will receive a verification email shortly.
There was a problem. Please refresh the page and try again.