Jürgen Klinsmann: One-on-One
"I think that there's a lot of similar things between English and German people, but neither side wants to admit it"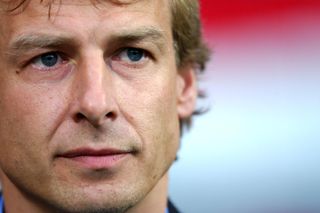 These days Klinsmann chooses to live in the United States with his American wife and family. His impeccable English, having avoided all traces of a US accent, now shows just enough of a sprinkling of American terminology to give the game away.
Although not taking the route into football management chosen by some of his contemporaries, he retains connections to the game, not least as technical advisor to the Los Angeles Galaxy. He's also employed by MasterCard as a football spokesperson and. To English fans at least, it should come as no surprise that he's a mass debater – he always was the kind of player who sparked fierce arguments in pubs and clubs up and down the country.
His stay in Portugal is brief, however. After the opening match between the hosts and Greece, he flies back to his adopted home state of California, where he will watch the remainder of the tournament on American pay-per-view television, before returning to Portugal in time for the final.
Did you ever seriously consider going into the family baking business? I could just see you in a baker's hat…
Sara Collins, via e-mail
No, not really. I did my diploma as a baker simply to have the chance as a 16-year-old to start training with a professional team. My dad's advice was simple: get a degree and a profession and then you can move over to professional football later on. So I never seriously considered it – but I learnt how to bake and my degree is hanging in the bakery. My speciality? I liked making Swabian pretzels. That's a particular kind of a roll from the region where I come from in Stuttgart and I liked to make that. [Laughs] My dad was always happy with my work in that area.
What's the most number of goals you've ever scored in a game – professional or amateur?
Trevor Gardener, Manchester
Well, as a professional I think it was five goals in a Bundesliga game for Stuttgart against Dusseldorf. It was in an away game and it ended 7-0. It just happened that the week before the game, Stuttgart had fired coach Otto Baric, who's now the Croatia national team coach. But I didn't get along with him so well and when he got fired the assistant manager took over and it got me all free again and self-confident and I showed that in the next game, scoring five goals. The most goals I scored in a game as a kid was 16 – that was when I was 10 years old and the game ended 20-0. The game was two halves of 20 minutes, so in just 40 minutes I scored 16 goals and that stayed my record. I don't remember the goalkeeper's name but it was a local game against a town close to Stuttgart.
Is it true that you used to practice pole vault to improve your running technique? Did it work?
Jon Halsey, London
No, that's not true. My brother actually did that as he was a decathlete, but I just did additional speed training. I started to do that at the age of 18, training with track and field coaches on the side two times extra per week and it helped me to get a lot faster actually.
Was your Olympic bronze medal in 1988 the highlight of your career?
Robert Frobisher, via e-mail
It was certainly one of my highlights because the Olympics for footballers is something very special. To be a part of the Olympic village, to see all the other competitions... I remember in Seoul I had the chance to watch the big track-and-field meetings and I saw one of my friends, long-distance runner Dieter Baumann, winning the silver medal in his 5000m – I was screaming and cheering in the stadium and it was a very special experience. But at the end of the day, for a footballer the bigger competitions are the World Cup and the European Championships.
The Germans have a reputation for having no sense of humour. Prove it wrong. Tell us your best joke?
Marty McLeod, Dundee
[Big laugh] I think we have a pretty good sense of humour... and without telling a joke, I think that there's a lot of similar things between English and German people, but I think both sides don't want to admit it. Maybe because of what happened a long time ago in the past, there's this big rivalry, but at the end of the day I think both nations are very funny. The English jokes they always told me at Spurs were about the Germans on vacation and how they get up at 7am to put their towels by the pool and then go back to bed. Stuff like that I think is kind of funny, but wherever you live in the world there are certain things that people do and then they make fun of each other. In Germany we often make jokes about Austrians and it's the same the other way round. [FFT: Did you ever get to the pool and get your towel down early when you were with Spurs?] No, never. Unfortunately we never stayed in such a warm place that we would be able to lie by the pool.
Be honest: is your other car a Porsche?
VW Beetle, Stuttgart
I had the [1967 Volkswagen] Beetle for a long time and it was always my fun car to enjoy, but before coming to Spurs in 1994 – when I played in Monaco and when I played in Italy – I also had different models of Porsche. But the Beetle was always with me in a certain way, and when we came to London it made absolutely no sense having a Porsche because there was so much traffic. You're not getting anywhere fast, so if you have a Porsche instead of a Beetle it doesn't really matter. Unfortunately when I left Spurs in 1995, I drove the Beetle down to Munich, and the car stopped running three times at gas stations. I took it to a garage and the guy said, "Just forget it, the car is falling apart." So that was the end of the Beetle – it was too old and it was rusty all over the place. Funnily enough, though, a guy came and said he'd love to fix it up so I just said, "Take it."
Is it true that when you were at Bayern Munich, Lothar Matthaus bet the general manager £5,000 that you wouldn't score 15 goals in your second season? Did it feel good to leave him out of pocket?
Mark Wilson, Wapping
The bet is true, but I don't know about the amount. I don't know if it was £5,000 or £2,000, but I got pretty upset about it. Fortunately he lost the bet because I scored 15 goals and later on it became a topic between us when we had some talks – we looked back and said, "That was not so good." At the time the bet was part of big arguments going on between us, but we're friends now.
What's the best goal you've ever scored?
Nigel Hunter, Sheffield
It was when I was playing for Stuttgart against Bayern Munich in 1987 – and it was a bicycle kick. Basically it was the goal that opened the doors to international football for me, because a month later, Franz Beckenbauer called me up to the national squad and shortly after that I got my first cap – that's why it was the most special goal. Also, for a striker, a bicycle kick is something special, something that you love to do. You dream about scoring with a bicycle kick, but if you score that goal in a very big game in front of a 70,000 sell-out crowd – and Stuttgart against Bayern Munich is like Tottenham against Arsenal – then it's even better.
If Frank Rijkaard had spat at you rather than Rudi Völler during the match against Holland at Italia 90, what would you have done?
Terry Rogers, via e-mail
You just don't know what you do if something like this happens. I was happy with the way Rudi Völler reacted. He got mad but he didn't get out of control. Afterwards, Frank Rijkaard apologised and said that he was just over-motivated – he didn't have himself under control. But you never wish to get into a situation like that because maybe you'll over-react yourself, so I was fortunate that I was not in that position because I don't know what I would have done.
Does it tarnish your achievement that you won the World Cup in 1990 thanks to Rudi Voller diving for a penalty? Or did the Argentinian tactics in that game warrant Voller's reaction?
Ian Blankley, Hexham
It was certainly not a clear penalty and Rudi said that straight afterwards too. The clear penalty was just before that actually, from the Argentina goalkeeper on Klaus Augenthaler. I think the referee was saying, "I missed the call right before," so he called it in that moment. It was an aggressive game. There were two sent off and it was just unfortunate that Argentina didn't open up, they were just sitting back, trying to kill the rhythm of the match rather than playing their own game. Unfortunately it was decided on a penalty, but we were clearly the better team. Argentina never had a chance – they were simply sitting back and hoping for maybe one magical counter-attack through Maradona. It made the game itself not very exciting, but we absolutely deserved to win that title in 1990 because we were actually the strongest team.
Did you laugh when you saw Diego Maradona blubbing his eyes out in 1990? And if not, why not?
Rik Marley, Lostock
Absolutely not because I was always a big admirer of Diego Maradona. I think as player he was an artist who had an incredible talent and for a long time he was the best player in the world. Unfortunately he was never able to control his life off the pitch. I found the recent events very sad… that he just can't get his personal life under control. Would I let myself go like that? Absolutely not.
Hand on heart, were you a diver?
Jack Sullivan, via e-mail
I never was a diver and I never dived. But when I first came to Spurs and I heard about this story it was a big lesson for me about how to handle the English media. Fortunately I had the help of Teddy Sheringham and my team-mates. They taught me that in England, as a person in the public eye, you often get provoked by the media because they want to see you react, and it is the English humour that you should never feel offended, that you should always "top" any kind of provocative situation. So Teddy advised me to do a dive after scoring my first goal and that kind of turned everything around. The joke made me popular in England but I was also lucky at that time because I was scoring the goals. You can say, "When you score, do a dive and joke about the situation," but if you don't score you can't make the joke. But through that I learned important lessons off the football field, because it tells you about the mentality and habits and traditions in a country, which was fascinating for me. I mean, I really tried to learn to "top" things in conversations with friends, or with team-mates, and I learned a lot. It took me a long time to understand Scottish though [laughs].
Is it true that you wanted to turn up for your first press conference at Spurs complete with a snorkel and diving gear?
Chris Wareing, Bristol
The idea came from a German friend of mine who had lived in England and who at that time lived in Monaco. He suggested bringing the snorkel and goggles to the press conference – and I actually had them in my backpack next to me, but instead I simply asked the journalists if they know a diving school in London because I want to take some classes.
When you decided to come to England, were you conscious of your unpopularity here? Did it bother you or was it a challenge?
Jonny Whiteman, via e-mail
No, when I first came I wasn't conscious about it because I had come from Monaco where things were very quiet and you're not that much in the spotlight. When I came to England for the media presentation I was very surprised at the amount of attention. In the beginning it was very difficult for me because I was constantly followed by photographers, by paparazzi and by the media, which made it a little bit uncomfortable for the first few weeks. But after maybe six or eight weeks they realised that me and my wife live a normal life just like anybody else and then they left us alone, and from that moment on we had a wonderful time in London.
How much fun did you have playing in that ridiculously attacking Tottenham side under Ossie Ardiles?
Kurt Boardman, Weymouth
It was not ridiculous at all playing with these five attacking players. I had a lot of fun and I still think that had we been more consistent defensively, and not made so many individual mistakes at the back, we could have played that system. Mistakes happen at the back but they were not mistakes based on the system, they were just individual errors. But it was an exciting time. Fans always like to see a lot of goals, especially Spurs fans.
How did you feel to be voted Footballer of the Year in 1995 knowing what your reputation in the country had been like when you first came to England?
Billy Simmons, via e-mail
For me it was a wonderful achievement and it was a wonderful award, because I knew that, besides how I was seen in the beginning, it was something outstanding for a foreign player to become English Footballer of the Year. It is something very exceptional – and it makes you very, very proud. Being on a list with the big English players of the past, of their history, is something that really honours you. I was actually the second German player to receive the award because goalkeeper Bert Trautmann had that honour years before me, but it was still something very special.
What was your relationship like with the manager Christian Gross when you returned for a second spell at Spurs? Was he insane or just out of his depth?
Luke Allen, via e-mail
No, actually Christian was one of the best coaches I've ever had. I just think at that time the tension was so big and the situation was so difficult that nobody could really relax within the environment at Spurs. We were battling against relegation and things got really tense. He came in with his personal Swiss perspective, which was very difficult to handle for the players and for certain people. If he'd done that at a later stage – at the start of a season maybe – it would have been a totally different story, but at that time it was difficult.
Christian and I had some arguments and some tough times, but it was very important to do that. It was not good PR-wise because the papers were full of our arguments, but it helped to move things in the right direction internally. He had a tremendous impact on the way we got out of the relegation zone and I, from more of a team perspective, had my influence. We clashed because when you have problems you have to work on solving them, and you can't solve problems if you don't mention them. I didn't care about the media coverage. It didn't matter if Christian Gross looked no good or Klinsmann looked no good, the only thing that mattered was that we needed to get out of that mess, and we did. A year later I invited Christian to my farewell game at Stuttgart and we had a wonderful talk and a great time. I'm really happy that in the last few years he has proved with his successes with Basle in Switzerland that he's a tremendously good coach.
What would you do with one of Alan Sugar's newly-pressed, pinstriped shirts?
Richard Arrowsmith, Brighton
I actually think Alan Sugar did a marvellous job for Spurs. If you look now at the stadium at White Hart Lane, at the training ground at the Spurs Lodge, this was all Alan Sugar's work. He had the ambition of taking the club to the next level with the infrastructure – but unfortunately he didn't get the satisfaction of taking Spurs into Europe, to establish Spurs as a team among the European big names. But what he did for that club was tremendous. The joke he made at the time [Sugar said he wouldn't wash his car with Klinsmann's shirt] was made out of frustration because he wanted me badly to stay at Spurs. We talked about that later on and there was no problem at all. No problem.
Come on, admit it: Germany were lucky to beat England in 1990, even luckier to beat them in Euro 96 and amazingly lucky to get to the final two years ago.
Alan Souch, Swindon
I agree that we were lucky in 1990 because you certainly need luck in a penalty shootout. For the same reason, we were lucky in 1996 with a penalty shootout. But the German team were not just lucky in 2002 to get to the World Cup final because they did a great job in a year when no one expected them to go so far. Yes, I admit that it seems the luck was on our side in the penalty shootouts in 1990 and 1996, but also maybe we were just able to control our nerves a little bit better than England.
You've criticised the desire of the current generation of German footballers. Is Rudi Voller an inspiring sort of chap? Do you think there is a problem with what is being taught at grass roots level?
David Carlisle, Croydon
Rudi Voller is without doubt the best coach we could have for the national team. We have problems at the grass roots level because right now we are not developing as many creative players as we've had, like [Pierre] Littbarski or [Thomas] Hassler, in the recent generation. This comes down to an overall problem we have with the society because the kids have too many other things they can do. They're not playing football every day anymore – and if you're not playing in the backyard every day, you're not developing that amount of creativity like we would do. They have to find new ways of getting the kids back on the field and getting them playing more – and the more they play the better they get and the more creative they get. But there's a long way for Germany to go to get the kids back to being enthusiastic about football.
You played under the false name Jay Goppingen for your local side the Orange City Blue Stars in America. Why?
Eddie Brennan, New Jersey
I actually didn't know about it until I heard it in an article. But it seems the guy who runs the league played about with my name on their website, because he didn't want it to get out. So he actually changed my name – he used my place of birth, Goppingen – but I was happy because people left me alone and I could play amateur football locally, but that was it. Whenever I get the chance I play with those guys because it is just a great recreational workout, nothing special but it keeps me going.
You were offered a senior position at VFB Stuttgart soon after you retired, but turned it down for personal reasons. What sort of job would make you return to football?
Simon Banks, via e-mail
Well, I'm actually still involved in football. I'm the technical advisor of the Los Angeles Galaxy in the Major League Soccer, so I train with the team and I work with the coaching staff and the management staff at the club. And on top of that I try to kick the ball about as often as I can with my amateur team. The reason why we live in America is simply for family reasons – my wife is from California and we have our kids growing up there so it works out really perfectly, so for sure short-term we don't consider any move back to Europe.
You've been part of a Germany team that benefited from a penalty shootout in 1990 and a Golden Goal at Euro 96. What do you really think is the best way to settle a match?
Alex Lawrence, via e-mail
Personally, I thought the Golden Goal rule was the best way to settle a match. It's even more emotional than winning a penalty shootout. It's difficult to say, though. Sooner or later you have to do something to finish a game, but I wouldn't mind just to keep on going until the first goal happens.
Who is the best striker in the world today, and why?
Jim Grain, Warrington
I think the best right now is Thierry Henry because he is a complete striker. He is a hard worker for his team but he also has an incredible instinct about where to go in specific moments and great decision-making about how he wants to score goals. His timing is always right and he proved that with Arsenal the entire season and on national team level now constantly over a couple of years, so he might be the best one right now.
If you could change one rule to make football a better game, what would it be?
Wayne Gambon, via e-mail
I wouldn't change anything about football. I'd keep it exactly as it is.
The VW Beetle, backpacking, the hair, California – you've always seemed something of a hippy. Have you ever experimented with recreational drugs?
Rainbow Warrior, via e-mail
No, uh-uh.
Anything in your career you regret?
Erica Young, Warwick
No, nothing. I was pretty fortunate not having big injuries during my career, which obviously helps. And I was lucky to play in four different countries during that career and meet a lot of great people and learn a lot from different mentalities and people.
Interview: Chris Hunt. From the August 2004 issue of FourFourTwo.
Thank you for reading 5 articles this month* Join now for unlimited access
Enjoy your first month for just £1 / $1 / €1
*Read 5 free articles per month without a subscription
Join now for unlimited access
Try first month for just £1 / $1 / €1
Get FourFourTwo Newsletter
The best features, fun and footballing quizzes, straight to your inbox every week.