Liverpool hero Djibril Cisse: "I actually found Istanbul a lot of fun, rather than feeling the pressure!"
Liverpool peroxide prince Djibril Cisse discusses the games that changed his life, including the 2005 Champions League final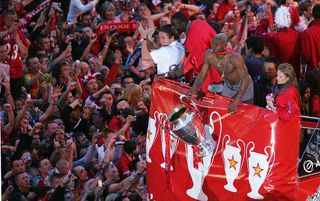 (Image credit: Scott Barbour/Getty Images)
Djibril Cisse is best remembered by Liverpool fans as a star of the 2005 Champions League-winning side and 2006 FA Cup-winning team. Over a decorated career, the Frenchman won plenty – including, of course, fans' hearts.
Here, he tells FourFourTwo the Games That Changed His Life.
This article first appeared Issue 310 of FourFourTwo. Subscribe now!
Liverpool star Djibril Cisse's Games That Changed My Life: 1. Rennes 0 Auxerre 5, 2001
MORE GAMES THAT CHANGED MY LIFE
"As a young player who was just getting started as a professional, this match gave me sky-high confidence in France's top division.
"I scored four goals for Auxerre and we won 5-0. I also scored a really good goal against Paris Saint-Germain, and I carried on scoring for Auxerre from there. I was on a real streak after the match at Rennes. I think I ended up with about seven goals after my first month of that season, which was a big boost.
"It all started for me with that away game at Rennes, though."
2. Liverpool 1 Chelsea 0, 2005
"The Champions League semi-final was the only game I've ever played in where the noise was so loud that you could feel the pitch shake! I don't think I'd ever played in an atmosphere like that before.
"I only remember brief moments from the match because it was that intense. We were still level at 0-0 from the first leg at Stamford Bridge so needed an early goal, and Luis Garcia got it. But I can't recall much apart from the scenes at Anfield at the end, when people were just going absolutely crazy.
"The end of that match always sticks in my mind."
3. Milan 3 Liverpool 3 (2-3p)
"I took a penalty in the shootout in the final, but was absolutely fine. I didn't feel any nerves at all. I actually found it a lot of fun, rather than feeling the pressure.
"Three months earlier I had been in pain with a broken leg, so it was just amazing to be there in Istanbul taking a penalty in front of all those fans. Everyone played a part in getting Liverpool the trophy – Stevie G, Vladi Smicer and Jerzy Dudek especially. What a special night."
4. Panathinaikos 2 Olympiakos 1, 2010
"I've never experienced a crowd atmosphere at a derby match like the one in Athens. Seriously, it's mad. It's very hard to explain to anyone who hasn't been to the game. Being in Athens before kick-off, during the match and afterwards – it's all completely mad.
"We went 1-0 down at home, which wasn't great. But I got a goal back, then I scored a penalty and we won 2-1. I had a great time playing in Greece. The supporters loved me, and I loved them back."
Thank you for reading 5 articles this month* Join now for unlimited access
Enjoy your first month for just £1 / $1 / €1
*Read 5 free articles per month without a subscription
Join now for unlimited access
Try first month for just £1 / $1 / €1
Get FourFourTwo Newsletter
The best features, fun and footballing quizzes, straight to your inbox every week.
Nick Moore is a freelance journalist based on the Isle of Skye, Scotland. He wrote his first FourFourTwo feature in 2001 about Gerard Houllier's cup-treble-winning Liverpool side, and has continued to ink his witty words for the mag ever since. Nick has produced FFT's 'Ask A Silly Question' interview for 16 years, once getting Peter Crouch to confess that he dreams about being a dwarf.