Lou Macari: Perfect XI
By Nick Moore
"Billy was a little fella, but so strong in the tackle. Determined, no-nonsense, and most of all, a winner..."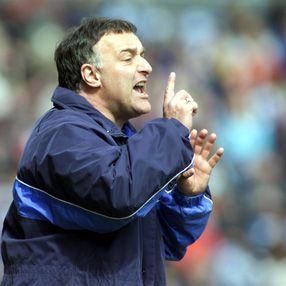 Goalkeeper
Peter Shilton
An imposing figure. I went up against him on many occasions and you knew that if you ever got the ball into the net past him, you'd done really well. At his peak, Shilts was sharp, agile, alert and a really big presence in the area, even though he wasn't the tallest keeper. His positional sense was superb, and he played for so long without dropping his standards or commitment.
Defender
Danny McGrain
I'm going to play a back three, and I've gone for my old Celtic team-mate on the right-hand side. He was dogged, tough in the tackle, and adventurous going forward – he'd get deep into the opposition half and deliver. He kept himself unbelievably fit, too.

Defender
Emlyn Hughes
He was everything a manager wants in a player – enthusiastic and up for every game, something we could do with a bit more of nowadays. He made the most of his abilities, and his determination for Liverpool was beyond belief. So tough to face.

Defender
Martin Buchan
We played together at United. Not the tallest, but extremely strong for his size. He was a perfectionist; if he wasn't absolutely on top of his game and performing brilliantly, he was disappointed. Very difficult for centre-forwards to get the better of, because he read the game superbly.

Centre-midfield
Bryan Robson
I'm playing five in midfield and Bryan would be my man to help out the back three – although frankly he'd be all over the pitch, terrorising the opposition's defence, menacing the midfield and smacking in goals. Bryan could do anything, he was Captain Courageous, and bloomin' hell, he would often win games on his own.

Centre-midfield
Billy Bremner
When he was in his pomp at Leeds, if you could get the better of him over 90 minutes, you'd had a cracking game. Right from the off, he'd let you know you were in for a tough time of it. Billy was a little fella, but so strong in the tackle. Determined, no-nonsense, and most of all, a winner.

Centre-midfield
Alan Ball
I think you're getting the impression that this would be an uncompromising side, right? A real man's team. Alan's fitness levels were second to none. You can talk about anyone in the modern game being super-fit, but Bally would run any of them into the ground. He was non-stop, whether it was a league game or the World Cup Final.

Left-midfield
Bobby Charlton
I played with him briefly toward the end of his United career, and he was just gobsmacking to witness. He was 35 when I got to Old Trafford, and he was as fit and enthusiastic as a 25-year-old. He'd done so much, but his desire never faded – his work-rate kept him right at the top. He was still trying to improve.

Right-midfield
Jimmy Johnstone
He was just incredible at Celtic. I remember in a European Cup semi-final against Leeds he had their defence dizzy he was running past them so often. It was a great lesson to me watching him – his dedication was unquestionable. He'd do extra training in the afternoon to improve his game – and it was almost perfect already! I'm not sure there are many players like that nowadays.

Striker
Kenny Dalglish
I'm going with a Scottish forward line, because I'm biased! Kenny became one of the greatest finishers ever, but it was something he worked on, not something he was born with. He wasn't a great finisher when he played with me as a youngster at Celtic, but he was determined to improve. By the time he came to England, he could score every sort of goal – 25-yarders, dink them over the keeper, whatever you like. But it was down to dedication.

Forward
Denis Law
Although he was a bit slight, he was an uncompromising centre- forward, and superb to play alongside. Strong, good in the air and gave no defender any peace. Scoring goals was natural to him. If Scotland these days could get half close to a partnership of Law and Dalglish, they'd be in every World Cup and European Championship tournament!

Manager
Jock Stein
This is a gritty team – I've no time for fancy Dans – and Jock would keep their feet on the ground. He was a great man and he kept the game simple, there were no complex tactics. It was all about graft on the training pitch. He won the European Cup with Celtic, which is incredible looking back.

Subs
Billy McNeill
A great captain at Celtic.

Mark Hughes
Hard, strong and a great finisher.

Graeme Souness
As hard as nails. He wouldn't like being a sub though!
From the December 2008 issue of FourFourTwo.
Quizzes, features and footballing fun
Get the best features, fun and footballing frolics straight to your inbox every week.
Thank you for signing up to Four Four Two. You will receive a verification email shortly.
There was a problem. Please refresh the page and try again.