From makeweight to mainstay: Keylor Navas' Real Madrid revival
Rahul Kalvapalle explains how the record-breaking Costa Rican has helped Los Blancos fans forget about David de Gea...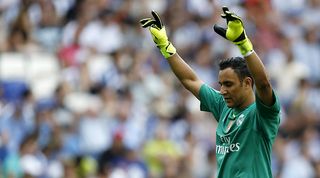 While Real Madrid fans were expecting to embrace a new goalkeeping idol this season, they probably weren't counting on him being Keylor Navas.
The Costa Rican's shutout streak stood at 534 minutes – the best start to a season by a goalkeeper in Real Madrid's history – before he finally conceded a goal in the 67th minute of his team's hard-fought 2-1 victory over Athletic Bilbao on Wednesday evening.
Madrid's defenders struggled at times to cope with Athletic's aerial assault, but Navas' saves ensured that the capital club left the Basque country with three points as they assumed top spot in the La Liga table for the first time this term. Cristiano Ronaldo and Karim Benzema have been among the goals, Luka Modric has bossed the midfield and Raphael Varane has looked imperious at the back, but it is Navas who has earned his team the most points so far this season. The Santiago Bernabeu faithful have already anointed him a cult hero, adoringly chanting his name after every intervention. It wasn't supposed to happen this way.
Change of fortune
Throughout the summer months, it was assumed that Navas would be the makeweight in a deal to bring David de Gea to Madrid from Manchester United. The move seemed to make perfect sense for Los Blancos: Navas, after all, is a very good goalkeeper, but De Gea is in another class. On top of that, the former Atletico custodian is Spanish, young and marketable – the ideal Galactico goalkeeper in a post-Iker Casillas world.
In the end, though, the De Gea deal fell apart on deadline day in farcical fashion, paving the way for Navas to go from makeweight to mainstay at the Bernabeu in a matter of weeks.
Costa Ricans are beside themselves with pride at seeing a player from their small country guard the goal of one of the world's elite teams. "Keylor is our first true national icon", says Daniel Picado, vice-president of the Peña Madridista 7 Blanco America, an official Real Madrid supporters' club based in the Costa Rican capital, San Jose. "We don't really have world-famous political or otherwise recognisable global figures. Keylor is the first sign of greatness from our country."
Navas' potential greatness was first detected by Costa Rica's last goalkeeping great, Luis Gabelo Conejo, during his stint working with the Ticos' youth teams in the early 2000s.
Conejo urged Navas to join San Jose-based club Deportivo Saprissa, where he made his competitive debut in 2005. He went on to travel to the Club World Cup that year as a reserve goalkeeper – something he would do again nearly a decade later, albeit with a slightly better-known capital city club.
Brilliance in Brazil
Like Navas, Conejo introduced himself to global football fans during an unexpectedly strong Costa Rican World Cup campaign – in his case Italia 90, where the Ticos qualified for the Round of 16 in their debut appearance, losing 4-1 to Czechoslovakia. The moustachioed goalkeeper's strong performances earned him a move to Albacete in Spain's Segunda División (second tier), with Conejo enjoying two seasons in Spain's top flight as the southerners won promotion soon after he arrived.
Navas' journey is remarkably similar: he too played for Albacete in the Segunda División after Conejo urged his former club to give the then-unknown custodian a shot, before moving to La Liga side Levante and impressing on the biggest stage of them all with his country. "We were happy when he started playing in the first division in Spain. We thought to ourselves that 'he's there, he's made it'," says Hidalgo. "None of us saw him as a guy who would go beyond a mid-table team. We definitely never thought of him as a guy who would play for Real Madrid. It would never have crossed our minds, not even if we were crazy." As crazy as it may seem, Navas now finds himself as the first-choice goalkeeper at arguably the biggest side in the world, thanks in part to his performances at the 2014 World Cup but also to the astonishing inability of two of the planet's superclubs to submit transfer paperwork on time.
Costa Ricans abroad
Navas is the greatest sign of hope yet that Costa Rican players can finally make the step up to the elite level of European football. "Costa Rica has European-based players like Bryan Ruiz (ex-Fulham), Joel Campbell (Arsenal) and Celso Borges (Deportivo), but Keylor Navas is at the top at Real Madrid," says Peña Madridista President Jose Gallardo. "It's the highest level you can reach in club football. Navas reaching the top is proof to the kids of Costa Rica that if you fight hard enough, you can see your dreams come true."
Given the extent to which Navas is revered, it shouldn't surprise anybody that Real's pursuit of De Gea prompted consternation among Navas' compatriots: one man in San Jose ripped up his Madrid fan card and shared photos of the carnage on social media; one woman listed her three replica shirts for sale.
Cheers not jeers
Despite coach Rafa Benitez's measured insistence that the entire Real Madrid line-up deserves credit for their excellent defensive record, there's no question that Navas has been the key factor.
Not only does he pull off spectacular, highlight-reel reflex saves, he also looks assured when claiming aerial balls and organising his defense. Such all-round displays haven't gone unnoticed at the Bernabeu, where the fans – perhaps weary of the tension and division that marked the final seasons of Casillas' reign – have thrown their collective support behind the humble and likeable Navas.
But Real Madrid is a club where cheers can turn to jeers in the blink of an eye, so the 28-year-old still has his work cut out. In Hidalgo's words, "Let's see if turns out to be a summer love or an eternal flame."
Indeed, it remains too early to say whether Madridistas' adoration for Navas is merely a temporary infatuation or the start of a sustainable, long-term love affair.
For now, though, with the Bernabeu faithful and his compatriots at home united in willing him to succeed as Real Madrid's first-choice shot-stopper, Keylor Navas is living a quite improbable dream.
Thank you for reading 5 articles this month* Join now for unlimited access
Enjoy your first month for just £1 / $1 / €1
*Read 5 free articles per month without a subscription
Join now for unlimited access
Try first month for just £1 / $1 / €1
Get FourFourTwo Newsletter
The best features, fun and footballing quizzes, straight to your inbox every week.