Man City vs Arsenal: would Pep be doing better if he'd taken over Arsenal?
Thore Haugstad peers into an alternate reality where Pep succeeds Arsene; would he be doing better at the Emirates?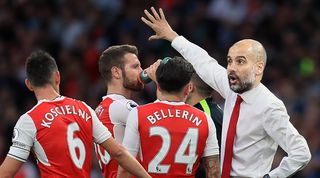 By now it seems fair to say the Premier League initiation has been rougher than expected for Pep Guardiola. Manchester City trail Chelsea by seven points and recently won their first league game at home since September, with criticism of his flamboyant tactics widespread after the 4-2 debacle at Leicester. The Catalan always did say transforming City would be his biggest challenge so far, yet even he has admitted the adaptation has taken longer than first assumed.
The matter is no doubt one of culture clashes, Guardiola testing his principles of positional play and passing out from the back in a fast and physical division. Few if any coaches have applied such methods so strictly in the Premier League. And yet his fate also depends on the suitability of his players to carry out his ideas. What came off for Jérôme Boateng and David Alaba at Bayern Munich has not quite done so for John Stones and Aleksandar Kolarov, and, given that Guardiola is unlikely ever to change his style, the compatibility between the squad he inherited and the ideals he is pursuing is surely key to any examination of his start in England.
All of which makes it tempting to wonder how Guardiola would have fared at Arsenal, who visit the Etihad on Sunday afternoon. While City was always a likely destination due to the presence of director Txiki Begiristain, a former team-mate at Barça and a central figure behind his first-team appointment at the club in 2008, Guardiola was also long considered a natural successor to Arsène Wenger. It is not hard to see why.
A matter of style
In fact Wenger is probably the Premier League manager closest to Guardiola in terms of his views on the game. Both favour possession-based, stylish and quick attacking, and take pleasure in more than mere results, Wenger describing football at its best as 'art' and Guardiola saying winning in a style other than his own would mean nothing to him. Both are sometimes labelled tactically naive. When Guardiola was hammered after the Leicester defeat, Wenger leapt to his defence.
Given that Wenger has controlled Arsenal for 20 years, Guardiola would have been able to build on a familiar philosophy. This is a factor of more importance to him than most coaches, because his idiosyncratic style is so demanding to learn. At Barcelona, the DNA behind his principles was already in place, but at Bayern, some of the players hardly knew what he was talking about at first. So specific was the method that the coaching staff compared it to a different language.
This is particularly true of positional play, the term underpinning the intricate passing patterns facilitated by numerical superiority in midfield. In many ways the Bayern squad should have been more attuned to this than most, given that Louis van Gaal had drilled in a possession-based style a few years earlier. That the principles still seemed so alien to the players makes you wonder what they thought in the City dressing room when Guardiola first introduced his ideas.
Indeed, with no form of legacy to build upon, it is no wonder that Guardiola has called for patience. At Arsenal, he might have needed less of it.
Youthful promise
Looking at the two squads before the summer signings arrived, one may also wonder whether the player types at Arsenal would have facilitated the learning process. The troubles at the back might have been less severe. Guardiola would have had Nacho Monreal and Barça youth product Héctor Bellerín, two dynamic and adventurous full-backs with a background in Spanish football. It is also easy to imagine Laurent Koscielny bringing steel and pace to his high defensive line.
In midfield, where Guardiola seeks fast wingers who stretch play, there would surely be roles for Theo Walcott and possibly Alex Oxlade-Chamberlain. Creative players such as Santi Cazorla, Mesut Özil and perhaps also Alex Iwobi would be ideal for his positional play. There would also be a reunion with Alexis Sánchez, who understands Guardiola from his time at Barça. And given that Wenger spent about £90 million in the summer transfer window, Guardiola would have had cash for further additions.
Another positive factor at Arsenal is youth. City had one of the oldest squads in the division under Manuel Pellegrini, with all four full-backs past 30, plus players such as Fernandinho, David Silva, Yaya Touré and Jesús Navas. Guardiola has said he finds young players more receptive to new ideas, which makes it likely that Arsenal would have adapted his ideas more quickly.
The long haul
Wenger/Guardiola under fire
Still, when all this is said, there are also key elements favouring City. Man for man, they have a stronger squad, and their formidable spending power has already given Guardiola more leeway in the market than he would have had at the Emirates. Their remarkable youth academy, to which Begiristain has added top-class talents since his arrival in 2012, may come to boost the first team. The presence of Sergio Agüero is huge, and playmakers such as David Silva and Kevin De Bruyne fit his style to a tee.
Such factors mean the City project will surely have more potential in the long term, once the first few storms drift by and the obstacle of learning the core tactical principles has been overcome. While Guardiola has been surprised at the slow progress, he has reiterated his conviction that City will improve and, given his track record, he is surely right. Despite what he and Arsenal have in common, there can be no suggestion that he has picked the wrong club.
For all that, though, the wobbly form of late has denoted the size of his task. The speed with which Guardiola adapts to the Premier League will be linked to that with which the City players adapt to him, and with no firm foundations in place, the learning process could be a slow one. For the short term, it is thus probable that his start in England would have been smoother at Arsenal. In the long haul, however, City are likely to reap the benefits.
Thank you for reading 5 articles this month* Join now for unlimited access
Enjoy your first month for just £1 / $1 / €1
*Read 5 free articles per month without a subscription
Join now for unlimited access
Try first month for just £1 / $1 / €1
Get FourFourTwo Newsletter
The best features, fun and footballing quizzes, straight to your inbox every week.