Meet Naby Keita: Leipzig's own Kanté who turned down Man City, Arsenal and Liverpool
Ryan Baldi profiles the driving force behind the surprise Bundesliga leaders' title challenge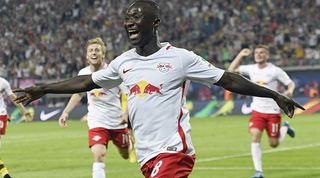 The 60-second story
FACT FILE
Date of birth: February 10, 1995
Place of birth: Conakry, Guinea
Height: 5ft 7in
Position: Midfielder
Club: RB Leipzig (12 apps, 4 goals)
International: Guinea (18 apps, 2 goals)
At the start of the season it seemed as though RB Leipzig coach Ralph Hasenhuttl intended to ease new signing Naby Keita into Bundesliga life. But so impressive was the 21-year-old midfielder in early outings from the substitutes' bench – which included bagging a late winner against Borussia Dortmund in September – that the diminutive Guinean showed himself to be more than ready to take Germany's top flight by storm.
And that's exactly what he's done. Keita's ability to slot straight into Leipzig's side and immediately become a key player shouldn't come as too much of a surprise, though, considering he spent two seasons with sister club Red Bull Salzburg before making an €11 million switch this summer. Thanks to sporting director Ralf Rangnick's work behind-the-scenes, the Austrian outfit mirror many of the tactical principles espoused by their German counterparts, ensuring that any players moving between the two clubs face an easy transition.
In his 10 Bundesliga appearances to date, Keita has bagged four goals and notched one assist from his role as the midfield engine in Hasenhuttl's unconventional 4-2-2-2 formation, helping Leipzig storm to the top of the division. His performances, moreover, have earned him recognition as one of the hottest prospects in European football.
Why you need to know him
Given Bayern Munich's recent monopolisation of the Bundesliga title and Dortmund's established position at the front of the chasing pack, it can be hard for a player to make a name for himself outside of Germany's big two. Leipzig, however, are threatening to upset the status quo in their maiden season at this level, with Keita at the heart of the revolution.
Premier League champions Leicester were recently linked with a January move for the energetic midfielder, having reportedly earmarked him as the man to fill the giant void left by N'Golo Kanté's departure to Chelsea. The Foxes won't be the only team mentioned in connection with a big-money bid for Keita, whose burgeoning reputation will have caught the attention of the continent's established elite.
Despite his tender years, Keita already looks a cut above most of his competition in the Bundesliga. If he's able to maintain his current form over the coming months, perhaps working to iron out the few deficiencies that remain in his game, he'll soon be considered one of the very best in the world in his position.
Strengths
Equal parts Kanté, Andrea Pirlo and Steven Gerrard, Keita is close to being the complete modern-day midfielder. The 18-cap Guinea international covers every blade of grass throughout 90 minutes; in his role as one of two deep midfielders for Leipzig, he constantly plugs gaps when team-mates vacate their position.
With impeccable anticipation, he's averaging three interceptions per game so far this season, while also making 2.4 tackles and conceding only 1.8 fouls. He's not just an enforcer, though: Keita's phenomenal range of passing is an aspect of his game that often gets overlooked thanks to his whirlwind style, but he has a useful knack for consistently picking out a team-mate.
Perhaps the most striking aspect of Keita's arsenal is his remarkable ability to play incredibly accurate forward passes while on the move. This, in conjunction with his expert dribbling – he completes an average of three take-ons per game – means the former FC Istres star is adept at playing through the most rigorous of presses.
Offensively, Keita is brilliant at timing his runs into the penalty area to latch onto cutbacks and second balls, which is exactly how he netted the aforementioned winner against Dortmund. He's also a threat from distance, where his clean striking technique means he can pick out the corner of the goal from anywhere within 25 yards – just as he did against Freiburg recently.
Weaknesses
Keita's lack of height means he's often outdone in aerial duels, but perhaps his biggest flaw is the way he expects his colleagues to be just as comfortable in tight situations as he is.
This is noticeable by the way he breaks ahead of the ball in an effort to find space and receive a pass, despite the fact that the Leipzig player in possession is being heavily pressed. If his team-mate loses the ball, Keita is then caught out of position, leaving a gap which could be exploited by the opposition.
When the roles are reversed and Keita is the one receiving the ball under pressure, he's able to evade his marker and pick out a pass. The Guinean, though, must come to understand that not all of his colleagues are able to deal with such situations so smoothly. It's a relatively minor flaw in his game intelligence which can easily be corrected with proper coaching and experience, and is hardly likely to derail his long-term progression.
They said...
Upon Keita's signing for RB Leipzig this summer, sporting director Rangnick beamed: "We are very pleased that Naby Keita has chosen, despite many requests from European clubs, to take his next steps in Leipzig. He fits our young team perfectly with his dynamism, outstanding technical and tactical skills, and his character."
Keita himself has been open about his ambition to become his continent's greatest player. "I want to be the best African footballer," he declared. The 21-year-old also admitted to idolising a certain Manchester City star: "My idol from Africa is Yaya Toure... he's strong, works hard and has made it to the very top." Just don't mention anything about cake.
Did you know?
He travelled to France as a teenager in the hope of making his way in football, but initially struggled to find a club. Folowing unsuccessful trials with Le Mans and Lorient, he joined Ligue 2 outfit Istres after competing in a talent-spotting tournament organised by former Celtic defender Bobo Balde.
What happens next?
Keita – whose diminutive stature and superb eye for a pass has seen him labelled the "African Deco" – reportedly turned down offers from Arsenal, Liverpool and Manchester City to join Leipzig this summer. "I didn't want to join a big Champions League club right away," he said. "It's too early for that. I want to prove myself in the Bundesliga first."
If he continues on the same path, it won't be long before more Champions League clubs are knocking on the door. First thing's first, though: Keita's immediate objective is to help Leipzig become the most unlikely Bundesliga champions since promoted Kaiserslautern won the title in 1998.
Thank you for reading 5 articles this month* Join now for unlimited access
Enjoy your first month for just £1 / $1 / €1
*Read 5 free articles per month without a subscription
Join now for unlimited access
Try first month for just £1 / $1 / €1