Alex Grimaldo: Benfica's heir to Jordi Alba who's wanted by both Guardiola and Mourinho
Nemanja Grbic provides the lowdown on the ex-Barcelona defender who could be on his way to Manchester at some point in the future…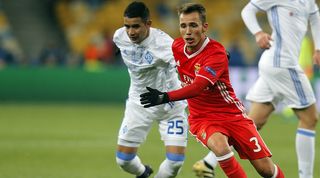 FACT FILE
Date of birth: Sep 20, 1995
Place of birth: Valencia, Spain
Height: 5ft 7in
Position: Left-back
Club: Benfica (19 apps, 2 goals)
Former clubs: Barcelona B (92 apps, 6 goals)
The 60-second story
Ahead of the 2015/2016 campaign, many Barcelona fans expected their club to make a seemingly logical move and promote a 19-year-old full-back by the name of Alex Grimaldo from their 'B' team. The teenager was seen as someone who could fill the void left by the departure of Adriano Correia that summer, with the Spaniard also viewed as a leading contender to become Jordi Alba's long-term successor.
Unfortunately for both Grimaldo and those supporters, such an outcome didn't come to fruition. Instead, Barcelona opted to sell the youngster to Benfica in January 2016 for a mere sum of €1.5m (Arsenal were also reportedly interested but didn't made a concrete approach).
10 months later and the Catalans have a lot to answer for. Grimaldo's performances in Portugal have caught the eye of scouts from Bayern Munich, Juventus, Real Madrid, Valencia and both Manchester clubs, who are reportedly willing to pay his €60m release clause to bring him to their clubs.
Why you need to know him
Barcelona's La Masia academy is renowned for developing talented young footballers into first-team stars, but Grimaldo was never given the chance to make that final step. He first arrived in Catalonia from Valencia at the age of 13 in 2008; the teenager was initially regarded as a talented midfielder, but the Barca coaches believed he'd be better served moving deeper on the pitch. The results of the switch were outstanding, Grimaldo instantly impressing as an attacking left-back.
Grimaldo made his Barcelona B debut three years later, with many figures at the club excited to closely track his progress. A career-threatening cruciate knee ligament injury threatened to derail him, though, with the setback proving to be a devastating blow both mentally and physically.
Thankfully, Grimaldo has a wise head on young shoulders and was able to make a full recovery: in January 2014, after 324 days on the sidelines, he returned to the field and played like he'd never been away.
By the end of 2015, Grimaldo had made more than 100 appearances for Barcelona B - many of which came as captain - and featured at every youth level for Spain. It was seemingly only a matter of time before he was rewarded with a first-team debut, but Luis Enrique had other ideas.
"He's never told me anything," a frustrated Grimaldo said of Barca's head coach to Spanish radio station RAC 1 shortly before leaving the club."I've not had any contact with him, nor do I have anything to say to him.
"I work with my [Barcelona B] coach [Gerard Lopez]. I get on well with him, he helps me with everything and he helps me get better. Let [Enrique] be with his players higher up and let me be with my team."
Strengths
Grimaldo's style means he's regularly compared with Alba, but it could be argued that the former has already surpassed the latter in certain areas of his game. The 21-year-old has all the basic qualities expected of a modern-day full-back - speed, crossing ability, the capacity to get up and down the flank and participate at both ends of the field - but he also possesses a high level of tactical intelligence and excellent ball control.
He may be a full-back now, but Grimaldo still has the soul of a midfield player: he doesn't simply hug the touchline and wait for the ball to come to him but instead roams into central positions when his team are in possession. His accurate passing means he's comfortable contributing infield as well as on the flank, which adds another layer to Benfica's attacking options.
It's a skill which Manchester City boss Pep Guardiola will appreciate. The Catalan often instucts his full-backs to move into midfield when his team have the ball, which is why the reports of City being interested in Grimaldo make so much sense.
The Spaniard might not have the same pace and stamina as compatriot Alba, but he times his runs perfectly and is capable of creating chances for his team-mates whenever he ventures forward. His left foot's a thing of beauty, too: Grimaldo provides pinpoint crosses from the wing and has shown on a handful of occasions his fine ability from free-kicks.
Weaknesses
While Grimaldo's shown plenty of potential in his career to date, we still don't know if he's able to consistently perform well at a high level, a test he'll hope to pass in the coming months.
His slim build and height (5ft 7in) means he's not much of an aerial threat and he can struggle against more physical opponents, although the 21-year-old is tenacious and has improved his timing in the tackle.
He's occasionally guilty of attempting risky passes and giving the ball away cheaply, but Benfica boss Rui Vitoria is probably pleased that Grimaldo doesn't always choose the safe option.
Did you know?
Grimaldo was just 15 years and 394 days old when he made his first appearance for Barcelona B in September 2011, making him their youngest debutant in history.
What happens next?
Grimaldo's rise to prominence this season hasn't gone unnoticed, with Benfica forced to slap a €60m release clause on the gifted young prospect. The Portuguese giants probably won't do business for anything less than that, which should ward off potential suitors in the short-term, but if he's able to maintain his current performance levels Grimaldo's future lies away from the Estadio da Luz.
Premier League heavyweights Manchester City and Manchester United will both fancy their chances of winning the race for the full-back's signature. Guardiola and Jose Mourinho have already locked horns in the dugout twice this season and could be set to do so again in the transfer market in the not-too-distant future.
Thank you for reading 5 articles this month* Join now for unlimited access
Enjoy your first month for just £1 / $1 / €1
*Read 5 free articles per month without a subscription
Join now for unlimited access
Try first month for just £1 / $1 / €1