Meet Andrea Belotti: Italy's new No.9 who just dealt Man United a blow
Blair Newman introduces the 22-year-old Italian hotshot who's been linked with a move to Old Trafford as a long-term Zlatan replacement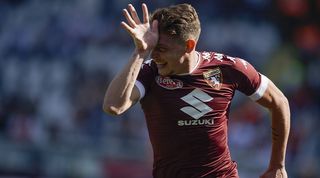 There was plenty of surprise about Italy's progress to the quarter-finals of Euro 2016. Despite the Azzurri's eventual last-eight elimination by Germany, comfortable wins against Belgium and Spain were very much unexpected. Why? A perceived lack of individual talent within Antonio Conte's squad, reflected most brutally in their attacking options.
Former Southampton striker Graziano Pelle operated as the team's targetman, while Simone Zaza – now out of form and Slaven Bilic's starting line-up at West Ham – was his backup. The duo's selection was confirmation that there simply weren't any prolific Italian finishers aroud. Less than six months later, though, this concern is no longer valid thanks to Andrea Belotti.
The 22-year-old has announced himself as Italy's great attacking hope in the first few months of 2016/17. Following a fallow period in which Mario Balotelli has failed to live up to his early hype, Belotti has emerged as the standout candidate to lead his country's line in future tournaments, finding the net 10 times in 13 Serie A appearances this term.
Inevitably, his form at club level has led to international recognition. Italy boss Giampiero Ventura – who was Torino's head coach when Belotti joined the club in 2015 – called up the striker after taking the reins from Conte post-Euros. Having earned his first competitive cap in a 2018 World Cup qualifier against Macedonia, the young striker has notched three goals in five appearances for the Azzurri.
Rise of 'The Rooster'
While there are some important technical subtleties to Belotti's game, he's made his name predominantly through sheer physical and mental force. Indeed, it's his relentless attitude – an attitude shaped by his family and background – that has underpinned his career path thus far. In an October interview he spoke of the work ethic imbued within him from a young age. "My father told me: 'If you don't leave the pitch absolutely exhausted, it means you haven't given it your all,'" he told La Gazzetta dello Sport. "I like to work hard."
Fortitude was a requisite trait for the young marksman in his successful rise to Serie A. He started out on the wing and was turned down by Atalanta as a teenager before signing for AlbinoLeffe, where he was moulded to fit a more central role. Giuseppe Bergomi would later speak of coming into contact with Belotti while coach of Monza's under-17 side in 2009. "He was a force of nature already," the former Inter defender reflected.
Taking a pay cut to join Palermo (then a Serie B outfit) in order to move up the leagues in 2013, Belotti initially competed with Kyle Lafferty and Abel Hernandez for his place in the team, scoring 10 goals as the Sicilian club gained promotion. But throughout his debut campaign in Italy's top flight, he was overshadowed by the increasing brilliance of Paulo Dybala.
Toro's top man
After joining Torino last summer for €7.5 million, Belotti finally began to shine. Like many other young Italian players in recent years, working with Ventura proved crucial for his confidence, as well as his tactical development. "He (Ventura) repeated the same phrase he told me when we first met at Toro: 'If you want it, you can do it,'" Belotti stated recently. "He taught me how many different ways there are to see a game and how many choices I can make."
The striker duly plundered 12 goals to become Torino's top scorer last season, with fans and pundits familiarising themselves with his now-famous 'rooster comb' celebration – a nod to his nickname, 'Il Gallo' or 'The Rooster'. That he's already just three strikes away from bettering his maiden tally in Turin is testament to his improvement; more than the frequency of his strikes, though, he's stood out as a modern reincarnation of the traditional No.9.
His ability to resist pressure and hold up the ball proved particularly valuable under Ventura's auspices. Within a 3-5-2 system he was expected to run the channels, drag his marker away from the centre and undermine the opposition's defensive shape with his pace and strength. Under Sinisa Mihajlovic, he now plays as a lone striker in a 4-3-3 formation with more focus on being in the right place at the right time. It's a responsibility he's taken to with unerring ease.
With the shoulders of a professional boxer, a threatening aerial presence and a powerful style, Belotti's game is reminiscent of the classic English centre-forward. Indeed, considering he already has a trademark goal celebration, Alan Shearer comparisons wouldn't be entirely without merit. Perhaps this helps to explain the sudden rush of interest from several Premier League sides: the Italian's list of admirers reportedly includes Leicester, Arsenal, Everton, Liverpool and Manchester United.
Manchester looming?
Earlier this season, a short clip of Zlatan Ibrahimovic giving positional instructions to Wayne Rooney during a high press went viral. Belotti may lack the Swede's ego, but he plays with similar tactical intelligence. He's a striker for all phases of the game: defensively, he's aware of where to be in order to restrict opposition build-up, while offensively he's capable both of bringing team-mates into play and making decisive runs of his own in the final third.
Considering his all-round qualities it comes as no surprise that he spends his spare time learning assiduously from the best in his position. "I've studied so many strikers," he admits. "I'd love to have the cool head of Mario Gomez, the ability to shake off defenders of Fernando Torres, physicality of Didier Drogba and movement of Sergio Aguero."
Like Italy, Manchester United may need a fresh face to lead their line in the near future. Ibrahimovic, while reportedly set for a contract extension, is arguably already past his best at 35 years old. Belotti would be a positive strategic replacement, bringing added mobility and selflessness as well as his aforementioned tactical brain and technical qualities. The only hindrance would be a lack of star power, though his unassuming persona could soon be overshadowed by an outrageous price tag.
Manchester bound?
He won't be going anywhere immediately, though, having just signed a bumper new contract at Torino that includes a €100m buyout clause. Club owner Urbano Cairo was keen to inform potential suitors of his star's value. "Belotti has a very high clause," he said. "For me it's like (Gonzalo) Higuain's. I don't know if there will be any clubs who can get him."
In fact it's more than Higuain's, whose previous buyout clause with Napoli stood at €94 million.
At 22, Belotti is already a regular scorer in Serie A – one of the toughest environments for a young striker – as well as a national team member of growing importance. And, with superstar status on its way, a big-money move to Manchester may be on the horizon. Money talks – and they've got plenty of it.
Thank you for reading 5 articles this month* Join now for unlimited access
Enjoy your first month for just £1 / $1 / €1
*Read 5 free articles per month without a subscription
Join now for unlimited access
Try first month for just £1 / $1 / €1
Get FourFourTwo Newsletter
The best features, fun and footballing quizzes, straight to your inbox every week.