Michael Johnson: Talentspotter
"One of the lads ran up behind me and whipped my tracksuit bottoms down. I finished getting my money and calmly pulled them back up"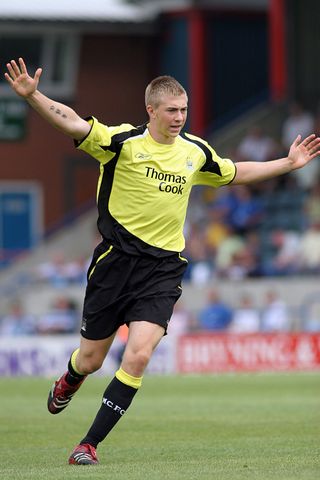 Born
Urmston, Manchester, 24/2/88
Position
Centre-midfield
Nickname
Just 'Johnno' I'm afraid – for obvious reasons!
Club supported as a boy
Leeds United, which I suppose is unusual for a Manchester lad. My dad supported them and I sort of just inherited them. I'm not even sure why I supported them, come to think of it…
Clubs played for
I had trials for Liverpool, Leeds, Everton and Feyenoord, but I came through the youth ranks at Manchester City.
Strengths
My main one is my passing – I think that's the most important aspect of my game and if a team can pass the ball well better than the opposition, you've always got a chance, haven't you?
Weaknesses 
Everyone has weaknesses and I'm no different. I could head it betterand score more goals… I'm trying to think of things I won't get slaughtered forby the lads for!
Heroes
Zinedine Zidane – I could watch him all day and would have loved to have seen him play live.
I play a bit like…
To be honest I don't like to say I play like anyone, really. I look at people and take aspects of their game and try and adapt them to my style. Having a great engine like Steven Gerrard helps, ball-winners like Owen Hargreaves are worth studying and watching a midfield goalscorer like Frank Lampard helps, too.
Highlights
Playing against Manchester United in my first Manchester derby recently was great. The result was wrong and I got booked but I enjoyed the occasion. Playing Arsenal at the Emirates Stadium and setting up our goal was special, too.
Lowlights
Making my debut at Wigan in October and losing 4-0. I cracked a bone in my wrist that day, just for good measure and didn't play for the first team again until March!
Toughest opponent
Although we won 1-0 at St James' at the end of March, Newcastle's Nicky Butt was a pretty tough customer.
Best player played with
I've not played with many because I've only played a few first-team games but Richard Dunne was a colossus for us this season.
Biggest practical joker
Ben Thatcher – he's gone now but he was a really funny guy, always up to no good.
Biggest influence
I'd have to say my dad for all the support he's given me over the years.
Best advice given
Don't play the ball across your own area, like I did at Newcastle! It nearly cost us a goal in a tight game.
Wheels
At the moment I've got Ford Explorer, but in the future who knows?
Chicks
Jessica Alba. I'm sure I won't be the first to choose her – or the last.
Flicks
The sci-fi one, Sunshine, by Danny Boyle was the last one I saw at the cinema – a terrible film!
TV programmes
To be honest, I don't like staying in and watching TV. I'd much rather go out.
Most embarrassing moment in football
It would have to be a couple of years ago when I was doing my college day as an Academy player. I was getting a tenner out of a cash machine when one of the lads ran up behind me and whipped my tracksuit bottoms down. I didn't do anything, just finished getting my money and calmly pulled them back up.
Favourite holiday destination
I love travelling and there are too many places I want to go.
If I hadn't been a footballer…
I would probably be working as a car salesman at my dad's garage.
With my first pay packet…
I paid some bills.
IfI could play alongside one player…
It would have to be Zinedine Zidane in his pomp.
In five years time I'll be…
Retired… no, hopefully playing regularly for City in the Premiership and playing for England.
From the July 2007 issue of FourFourTwo.