Michel Platini: One-on-One
"There are three important things in my life: my family, my friends, and having a good laugh..."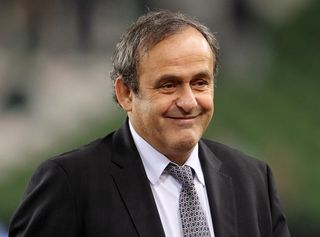 "It's not that I regarded myself as the best player in the world; I was the best player in the world," Michel Platini tells FFT over a cup of tea at UEFA's Lake Geneva headquarters. "What else do you want me to say?!" Well, since you mention it Michel, how about answering a few questions from our readers? And the Gallic maestro needed no further invitation… But then Platini has never been shy about expressing with his views on the state of the game.
Now – as Europe's football supremo – he has the platform to bring his vision to bear. Elected UEFA President in January 2007, the Frenchman is embarking on a mission to protect the game he loves from becoming a business asset. Some might say that's mission impossible, but then Platini is, by his own admission, a man who doesn't accept defeat lightly.
He is also a man with the Midas touch: the three times Ballon d'Or winner, won honours galore with Juve, captained France to the European Championship title in 1984, coached them in 1992, and then went on to organise of one of the slickest World Cups in recent memory in 1998. Taking time out from his latest grand venture, the 51-year-old recalls how the prospect of playing on Boxing Day put him off a move to North London, why losing to the Germans was his greatest moment in football and why the Premiership's plans for an international roadshow must never be allowed to happen.
I read in FFT that you used to drag your sister to school an hour early just so you could play football before class. Is this true? Do you now feel guilty about this?
James Horncastle, Leeds
That's not quite true – and I certainly don't feel bad about it! What happened was this: we used to have an alarm clock in the kitchen and I would change it at lunchtime so that she thought we might be late back to school and so we would head back early. I had set it half an hour out and that gave me an extra 30 minutes to play and perfect my technique! And my sister could hang out with her friends – and maybe a boyfriend or two, as well… so she didn't feel bad about it, either!
Zidane always played as Platini during his school kickabouts. Do you ever remind him about this? Who did you try to emulate in the schoolyard?
Caroline Barron, London
I've heard that, but I've never spoken to Zizou about it. He came to my football camp at St. Cyprien as a child, so maybe that influenced him. But now, although we see each other often enough, it's always at formal occasions and there's no time for a proper chat about that kind of thing.
As for me, as a kid, there weren't really any great players that I could pretend to be; if anyone, I'd pretend to be Nestor Combin, who played for Metz. But with not much football on television back then, apart from the European Cup final, it was hard to get to know the players well. Later, of course, my idol was Johann Cruyff - and he still is - but by then I was already well into my career.
I couldn't believe it when I was told you were a bit of a practical joker during your playing days, sometimes setting off firecrackers then pretending to be dead or squeezing toothpaste into team-mates' beds. What's the best prank you ever played or were on the end of?
Ben Myers, Hampstead
What do you mean was a practical joker? I still am, whenever I get the chance! There are three important things in my life: my family, my friends, and having a good laugh. I've always loved playing tricks on people. It's all harmless fun - I don't think I've ever really upset anyone. I'm not sure about the best one – it's usually just simple things, nothing too elaborate. But I've had just as many played on me – and that's the point, really - you have to be able to take it as well as give it.
Your trials at Metz were scuppered after you were diagnosed with an abnormally large heart and you fainted during another trial. Did you think this would stop you from making a career as a footballer or did it only make you more determined? Did your condition ever affect you later on in your career?
Rupert Rogers, Hammersmith
It wasn't that I had an oversized heart. I went to Metz for two days of trials, and it was hot, they worked us hard, and I wasn't very strong. After the trial they did these cardiovascular tests, and because I was tired and not used to so much hard work, my heart was going like the clappers. So they sent me off to Nancy for some more tests and there they even said it was so dangerous I should give up sport altogether! But they didn't have the same kind of sports medicine knowledge in those days so I didn't take too much notice and, in fact, I have a perfectly normal heart, an athlete's heart, and it's never been a problem.
When you left Nancy, you could have joined some big European clubs. So why did you go to St Etienne?
Ajay Makan, Watford
Don't forget that St. Etienne was a big club then. They'd played in the European Cup final against Bayern Munich, they'd reached the semi-finals the year before and had those epic games against Liverpool. There were other clubs who wanted me. When I was 19, Alfredo di Stefano came to see me when he was coach at Valencia, then I signed a pre-contract with Inter Milan, but there were restrictions on player movements back then. So I was more than happy to go to St. Etienne. When the ban was lifted and Juventus came in for me, Inter said they were no longer interested.

English clubs dominated European football in the late-70s and early-80s. As a great emerging player, did you ever have a chance of joining an English club? Is this something you would like to have done?
Brian Stretton, Solihull
Two clubs – Arsenal and Spurs – came after me in 1980, but I wasn't keen on going there. My wife, Christelle, wanted to go for the shopping, but maybe that only served to put me off even more! The main reason, believe it or not, was that there were too many games in England. I couldn't face playing at Christmas, Boxing Day, New Year's Day and so on – I wanted to be with my family.
At St Etienne, you scored two goals against Bordeaux to win the title in the last game of the season and always seemed to do well in big games after that. Why did you always rise to the big occasion? Did you prepare differently for big games?
Pete Carey, Sunderland
Funny you should say that because, in fact, I've always felt that I missed out on the big occasions. I suffered in such matches – often they would man-mark me so tightly that I couldn't play my game, but I'd also get nervous, because so many people expected so much of me. I certainly didn't do anything special in preparation for big games; I just tried to stick to what I did best.
You didn't have the best of starts at Juventus. How close did you come to leaving? What happened to turn it around?
Julian Barnes, Gillingham
It's true, I didn't start well, but that was entirely due to injury. I had a bad groin strain from the World Cup – I could hardly walk up stairs between matches and couldn't train at all -- and that kept me out until December. I simply wasn't fit. And don't forget that Juventus had half the Italian World Cup side in their team at that time, so I had plenty of competition.
Then Gianni Agnelli told the coaches he hadn't bought me to have me sitting out games all the time, and once I got into the team I was OK, I started scoring goals, and my confidence picked up, simply because I felt better physically.
For most players, winning the European Cup final would be the high-point of their club career. Is this how you view yours, given the tragic circumstances surrounding that game at Heysel Stadium? How did you feel at the time?
Jemma Brown, Yeovil
[The mood turns sombre] Oh, Brussels …. It's complicated, complicated. People always ask me to talk about it, but I don't want to. When I decided I wanted to be a footballer it was because I wanted to enjoy the game, score goals, not to cause 30-odd people to lose their lives. The day after the game I went to see the survivors… then I went on vacation to clear my head. [Pauses] But please, let's move on.
For a period between 1982 and 1986 you won almost every team and individual honour going and seemed invincible. Did you consider yourself the best player in the world?
Jeff Bell, Newcastle
It's not that I regarded myself as the best player in the world; I was the best player in the world. What else do you want me to say?! I was full of confidence in myself: I knew I could run the game, I knew I could score goals. 1986 was the turning point: Diego [Maradona] took over as the best, but not before then, not while he was at Napoli. By 1986 I was beginning to feel the strain; I played five games with an injury, limped through them and hoped nobody would notice…

I remember France's semi-final with West Germany in 1982 being a great game. How do you remember it? Were the team psychologically affected by seeing a Patrick Battiston almost decapitated by Harald Schumacher?
Amy Lewsey, Wigan
Yes, we were psychologically affected, but in a positive sense. We were full of rage: against the Germans, against the ref, against everything. It was the biggest moment in my life as an athlete – I would even say it's my greatest memory in football, even though we lost. It was the most extraordinary game – it had everything, pure drama. It was better than any movie; any theatre; any novel.
I'm still happy to have been there to experience it, it was unforgettable. The whole team, all 12 of us, sat there in the dressing-room after the game, furious, raging, lost for words, 20 minutes or so, beside ourselves. Later, it helped me to learn to get things into perspective; I could see that nobody had been killed, our families were safe, it was only a match… but it was extraordinary, unique.
Rarely has a player been so instrumental in a cup victory as you were in France 1984. How strange was it to receive all these adulation from the French public after they had scapegoated you for France's failing at Spain 1982? Did this spur you on?
Lewis O'Sullivan, Salford
Euro 1984 was really the only good tournament I played. At the World Cups of 1978, 1982 and 1986 I was injured. In Spain in 1982 we had that disastrous start because of Bryan Robson's quick goal, but then the team was changed, we began to play well, and people started calling us the Brazil of Europe. I had been playing well in Italy, but had to prove myself to the French fans, and everyone expected a lot from me.

Why did you retire from playing at just 31 years of age?
Mike Bullard, Weymouth
I was 32, actually! The time was right. Above all else, I was tired. We were playing a league game against Sampdoria and I suddenly realised that I'd lost that extra bit of pace, so I said to myself: 'Right, that's it'. If I didn't have the acceleration to get into goalscoring positions any more, then I couldn't play my game. I was being beaten to the ball and I didn't like it! I didn't want to change my game to keep playing. There were a couple of clubs who wanted me to drop back in front of the defence where pace wasn't so vital, but I wasn't interested in that.
Who would have won in a match between your 1982-86 team, or the Zidane-inspired 1998-2002 team?
Gavin Pearce, Somerset
Hmmmmm... I'd say that our team in the early 1980s was the better team in itself, but the World Cup team of 1998 was better equipped to win the World Cup. We were the first really competitive France team but we were inexperienced when it came to big competitions; I was the only one playing outside France. Twenty years later, all the players had more international experience, they were more realistic than we had been, they knew how to win.
People said that the secret to your success at set-pieces was your 'supple ankles' – something you deny. What do you put your ability to score free-kicks down to? And who do you think is the best free-kick taker you've ever seen?
Anna Hayes, Durham
Absolutely not true! I don't know where people got that idea from! In fact, I had stiff ankles – and I am hopelessly un-supple all over. Look… [Jumps up to demonstrate his lack of suppleness] I can't touch my toes, I can't even get anywhere near. And I couldn't do it when I was a player either. The coach used to have to push my head down between my knees until he nearly broke my back. The most flexible part of my body is my head!
How did I score so many free-kicks? It was all about sensitivity; other players may have been quicker or stronger, but I had an instinct for the right pass at the right moment – and I knew the right way to hit a dead ball. I scored a free-kick on my France debut, and then another in my second game… and then another in my third.
Today, I think Juninho at Lyon is consistently the best free-kick specialist. And then there was that sensational Cristiano Ronaldo goal the other week for Manchester United [vs Portsmouth]. But now the technique is different because the ball is different. It's so much lighter and it flies all over the place; it won't drop down like it used to.
A goal every other game, from midfield! What was the key to your phenomenal strike-rate for club and country?
Ameet Gill, Sutton
I liked scoring goals and I wanted to score them; it was why I played football. Sometimes, if I didn't score because nobody created chances for me, my coach would put me back in midfield as a creator; then I would provide the passes but the other guys couldn't score, so what was I supposed to do?! [FourFourTwo: So did you consider yourself a midfielder or a striker?] Hmmmmm… No idea, really. They used to call me a striker but I'm not sure. Let's say I was a total footballer.
I've heard that you were such a bad loser during your days at Nancy that you once threw playing cards out of a train window during a game. True? And are you still the same now?
Alesha Keene, Croydon
True. I was a terrible loser. And I still am. I simply hate losing and I'm not a good person to speak to when I have. It used to take me some time to work it off. It wasn't a question of professionally psyching myself up to give everything to win. I played to win and if I lost, then I would feel sick.
A couple of years ago, I was playing golf with some mates at Etretat, on the north coast of France. I was just playing my third shot on a par 5 when one of my mates, Jean-Francois Domergue, came along and dumped his golf-bag on the ground just as I was playing my stroke. It put me off and I missed it, badly. I was furious. I put a ball down, took out a driver, and walloped it out to sea. It probably landed in Kent. I played the last five holes just with my driver, bunker shots, putts and all, I was so mad…
When commentating for Canal Plus, you often predicted a goal just before it happened. Do you have Nostrodamus-style visions just before a goal goes in?
Hannah Little, Carlisle
Yes, but then I suppose after having watched so many thousands of matches over the years – my dad started taking me to games when I was four – and having played as I did, you get a second sense for this sort of thing. But I think that's natural.
Under your stewardship, Eric Cantona had his best spell for the national team. How did you get the best out of him? Did you ever encounter his explosive side? And is it true you were responsible for his move to English football?
Jack Mills, Clifton
Eric was a great lad. I never had the slightest trouble with him. I didn't give him any special treatment and he didn't expect any. I let him play his natural game and he was grateful for that. He was the best French player of his generation. You had to take him or leave him, respect his creative side and let him express it. He was thinking about quitting but then Gerard Houllier and I gave him the idea of going to England, because we thought he was ideal for English football, just as I was for Italian football. We were both the right fit!
Despite a record 19-match unbeaten run, France failed to perform during Euro 1992. What went wrong?
Ben Lester, Grimsby
By the time we got to Sweden in 1992 we were knackered. We'd gone all those games without losing and it was beginning to weigh on us. And I had a team that was a bit short on skill. I didn't really think we were going to do well. Maybe we could have done better if I had changed most of the team, but frankly, I didn't think that would have been fair.
Why did you never go into club management? Surely it would have been much more exciting than organising the 1998 World Cup?
Sally Johnson, Chester
Me, a club manager? Never! No thank you. By the time I'd finished playing and then served my time as French national team coach, I'd had enough of the daily grind of training and the pressure of matches. Being in charge of the national team had confirmed what I had already thought: I didn't want to be a club coach, not even when Real Madrid and some others asked me to join them. But the World Cup job was fantastic – it meant that, at last, I could have a more normal life. I'd never really lived as a youngster: always training, travelling, strict diets, no late nights, under scrutiny from the media...
Given that finance dictates the direction taken by football, surely Premier League games abroad, followed by Serie A and La Liga games, is inevitable?
Jessica Tate, Manchester
The Premier League idea [the briefly-mooted, swiftly-abandoned "39th game" in a foreign country] hasn't got a chance. I'm totally against it, and Sepp Blatter has made his own opinion known on this. It's impossible. It's a question of philosophy, it's a kind of colonialism. You can't tell football in other countries to support your national league like that. We're supposed to be helping them to develop their own game, not ours. I think English football is superb: the atmosphere, the fans… but I don't like the trend we're seeing of so many clubs being bought out by overseas owners. I must say when I heard the Premier League idea, I laughed. It's fine to have ideas, but there's no way we can accept this one, either now or later.
What will be the biggest change you would like to see in European football in the next five to 10 years?
Darren Walton, Leeds
Oooooffff... [reflects at length]. I suppose it's quite simply to make sure that football remains primarily a sport and is not exploited by business. I've always said that football is based on prevailing values. If football drives business, that's fine; but under no circumstances can we allow business to drive football. Otherwise we're dead. We have to make sure that youngsters taking up the sport do so for the right reasons – because it's a game. [FourFourTwo: Is that feasible, realistically?] Yes, I'm sure it is – if we keep our eyes open and work hard. But if ever one day the business of football is more important than the sport, I'm off. I'm in it for the game, not the business.
Player, manager, World Cup organiser, UEFA President... how would you like people to remember the name Platini in 50 years' time?
Jack Hayes, Swindon
I don't really care, frankly. I don't attach any importance to that sort of thing. They wanted to rename the Stade de France 'The Michel Platini Stadium', and a few other stadiums besides. I always say 'No'. I've been in sport for 35 years of my life and have taken the rough with the smooth. As long as I'm around, I would like people to have a good impression of what I'm trying to do. But once I've gone, who cares? Let them think what they like!
Interview: Keith Cooper/Libero Language Lab. From the May 2008 issue of FourFourTwo.
Thank you for reading 5 articles this month* Join now for unlimited access
Enjoy your first month for just £1 / $1 / €1
*Read 5 free articles per month without a subscription
Join now for unlimited access
Try first month for just £1 / $1 / €1