Mo Salah has 'struggled' and yet Liverpool are top – woe betide anyone who assumes they'll fade
Salah's record-breaking season has set the bar high this term, but the Egyptian now joint-leads the Premier League scoring charts after his weekend hat-trick. Liverpool could be just getting started, writes Daniel Storey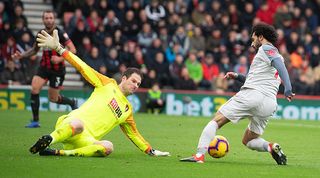 As soon as his first goal went in the sarcastic tweets began, because that's the way football fandom works now.
Your team's success is enjoyable partly because it provides you with a surge of joy after so many near misses, but partly because it means you can post crowing social media messages to rival supporters. "Another goal from Mohamed Salah, the one-season wonder."
The accusation that people wrote Salah off after his 2017/18 heroics is mostly nonsense. There were doubts as to whether his extraordinary – both in terms of the Premier League norm and his own career – goal tally could be repeated after an injury-affected summer and World Cup commitments. But expressing doubt is not the same as writing off, even in a climate of extremism where opinions must be black or white and preferably contentious.
Keeping up
But you can see Liverpool supporters' general point. Manchester City's victory at Wembley in late-October had helped to generate an aura of invincibility around them which led to an assumption that they will win the Premier League. Scoring 23 times in six matches in all competitions in November caused that assumption to be reinforced.
And yet Liverpool had never been more than two points behind City. The last time the Premier League leaders had a smaller points gap to second at this stage of the season was in December 2008. By those standards we had a title race, and yet it was rarely sold as such. The question was when, not if, City would streak further ahead.
There were valid reasons for holding that opinion. Manchester City had played away at three of their closest rivals and hadn't even conceded a goal. They only had a two-point lead at the top but their goal difference was far superior. To put it bluntly, in some league games their opposition was merely trying to limit the margin of defeat.
The same was not true of Liverpool. For all their excellent results and unbeaten record, Jurgen Klopp's side were slogging their way to victory rather than sauntering. Victories over Brighton, Huddersfield and Everton, all achieved by a single-goal margin and with significant scares along the way, were the perfect evidence of that. Liverpool were getting it done
Second-season syndrome
So too were their forwards. Liverpool fans may have delighted in Salah's excellence against Bournemouth, a performance that contained all the calling cards of last season's majesty, but he was been part of the front three that coughed and spluttered their way through the autumn.
Roberto Firmino hadn't quite clicked as the roaming false nine, raising the issue of whether he just needed a rest. Liverpool scored 30 times in their first 15 league games of the season, created 163 chances and took 223 shots, of which 90 were on target. Over the same period of last season, they created 36 more chances and had 29 more shots.
Salah was not immune from those problems. Although he scored seven times in Liverpool's first 15 matches, including the winner against Brighton and Huddersfield, the Egyptian was far below his 2017/18 peak. Liverpool's strolling home win over Red Star in the Champions League epitomised his travails. Salah scored twice but wasted at least four other chances through loose touch, snatched shots or a breakdown in communication with his team-mates.
It may sound logically questionable, but it was this inexactness in the team and its best player that sold Liverpool as potential title winners. There were two ways of judging that early-season league form. The first was to assume that Liverpool would soon come unstuck and be punished for their attacking profligacy. After all, that had happened three times in the Champions League and Everton had come mighty close.
Ruthless
But the second was to conclude that if Liverpool did manage to click in the final third, they really could bridge a gap to Manchester City that still only stood at two points.
Or, more candidly, that if Liverpool could take 39 of a possible 45 points without hitting top form, the rest of the league should be alarmed by the ceiling of their potential. Salah's performance against Bournemouth was so significant because it proves the second theory on precisely the same weekend that Manchester City revealed the chink in their own armour.
There is also a ruthlessness to Liverpool that they have learned under Klopp. Their Achilles heel in previous seasons has been a tendency to drop points against weaker teams, who sat back and caught Liverpool on the counter.
SEE ALSO
FEATURE FourFourTwo's 20 favourite cult clubs of all time: is yours in there?
PL The greatest all-time Premier League XI based on games played
It was a particular problem at Anfield, where in 2017 Liverpool dropped 16 points against non-Big Six teams in the league. In 2018, Liverpool have dropped two points against non-Big Six teams at Anfield, and have only Newcastle to come on Boxing Day.
That's not to say that Liverpool are likely title winners. We must expect Manchester City to overcome their Stamford Bridge bump. But there is reason to believe that they have overcome one of the trickiest periods of their season and yet still remain unbeaten and still top the pile.
If Salah and Firmino really are beginning to hit their straps, woe betide anyone who assumes Liverpool will fade away.
Quizzes, features and footballing fun
Get the best features, fun and footballing frolics straight to your inbox every week.
Thank you for signing up to Four Four Two. You will receive a verification email shortly.
There was a problem. Please refresh the page and try again.