'No regrets': Robbie Keane reflects on his short Liverpool stint and THAT sensational goal against Arsenal
Robbie Keane only made 28 appearances for Liverpool, and his Anfield career lasted just 189 days – but it might have been much longer had a trial as a teenager played out differently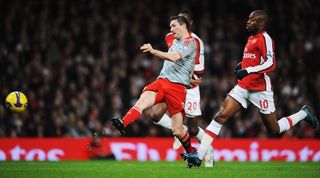 (Image credit: Getty Images)
Former striker Robbie Keane was back at Liverpool during the international break, playing a half each for the Liverpool Legends and Celtic Legends in a charity match that saw over 4,000 Celtic fans make the trip down from Scotland.
FourFourTwo met up with Keane ahead of the match, with the Irishman explaining his boyhood roots to the Reds and what he'd changed if he could about his career.
"The history of the place," he recalls when asked what he remembers from his trial, which occurred when he was around age 14.
"You could just see when you walked through the door, you can see the pictures of all the people like John Barnes and people I looked up to.
"To come over and have the opportunity to go on trial for the team that you supported, and then walking to the door and seeing the likes of Barnes, Stan Collymore, Robbie Fowler and Steve McManaman, that was a good feeling. There was an aura about the place."
Keane eventually joined Wolves shortly before his 16th birthday, coming through the ranks at Molineux before spells at Coventry, Inter Milan, Leeds and Tottenham finally saw him sign for the club he supported as a boy in 2008.
But despite the long road to Merseyside, his time there ended after six short months – he was sold back to Tottenham in January 2009 for £7 million less than Liverpool had spent the previous summer.
A difference in how Keane was used by manager Rafa Benitez was the reason, with Keane once saying that Rafa "wanted to change me to a left winger."
The all-time Republic of Ireland goalscorer insists he has no regrets though, and that the privilege of being in the Liverpool squad is what he appreciates.
"That happens in football," he says. "I don't have any regrets. I was fortunate enough to play for this great club, to put that jersey on and score goals at Anfield.
"Of course, like any player, when you decide you want to go somewhere you're hoping to stay there for a long time and win a lot of trophies, but that wasn't to be, but I don't have any regrets."
Getting one over Arsenal
On this day in 2008, Robbie Keane scored this screamer against Arsenal. 🇮🇪 @DanielAgger with the assist. That kit combo was pretty horrific! 😂 pic.twitter.com/Vvm8utfGjODecember 21, 2022
While it didn't work out for Keane at Anfield, there was one very memorable moment for him in a Liverpool shirt and a broad smile appears on his face as we remind him of it.
Away to Arsenal at the Emirates, the ex-Tottenham striker raced onto a ball smashed over the top of the defence by Daniel Agger.
It took two big bounces, Keane watching the ball, then with one touch catching it perfectly just as the ball rose again, arrowing past Manuel Almunia into the top corner of the Arsenal goal.
"As soon as it hits and laces, you know, just hits the right part of the foot," recalls Keane.
"[I remember it] very well, actually, because the Arsenal fans probably weren't too kind to me for obvious reasons! Being at Tottenham and scoring a few goals against them. I was getting a little bit of stick in that game, as you can imagine - which I enjoy.
"But when the ball came over the top, I knew I didn't have much time because I knew there was a couple of defenders chasing me, so just, laces through it and lucky enough it went top corner.
"Then the celebration with the ears because of the stick I was getting. It was definitely up there with my best goals."
Backing good causes
Now retired after over 700 senior appearances, Keane returned to Liverpool with his family as part of a charity match for the LFC Foundation.
It's an occasion that allows former players to return to the club, bring their families and then walk out at Anfield in front of a full house once again, all while raising money for valuable causes in the local community. The players don't take a fee, but they do take it seriously.
Matt Parish of the LFC Foundation explains how 'they do not want to lose" - something that was certainly evidenced by Steven Gerrard's celebration in front of the Celtic fans, for reasons similar to what Keane described for his celebration against Arsenal!
"In the changing room at half time last time, we were 1-0 down to Man United," explains Parish. "They take it seriously, it was quite industrial, shall we say, language." Liverpool won 2-1, this time out they beat Celtic 2-0.
"It feels great [to be back]," says Keane. "The most important thing is we're all here to raise money for the Foundation. You ask any of the players it's always a great cause."
The LFC Foundation also supports the club's former players association, Forever Reds. "They're cognizant of that," says Parish, "that some of the money raised goes to some of the older lads [players]."
Other current causes include a football project for bereaved dads, free sport and physical activities for young people, and well-being programmes.
One player who Parish can look forward to having line up for the Legends team in the future is Roberto Firmino, with the Brazilian's agent commenting when announcing the No.9's departure from the club: "He will be back in the legends team of Liverpool!"
Liverpool have already had the likes of Xabi Alonso, Gerrard, Fernando Torres and Dirk Kuyt from the Benitez era, and one day they could lining up in a fantasy XI alongside Firmino, Mo Salah, Sadio Mane and other legends of the Jurgen Klopp era.
Thank you for reading 5 articles this month* Join now for unlimited access
Enjoy your first month for just £1 / $1 / €1
*Read 5 free articles per month without a subscription
Join now for unlimited access
Try first month for just £1 / $1 / €1
Get FourFourTwo Newsletter
The best features, fun and footballing quizzes, straight to your inbox every week.
Matt Ladson is the co-founder and editor of This Is Anfield, the independent Liverpool news and comment website, and covers all areas of the Reds for FourFourTwo – including transfer analysis, interviews, title wins and European trophies. As well as writing about Liverpool for FourFourTwo he also contributes to other titles including Yahoo and Bleacher Report. He is a lifelong fan of the Reds.