Opinion: Wenger has left his successor with a huge to-do list – and it could be brutal
An ageing and imbalanced squad, plus the inevitable turmoil of Arsene Wenger's departure, mean Arsenal may have to suffer before things get better, says Tim Stillman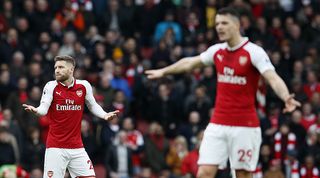 *Note: read alternative view to this caution, as James McNicholas argues why Arsenal are well poised for future success (opens in new tab)
There is broad agreement among Arsenal fans – and in the wider football community – that the right call has been made in Arsenal and Arsene Wenger parting ways at the end of this season.
Indeed, they ought to have parted company before now: it's a nettle the club were always going to have to grasp at some point. But having allowed the divorce process to protract, the air has turned so sour around the club that Wenger's departure has been greeted with relief – even celebration.
The Frenchman's time is up, but Arsenal will still undergo a healing process when the man with such an iconic legacy leaves. Part of this is unavoidable in some respects; Arsene's arse groove is so firmly entrenched on the bench that it will take some time for the new manager, whoever he may be, to comfortably rest his buttocks on that perch.
The club were unprepared to negotiate the void his departure would have left last summer, so seemingly delayed the decision to lay further groundwork.
Wenger is a relic in modern-day coaching parlance, managing tasks that have long since been devolved away from his peers in charge at other top European clubs. Arsenal's top brass have parachuted Sven Mislintat, Raul Sanllehi and Huss Fahmy into roles within the club over the last 12 months in order to prepare themselves for the transition.
Operation London Bridge
This is Arsenal's answer to Operation London Bridge (opens in new tab) – but no matter how carefully they plot, there will still be a Wenger-shaped hole that will prove awkward to fill.
Mislintat, Sanllehi and Fahmy are all still new to Arsenal and have been appointed with a post-Wenger mandate in mind. It will take some time for them to reconfigure their roles once the benevolent dictator has been toppled and they quickly cobble together a working relationship with his successor.
Their profiles will quickly rise, not least because there is so little football expertise on the board of directors (indeed, these appointments are a recognition of that). Most of Arsenal's board have only ever worked with one football coach whose appetite for involvement in the minutiae of the club is unique at the top level today.
Even if Arsenal are able to readjust swiftly and effectively behind the scenes, the new manager is going to have his work cut out rebuilding a talented, yet enormously unbalanced squad. For a start, the age profile of the current roster is the oldest it has been since Wenger swung through London Colney's doors in 1996.
Petr Cech is 35 and in decline, Laurent Koscielny is 32 with a chronic Achilles issue, Nacho Monreal is 32, Per Mertesacker is retiring and Santi Cazorla's Arsenal career is drifting to a sad conclusion through injury. This winter, Arsenal have blown a hefty slice of their salary bill on a trio of players coming towards the end of their primes (29-year-olds Henrikh Mkhitaryan and Mesut Ozil, plus the 28-year-old Pierre-Emerick Aubameyang) – a move that has reportedly led to some disharmony in the squad.
Gabriel, Alex Oxlade-Chamberlain, Wojciech Szczesny, Kieran Gibbs, Mathieu Debuchy, Theo Walcott, Olivier Giroud, Alexis Sanchez and Francis Coquelin have all been sold since the summer of 2017. Good squad building results in a gentle churn of players, but this is an Arsenal team in the middle of a fire sale, with plenty of work still to do.
An ageing spine
A lot of the older players are part of the team's spine. If a new manager arrives this summer, he will be faced with replacing Koscielny and Cazorla – two of the Gunners' most reliable performers over the last five years – at the same time. Granit Xhaka, Shkodran Mustafi and Alexandre Lacazette are the only players at the core of the team not negotiating the September of their careers, but doubts remain over all of them to varying degrees.
Meanwhile, there are question marks over the contracts of Jack Wilshere, whose deal expires in the summer, and Aaron Ramsey, who has one year remaining on his. Even if the club retain both players, the engine room is in desperate need of a rebuild. Arsenal's current central midfield options are a collection of specialists and does not contain any convincing partnerships.
A top-level Premier League midfield either needs to have a high technical level (as is on show at Manchester City) and/or a high physical level (as at Tottenham or Manchester United). Arsenal currently have neither. They've also sorely lacked ball-carriers to inject dynamism into their play since the departures of Tomas Rosicky, Oxlade-Chamberlain and Sanchez.
In short, the squad requires more than just a lick of paint; it needs to be completely reconstructed. That's before the new man addresses a coaching staff entirely arranged by Wenger and undertakes the hiring and firing he deems fit.
Arsenal's finances are healthy, but the top six in the Premier League have improved and marginal gains are now more important than ever. Previously, Wenger has been able to manage transition periods by smuggling Arsenal into fourth place – almost via the back door at times. But in this less forgiving domestic environment, periods of upheaval will be exposed far more brutally – as the club have seen over the last two seasons.
Recommended
Arsenal (opens in new tab)are (opens in new tab)the perfect job for a new manager – this is no post-Fergie Man United (opens in new tab)
9 managers who could legitimately replace Arsene Wenger at Arsenal (opens in new tab)
The pressure will be on the new manager to make Arsenal competitive again, as opposed to the poor relation they have become. The question of Wenger's future has shaped the discourse around the club for so long that his successor will become one of the most scrutinised figures in the game.
The political and sporting landscape at Arsenal is relatively chaotic – the squad is in dire need of a reboot, and the club's behind-the-scenes team will be quickly catapulted from the shadows into the harsh light of expectation.
Wenger's successor will walk into a unique, slightly dysfunctional organisation armed with a large to-do list. This is very much a case of revolution, not evolution. And revolution, however necessary or overdue, is nearly always defined by bloodshed.
Thank you for reading 5 articles this month* Join now for unlimited access
Enjoy your first month for just £1 / $1 / €1
*Read 5 free articles per month without a subscription
Join now for unlimited access
Try first month for just £1 / $1 / €1
Quizzes, features and footballing fun
Get daily World Cup 2022 news, updates and other football frolics to your inbox
Quizzes, features and footballing fun
Get daily World Cup 2022 news, updates and other football frolics to your inbox
Thank you for signing up to Four Four Two. You will receive a verification email shortly.
There was a problem. Please refresh the page and try again.