Ousmane Dembele: 'The next Ronaldo' linked with Premier League giants
Former Manchester United defender Mikael Silvestre has likened the Rennes starlet to CR7 and, as Andrew Gibney explains, the likes of Chelsea and Arsenal are watching closely...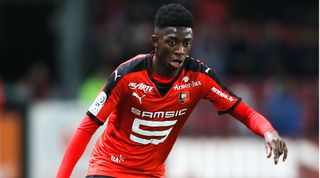 The 60-second story
Stade Rennais has always been a club known for developing their own youth products, but over the last few seasons that reputation has gone stale. That was until 18-year-old Ousmane Dembélé burst onto the scene and has took Ligue 1 by storm.
FACT FILE
Date of birth: May 15, 1997
Place of birth: Vernon, France
Height: 5ft 10in
Position: Forward
Current club: Rennes; 20 apps, 9 goals
International: France u18s; 5 caps, 0 goals
After coming close to leaving the club this summer, a new contract and word in the ear from sporting director Mikael Silvestre averted a possible disaster. His profile was already rising, but a hat-trick against Nantes on Sunday – the first ever in a derby fixture – announced his arrival to the world.
All three goals came in a barnstorming first-half, with the teenager increasing his tally to nine goals for the campaign. No one so young has had as much influence on their team this season as Dembele and he's done it in just 13 starts.
Les Rouges et Noir are quickly becoming his team. Under Philippe Montanier, things had gone flat at Rozahon Park, but the eye-catching displays from their newest wonder kid have brought life and excitement back to the Breton club.
Why you need to know him
Dembélé has previously said that Barcelona superstar Neymar is his role model and you can see elements of the Brazilian in his game. In the youth set up, where he scored 13 goals in 18 games, he played mostly on the left, but for the first-team he's shown he can play anywhere along the front line.
After the 2016 European Championships, Premier League clubs will likely return across the channel looking for next season's Dimitri Payet or N'Golo Kante. Too often clubs make rash decisions after major tournaments, signing a player after a handful of games in the spotlight.
With Dembélé, there is a risk of interest in the player spiralling out of control, but the hype looks real and the teenager's influence has already helped Rennes shoot up the table.
The France Under-18 international has already pushed Paul-Georges Ntep into the background this term, but with the likes of Barcelona, Chelsea and Arsenal already showing an interest, it's hard to see the French club having the power to stop him from staying for another season.
Whether that's the right or wrong move for the player is another story – it's hard to resist the pull of Europe's elite when they come calling…and they will.
Strengths
For an 18-year-old that only made his Ligue 1 debut in November, Dembélé has shown amazing confidence and self-belief in the Rennes first-team. However, unlike some young player his age, his positivity doesn't come over as cocky.
"I always play to try to please the crowd, but now I need to focus on hard work," he told The Ligue 1 Show on beIN SPORTS. "What I'm doing is good but if I want to keep it up, I can't afford to let my efforts drop."
The young forward is comfortable with the ball on either foot, his close control at high speed is both impressive and mesmerising, with the ball rarely deviating from his toes. It helps him glide past defenders almost effortlessly and often sees him as the man to lead Rennes on the counter-attack.
Once in the penalty area he shows composure to finish calmly in one-on-one situations, but will also test goalkeepers from distance. Just like Neymar, the young French forward is a threat from anywhere in the final third.
Give him space and he'll punish you – with three assists this season he has also shown that his decision making is improving, so don't look to commit too many defenders in an attempt to stop him.
Weaknesses
Too often in football, a player's weakness only becomes a problem when he is unaware or unwilling to learn, but Dembélé seems different in that respect.
"I need to be more efficient because sometimes in situations I try to dribble when I should be passing. I lose the ball and get an earful from the others!" the 18-year-old admitted. "But I'm working on that; my team play needs improving."
Against Toulouse at the end of February there were clear signs of growth. After breaking through the centre the forward got his head up and slipped a superb pass through to Kamil Grosicki and the Pole finished to hand Rennes an injury time winner
Like most teenagers, he needs to work on his overall strength and physical shape, but even with his current frame he is strong enough to compete in the very physical world of Ligue 1.
TALENTSPOTTER RATINGS
Shooting 8
Heading 4
Tackling 4
Pace 8
Dribbling 8
Creativity 7
Work-rate 7
Once he adds some power, it could help with his ability in the air – it's very rare that you see him challenge aerially, but that never stopped Thierry Henry.
They said…
"I'm going to go out on a limb here and say that he can win the Ballon d'Or," former France international Mikael Silvestre told France Football back in January.
"I saw Cristiano Ronaldo at the same age at Manchester United, and Ousmane has the characteristics that remind me of a young Cristiano."
Did you know?
As a 15-year-old Dembélé was already playing for the Rennes Under-19 team, without looking out of place. Menu Yarrick, his youth coach for many years, commented that they had no idea what foot was his strongest as the player never showed a weakness on either side. Something that continues to this day.
Never short of confidence, the teenager, even before breaking into the Rennes first-team, used to have his own self-publicising website. However, in another positive sign of his growing maturity, it has since been taken down.
What happens next?
Rennes' 4-1 win over Nantes propelled them up to fourth in the Ligue 1 table, just one point off a place in the Champions League qualifiers. Rolland Courbis' side have won three of their last six games, with Dembélé playing his part to secure the trio of victories.
As interest in the teenager continues to mount, so will the attention his club receives. Either the Breton side will rise to the occasion, or wilt under the pressure. Either way, his stock will continue to grow in value, but Silvestre believes he is a kid with his head screwed on tight – when asked about his comparison with Ronaldo, the former United defender had no regrets.
"I could have mentioned [Nicolas] Anelka at PSG, Thierry Henry or David Trezeguet," he told French radio station RMC. "Players who, at 20 years old, played the World Cup in France in 1998. Players who were very mature for their age.... I know the player. He has his head on his shoulders."
Dembele has already shown this season that he is the brightest prospect in Brittany. It won't be long until interest from scouts turns into offers from Europe's rich and famous – putting Rennes' resolve to the biggest test it has faced this decade.
Thank you for reading 5 articles this month* Join now for unlimited access
Enjoy your first month for just £1 / $1 / €1
*Read 5 free articles per month without a subscription
Join now for unlimited access
Try first month for just £1 / $1 / €1
Get FourFourTwo Newsletter
The best features, fun and footballing quizzes, straight to your inbox every week.